Tram map of Krakow. Download, print and take it with you to your trip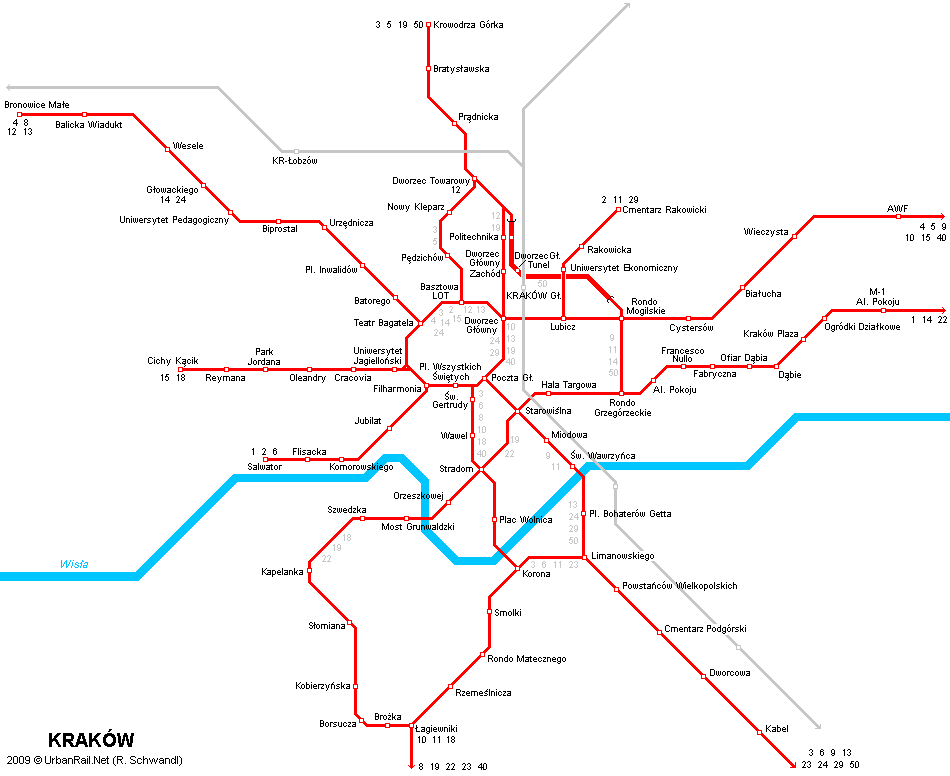 The actual dimensions of the Krakow map are 950 X 776 pixels, file size (in bytes) - 27199. You can open, download and print this detailed map of Krakow by clicking on the map itself or via this link:
Open the map
.
City tours, excursions and tickets in Krakow and surroundings
Travelling around Poland - transportation network

The roads in Poland are simply great. Hence, many tourists choose to rent cars. You can do this either at the city agency or at the airport terminal. You will need to show an international driver's license for this. However, it will not be convenient to move around a large city in a rented car. Firstly, there are strict restrictions in the country. The maximum speed limit in the city in the afternoon is 50 kilometers per hour and at night, 80 kilometers per hour. Please note that there are often big traffic jams in tourist cities. In such a situation, it is faster and cheaper to move on foot or by public transport. Between cities however, you can travel on a rented car. It is worth stating that it is permissible to drive at a speed of up to 130 kilometers per hour on modern highways. Many rivers and waterways flow in the country, and you may find boats running through them. However, this is not a means of transportation but rather, tourist entertainment. Tourist liners, cruise ships and boats, as well as small yachts run on the coast of the Baltic Sea also in the warm season. …
Open

Car rental on OrangeSmile.com

Hilton builds third luxury hotel in Kyoto
Hilton has announced that it will soon begin a project to build a new hotel in Kyoto. It will be located in the heart of the city, in the prestigious area of Sanjo-Kawaramachi. Guests will be able to easily reach all areas of interest in the dynamic city, many popular attractions and recreation areas will be within a walking distance from the hotel.
Read this
29.11.2023
Search transportation objects on Krakow map
Photogallery of Krakow
Travel guides to Krakow
Tramway maps for cities nearby Krakow