Sightseeing in Wroclaw - what to see. Complete travel guide
Wroclaw is a capital of Lower Silesia province located on the south-west of Poland. The city is located on the Oder River and is 310 kilometers away from Warsaw and 200 kilometers away from the German's Dresden.
Besides wonderful Japanese Garden fans of outdoor recreation will be delighted if they visit a wonderful botanical garden of Wroclaw University. The garden is located near the university. …
Open
Wroclaw is a unique city, a town of twelve islands that are connected through a system of bridges. There are 112 bridges in total here. Wroclaw has managed to keep the beauty of medieval architecture up to our days. Here you will find, for example, Town Hall – a magnificent building referred to gothic times or Leopoldina Hall that is famous as the largest building in the baroque style in whole Poland. In XVII century this in building was based the city's university.
Wroclaw is the fourth largest city in Poland with population exceeding 700 thousands of people. This is a large industrial, communication, scientific and art center of the country. Here is also located the largest flour mill in Poland. In Wroclaw there are many machinery building plants and organizations involved into food industry. Moreover, Wroclaw is famous by its "Hutmen" factory specializing on output and production of copper. Copyright www.orangesmile.com
1. If you plan to rent a car, it is recommended to take into account that it's rather difficult to find a free parking space in the city. The majority of parking lots are paid, and …
Open
The city has magnificent transport system, an airport of an international level, two huge railroad crossings, large automobile routes and 2 river ports.
Among places of interest in Wroclaw we should underline 9 museums, famous theatre performances (Opera, Music Theatre, Philharmonic), picture galleries, Wroclaw battle panorama, St John Cathedral, St Elisabeth Church, and more.
The historical center of the city traditionally attracts tourists by its beautiful parks, hotels, and luxurious restaurants. One more thing to mention – the locals are very friendly and hospitable.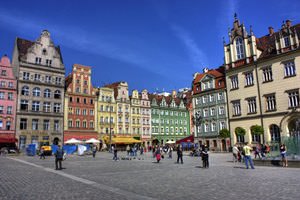 One of the most interesting features of Wroclaw can safely be said to be gnome sculptures, which are found in various parts of the city. For the first time, these miniature bronze sculptures adorned the streets of the city in 2001. Such an unusual gift was made to one of the local art organizations by Wroclaw. Today, the city has more than 270 miniature sculptures, which can be found in the most unexpected places. Their search became such a popular entertainment among travelers, that special travel guides were published for them, with which it would be easier to find the sculptures.
In the central area of ​​Wroclaw is situated one of the most stylish and spectacular design hotels – PURO Hotel Wrocław. It was established in a chic modern building with panoramic …
Open
Among the historical sites, one of the most interesting is the Ksiaz Castle, which was built in the late 13th century. For more than 400 years, this majestic castle belonged to the Hochberg family, and during the Second World War was the headquarters of the Nazis for a long time. They built a network of complex tunnels next to it, which today are an important excursion site. Despite the fact that the ancient castle completely lost its former values, it did not become less interesting. Now, its visitors can admire the most luxurious rooms, and also stroll through the picturesque garden and dine in a cozy restaurant that occupies part of the castle. Some halls of the castle are used for holding various exhibitions, and there is also a popular horse riding center on its territory.
Among the natural attractions of Wroclaw, it is worth highlighting the Japanese Garden, which was founded in 1913, before the World Exhibition. In the war years, this beautiful garden was completely abandoned and remained in desolation until 1994, when it was decided to restore it. High class gardeners from Japan helped to decorate the garden. Today, except ornamental plants and flowers, in the garden you can see the most beautiful bridges, lanterns and sculptures in Japanese style.

This guide to iconic landmarks and sights of Wroclaw is protected by the copyright law. You can re-publish this content with mandatory attribution: direct and active hyperlink to
www.orangesmile.com
.
City tours, excursions and tickets in Wroclaw and surroundings
Reference information
Survived castles around Wroclaw
♥ Castle 'Rydzyna Castle' , 80.5 km from the center.
On the map
Photo
National and city parks around Wroclaw
♥ Landscape Park 'Park Krajobrazowy Dolina Bystrzycy' , 21 km from the center.
On the map
Photo
♥ Landscape Park 'Ślężański Park Krajobrazowy' , 35.5 km from the center.
On the map
Photo
♥ Landscape Park 'Park Krajobrazowy Dolina Jezierzycy' , 40.2 km from the center.
On the map
Photo
♥ Landscape Park 'Książański Park Krajobrazowy' , 60.3 km from the center.
On the map
Photo
♥ Landscape Park 'Park Krajobrazowy Gór Sowich' , 60.9 km from the center.
On the map
Photo
Sights around Wroclaw from our guide 'Extreme places on Earth'
Curve Tower
From the series
"Falling towers and buildings"
Check on the map:
Distance from Wroclaw center - 59.5 km.
The city was badly damaged by a fire in 1858. Almost all of its historic buildings were destroyed. The Curve Tower is one of the few structures that managed to survive as much as possible even during a fire. Only its upper part was damaged. It was restored in the shortest possible time. The city was at the center of German occupation during World War II. But the historical monument also managed to survive this difficult period. The tower is located in the center of a beautiful historic district today. It is surrounded by low buildings of the 19th century. Various cultural institutions and art centers are located next to it. There are also souvenir shops and restaurants here. …
Read further

Search touristic sites on the map of Wroclaw
Sightseeing in regions nearby Wroclaw
All about Wroclaw, Poland - sightseeings, attractions, touristic spots, architecture, history, culture and cuisine. Prepare your trip together with OrangeSmile.com - find out the 'must see' things in Wroclaw, which places to visit, which excursions to take, where the breathtaking views are waiting for you. Planning your trip with this travel guide will help your to get the most out of Wroclaw in few days.