Preparing your trip to Jeddah: advices & hints - things to do and to obey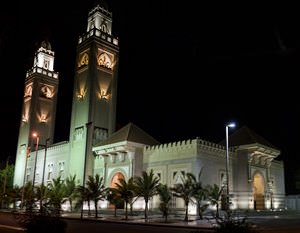 1.
Do not forget to take the national currency when you plan to visit local markets and shopping centers. Money can be exchanged at banks or one of private exchange offices. Tourists should pay attention not only to the proposed exchange rate, but also to the amount of commission charged.
2. Payments by credit cards are accepted in all major shopping centers, restaurants and gas stations. Local markets are better to be visited with a lot of money in small denominations. This way it will be easier to settle payments with sellers. It should be noted that tourists are recommended to bargain. Sometimes this helps to reduce the price of a product in several times.
3. Travelers who expect to bring art and antiques from their trip to Jeddah are must take checks to all the items they have purchased. Otherwise they can have problems during customs clearance.
4. Power supply voltage is 220 V. Tourists are recommended to check for compatibility of all the electrical appliances they plan to take before the trip. As a rule, in major hotels adapters are available upon request.
5.
Tourists should not forget to leave tips in large restaurants of Jeddah. The typical size of reward is 15% of the total bill. In small restaurants and cafes tips are not mandatory, but if you wish you can leave a small cash reward of 10% of the total order to a waiter. Copyright www.orangesmile.com
6. Local shops usually open at 9 am and serve visitors up to 8:00 pm. Some shopping centers work until late at night. Friday is usually a day off.
7. Banks and other government agencies serve visitors from Saturday to Wednesday. Thursday and Friday are usually days off. As a rule, such institutions open rather early, at 8:00 am, and close at 19:00 - 20:00.
Jeddah is a large political, trading and industrial center of the Saudi Arabia. This is also one of the most beautiful towns of the country. Unique look of old quarters, large number of …
Open
8.
Travelers should not forget that taking video and photographs is prohibited in public places. Taking photos in the territory of certain cultural objects is allowed, but only for an extra fee. In no case should travellers make photos of the locals, especially women in black shawls.
9.
The city is distinguished by very strict rules concerning sale and consumption of alcoholic beverages. Drinking alcohol is allowed in specially designated areas only. The appearance in the streets of Jeddah in a drunken state could not only cause misunderstanding, but also lead to a large fine.

Preparing your trip to Jeddah: advices & hints - things to do and to obey You can re-publish this content with mandatory attribution: direct and active hyperlink to
www.orangesmile.com
.
What to visit being in Jeddah - unique sights
King Fahd Fountain
From the series
"The Most Spectacular Fountains in the World"
Check on the map:
Distance from Jeddah center - 7.7 km.
As early as 1987, the experts noted that the fountain construction was damaged by the corrosion and the fountain itself was on the verge of destruction. The steel pipes of the fountain have been replaced by the shortest deadlines and are complemented by special anode protection, which prevents corrosion and allows millions of people from all over the world to graze on the highest fountains on earth. Many travelers strive to see the fountain in the windless day when the water cascade transitions the regular shape and height of the world famous Eiffel Tower in Paris. …
Read further

Kaaba
From the series
"Top Surviving Artifacts of Muslim Civilization"
Check on the map:
Distance from Jeddah center - 63.7 km.
For ordinary believers a huge area was equipped around the temple. On certain days they can come as close as possible to the temple and touch its walls. For adherents of other religious currents, the shrine is inaccessible. The area of free space around the temple today is about 193,000 square meters, at a time up to 400 000 people can accommodate in this area. In the period of the major religious holidays, hundreds of accidents are always registered on the square because of a huge number of parishioners. …
Read further

City tours, excursions and tickets in Jeddah and surroundings
Saudi Arabia: travelling advices
10. The level of security is very high in the country. The traveler has almost nothing to fear, except disorderly drivers. Traffic rules are almost not observed here. Drivers drive at high speeds. They don't look in mirrors. You should be careful when driving and crossing the road.
11. You should always have your identity documents with you. You can go to jail if you can't show your documents to the police.
12. English is very poorly spoken. You should have a vocabulary or phone with Internet access. You should also learn the name of your destination when traveling by taxi.
13. Access to some cities is restricted to non-Muslims. You should get permission to visit some attractions. It is best to do this through a local travel agency. …
Open

Car rental on OrangeSmile.com

Saudi Arabia to Open 38 Hotels in Diriyah
Diriyah is one of the first mega projects in Saudi Arabia. Hotels and other infrastructure will start opening next year, and all works are expected to end in 2026. The first 18 restaurants in Bujairi Terrace will start operating already in early 2022.
Read this
02.06.2023
Photos of Jeddah
Services search (pharmacy, police, parking, banks) on Jeddah map
Tips for the cities around Jeddah
Travelling to Jeddah - advices and tips. What should be provisioned in advance, the rules you might want to follow, and the things you better avoid doing in Jeddah. We help you to make your trip smooth and easy, with no unexpected surprises.