City break in Jeddah. Active leisure ideas for Jeddah - attractions, recreation and nightlife
Many travelers associate Jeddah primarily with colorful Oriental markets and rich choice of shopping centers. This is indeed a major trading city, but apart from interesting shops the city can offer its guests a rich variety of entertainment. Fans of beach rest will surely like the coast of Silver Sands as they will find truly excellent conditions for sports entertainment there. The beach is equipped with several sports fields. There are special play areas for children and rental offices where tourists can easily rent all the necessary beach equipment.
Jeddah will never disappoint fans of haute cuisine. Fans of various culinary trends will easily find a suitable place to dine in this wonderful city. Byblos is one of the most famous …
Open
Many travelers who come to have rest in Jeddah prefer to go to the beaches located in the nearby town of Obhur. It will take approximately an hour by car to get to Obhur from Jeddah. The town has simply excellent facilities for comfortable beach rest and diving. Tourists who want to learn the basics of diving are recommended to get several lessons in the diving school called Desert Sea. During classes beginner divers will find out all the most important rules, and experienced divers are able to book trips to most beautiful coral reefs.
Red Sea is a very popular destination among modern shopping complexes of the city. In this trading center visitors will find a huge choice of different products. Luxury clothing and accessory boutiques, numerous jewelry stores and perfume shops, interesting souvenir outlets and shops selling antiques – one can easily spend a whole day looking at shining showcases of the huge shopping mall. Copyright www.orangesmile.com
Interesting and multifaceted religious traditions of the local people have found reflection in various spheres of their life. The locals are very sensitive to their customs and they do all …
Open
Mall of Arabia shopping center offers a large choice of various products at very attractive prices. Several times a year the center organizes various interesting sales during which shoppers can purchase clothing by top brands at very competitive prices. Al-Alawi is considered the most popular market of Jeddah. This is the place where travelers prefer to visit when they need souvenirs. While walking in the numerous rows of the market tourists will surely find a lot of interesting souvenirs and jewelry, ethnic clothing and local art. For many local people the market has become the best place to meet friends. A walk in Al-Alawi will surely bring you a lot of fun. Gabel Street Market is a no less interesting place. It will surely surprise its visitors with a huge choice of goods at very nice prices. Fans of night life are recommended to visit one of the local restaurants. Almost any dining facility has an interesting entertainment program every evening.
Fans of active pastime will certainly love Jeddah. Get a wonderful experience of soaring over the city like a bird with West Sky Aviation. This is a great opportunity to increase the adrenaline level to the "above average" by jumping with a parachute. As is known, such fantastic impressions remain in memory for a very long time. Besides that, you can feel like a real pilot, sitting in a helicopter cockpit and flying over Jeddah revealing its beautiful spaces.
Jeddah is an incredibly beautiful port city, a popular beach resort and world-renowned center of pilgrimage. Al-Balad district is considered the oldest part of the city. First buildings in …
Open
The city can also offer diving schools like Al-Haddad SCUBA, Saati Sea Adventures. Gulf Divers Group is one more option for diving enthusiasts. Flyboarding is no less popular here. Among the companies providing services of this kind, the best one worth highlighting is Albatoul Marine. You can also use the services of Jeddah Water Front Park organizing flyboarding adventures in the best possible way. If there is a desire to master kitesurfing, feel free to contact Jeddah Kitesurf School SuperKiteDay where the quality of training is at the highest level.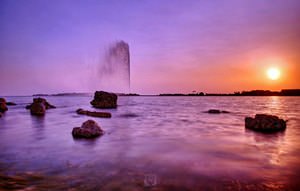 It is also worth noting a center for those looking for extreme fun - this is IN10SO where you can try your hand at karting. The best escape rooms worth mentioning are Novus where the atmosphere of "Saw" horror movie is recreated and The Secret Room where one can feel like the famous detective from 221B Baker Street. Another good escape quest is offered by simple-named Exit the Room. Bowling fans will appreciate Jeddah Lanes. Also, we cannot fail to mention a place where you can have plenty of fun and swimming - this is Saudia City Swimming Pool. The city has a lot of sports complexes like Gold's Gym or Lady's Gym so you should not worry about getting fat here.
1. Do not forget to take the national currency when you plan to visit local markets and shopping centers. Money can be exchanged at banks or one of private exchange offices. Tourists …
Open
Shallal Park is perfect for family holidays with children. Here they are provided with interesting rides, a carousel, and very tasty ice cream. By the way, the center is popular not only among kids. The smallest ones (from 2 to 6 years old) should be taken to Jack N Jill. To enjoy plenty of jumping, look for Bounce Trampoline Park. One more interesting facility for small citizens is KidZania with its many interesting children's activities such as wall climbing, rides, and interactive games (for example, "living in the adult world"). Fakieh Aquarium is especially popular. Here you can see fish, turtles, dolphins, and, of course, get an unforgettable experience.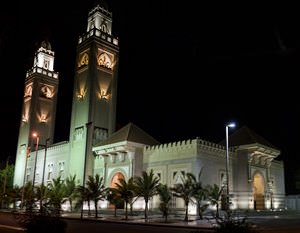 Those who want to laugh at stand-up comedians' jokes and "true stories" taken from real life are advised to visit Jeddah Comedy Club. When it comes to local cinemas, many people prefer Lezwan Group, and if you'd rather watch some theatrical productions or opera, head to Building 24. Performances are also held at Mövenpick Hotel City Star. Such a noble game as billiards is especially popular in the economic capital of Saudi Arabia. Billiards Jeddah, Billiardo City, and 8 Pool stand out among all other centers of this kind.
The city can offer a number of excellent facilities to have a great time at night. Country cafes in Jeddah and Layali Al Corniche Cafe are the best hookah bars in the economic capital of Saudi Arabia. Those wishing to spend time in a relaxed, casual atmosphere will surely appreciate Applebee's Neighborhood Grill & Bar. Have a great meal in Carlo Gavazzi camp jeddah serving really delicious local food. Bar B.Q. Tonight is one more place to have a wonderful time while enjoying very tasty meals.

This guide on active recreation and leisure in Jeddah is protected by the copyright law. You can re-publish this content with mandatory attribution: direct and active hyperlink to
www.orangesmile.com
.
City tours, excursions and tickets in Jeddah and surroundings
Reference information
Amusement parks near Jeddah
♥ Amusement park 'Iceland' Jeddah, 11.9 km from the center.
On the map
Photo
♥ Amusement park 'Al-Shallal Theme Park' Jeddah, 12.5 km from the center.
On the map
Photo
♥ Amusement park 'Atallah Happy Land Park' Jeddah, 16.1 km from the center.
On the map
Photo
♥ Amusement park 'Jungle Land' Jeddah, 20 km from the center.
On the map
Photo
Attractions and entertainment in Saudi Arabia
Alternative entertainment is popular due to numerous prohibitions. Side-riding is popular in the desert. Skilled drivers make the car goes on two side wheels. Sometimes even the two side wheels are removed from the car while driving. Sometimes passengers or even the driver get out of the car and stand on the roof. Some adrenaline fans sit down so that the car passes over them. Illegal racing and drifting are also common. Even the death penalty for street racing doesn't stop riders. …
Open

Car rental on OrangeSmile.com

Expo 2020 in Dubai Was Visited by More Than 7 Million Visitors
If you haven't visited this event yet, there is still time to book a hotel in Dubai because Expo 2020 Dubai runs until 31 March 2022. People who are unable to visit the emirate can make a virtual tour on the Expo 2020 website. By the way, the virtual visitation has already reached 31.6 million by the end of December.
Read this
24.03.2023
Photogallery of picturesque Jeddah
Search for active leisure and attraction spots on Jeddah map
City break ideas for neighbours of Jeddah
Guide to your best city break in Jeddah - popular places for recreation and leisure. Things to do during the day in Jeddah - attractions, parks, beaches, aquaparks, racing tracks, biking trails or waterski. Recommendations (with addresses, phone numbers and links) where to spend your time in the evening (bars, discos, clubs, etc.). We share some good ideas and the question 'What to do in Jeddah?' disappears immediately.