Colors of Jeddah - traditions, festivals, mentality and lifestyle
Interesting and multifaceted religious traditions of the local people have found reflection in various spheres of their life. The locals are very sensitive to their customs and they do all they can to keep and maintain their national color. The Arabic language remains the main national pride of local residents. It is considered one of the most complex and beautiful languages in the world. Quite a notable fact - Arabic absolutely does not accept neologisms, which actively penetrate into all other languages. This careful attitude to the native language characterizes local residents from the best side.
In Jeddah, there are a lot of attractive shopping centers. One of the largest is Red Sea Mall. This huge shopping complex includes dozens of clothing stores. There are shopping pavilions …
Open
The concept of "family" is also of particular importance for indigenous inhabitants. As a rule, a family consists of representatives of several generations, who continue living together and have a shared household. The oldest man is considered the main member of the family. In future he will transfer this duty to his sons. According to a tradition the youngest son must continue living in his parents' house even after making his own family in order to help parents and care for them.
One of common misconceptions is that local women have absolutely no rights and are all obliged to obey their husbands. In fact, in large modern cities this type of relationship has lost its relevance long ago. However, after marriage family becomes the primary responsibility for many women. They care for home and raise children. The only unchanged custom that has not lost its significance is a ban on public expression of relationship between man and woman. Even legitimate wife and husband cannot walk in the street holding their hands. Such behavior is not customary due to religious reasons. Some restrictions apply to the look of women and their clothes in particular. Copyright www.orangesmile.com
Jeddah is a large political, trading and industrial center of the Saudi Arabia. This is also one of the most beautiful towns of the country. Unique look of old quarters, large number of …
Open
Females are allowed to appear in public only wearing special head scarves and loose robes. However, the national clothes are distinguished by original design and often the cost of a traditional female headscarf may be close to the cost of a quality car. The reason for this is in the fact that women's clothing is traditionally decorated with gold thread embroidery, precious stones and beads, so one cannot simply call it boring and unoriginal. Religious holidays also occupy a special place in the culture of the locals. Both adults and children are well acquainted with religious traditions of their country and follow them with great respect.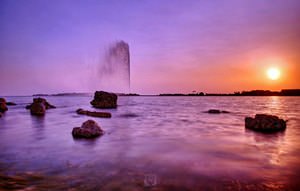 Festivals in the economic capital of Saudi Arabia are attractive because everything is done conscientiously and properly here. Local people do their best when organizing or working on something. Muslim holidays play a special role in the life of the city. For example, Mawlid al-Nabi, that is the birthday of the Prophet Mohammed, as well as the holy month of Ramadan and its ending Eid al-Fitr. It should be noted that during the celebration of Islamic holidays it is recommended to refrain from drinking alcohol or, if it is hardly possible, just avoid drinking alcoholic beverages in public places. Catholic Christmas and New Year are celebrated in the country just as a symbolic gesture for tourists visiting Jeddah at this time.
Jeddah also offers travelers with children a lot of interesting prospects for an unforgettable holiday. The city has many beautiful places for walking, modern shopping and entertainment …
Open
The Jeddah Summer Festival also known as "Jeddah Ghair" can rightly be considered the city's most famous festival offering the audience a grandiose program that includes performances of world stars, jewelry and art exhibitions, folk art presentations, local cuisine tastings, seminars, readings. Festive fireworks traditionally become the culmination of the event. You can get to the festival at the beginning of July, it takes place on Jeddah Corniche Waterfront. Without exaggeration, this is the largest event of this kind in the entire region, and besides, it is a great chance for entrepreneurs to make a bargain - after all, it is not for nothing that Jeddah is called the economic capital of Saudi Arabia.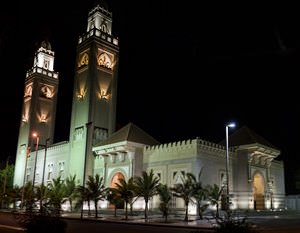 Another interesting event that is held in Jeddah is the Hayya Jeddah Festival, or "Let's Go to Jeddah". This is a large-scale event focusing specifically on children - shows, games, contests and various kinds of entertainment are prepared here especially for them. In total, the festival is visited by about one million people every year. Kids can win some valuable prizes, so this is a great opportunity for the smartest, most active and creative to express themselves. In addition, theatrical performances, an equilibrist show, art exhibitions are prepared for children. They are entertained by their favorite characters, and more than five thousand shopping malls offer big sales for this time. All this can be seen in Red Sea Mall during the whole month - the festival starts at the beginning of January and ends at the beginning of the next month.
Jeddah will never disappoint fans of haute cuisine. Fans of various culinary trends will easily find a suitable place to dine in this wonderful city. Byblos is one of the most famous …
Open
The Jeddah Food Festival taking place on Tahlia Street at the end of March brings together all gourmets. Many restaurants and cafes in the city center join the celebration. The event enjoys special popularity because of its warm family atmosphere. Here you can taste "tikka" (kebabs prepared in a special way), "masse" (mixed meats), "dajaj" (stewed chicken with tomato sauce), "fatush" (vegetable salad), "ful" (bean puree), "mahalabia" (pudding with pistachios), as well as the well-known oriental delicacies like Turkish Delight, sherbet, baklava, halva, sesame seed candy. And of course, try oriental-style coffee - isn't it a dream of any coffee drinker?
Mawlid al-Nabi, the birthday of the Prophet Mohammed, is really widely celebrated in Jeddah, especially since the city is pretty close to his birthplace, Mecca. At this time, the sages tell stories about the Prophet's trials, his life, while parades are held along the main streets of the city. People decorate mosques and their homes, and after processions, the action continues in the family circle - in general, it is a family holiday, at this time it is customary to pray for the health of all its members. Hijri New Year, or Muharram, serves as a kind of reminder of how Muhammad made a pilgrimage to Medina. It is customary to celebrate the holiday in the same manner, with the family, and wish others all the best.
Jeddah is an incredibly beautiful port city, a popular beach resort and world-renowned center of pilgrimage. Al-Balad district is considered the oldest part of the city. First buildings in …
Open
On such a holiday as Eid al-Fitr, it is customary to perform prayers and rituals dedicated to the end of the holy month of Ramadan, during which adherents of the Muslim faith denied themselves all earthly pleasures, including food. Therefore, on the day marking the end of Ramadan, all family members gather at a rich festive table to celebrate. Eid al-Adha, or the Feast of the Sacrifice, is dedicated to Ibrahim's willingness to sacrifice his son in honor of Allah. Locals wear their best clothes, repeat special prayers, then sacrifice the lamb and share its meat with others.

This guide to traditions and festivals in Jeddah is protected by the copyright law. You can re-publish this content with mandatory attribution: direct and active hyperlink to
www.orangesmile.com
.
City tours, excursions and tickets in Jeddah and surroundings
National traditions of Saudi Arabia
Some rules of communication are unusual and strange for Europeans. The left hand is considered unclean. It is forbidden to direct your feet in the direction of the interlocutor, keep your hands in your pockets, actively gesticulate, and touch the interlocutor. You can't talk about religious or political issues. …
Open

Car rental on OrangeSmile.com

Hilton builds third luxury hotel in Kyoto
The project organizers note that the new Kyoto hotel is perfect for both business and leisure. Just to remind you, the opening of the Roku Kyoto hotel took place in the city in 2021. The luxury hotel also never ceases to amaze guests with its exquisite atmosphere and variety of services. It is close to famous attractions like Kinkaku-ji Temple, and Shozan Resort Kyoto Pavilion is a short walk from the hotel.
Read this
29.09.2023
Colors of Jeddah in photos
Search for popular touristic sites on Jeddah map
Traditions and festivals in cities around Jeddah
Cityguide on traditions, mentality and lifestyle of people in Jeddah. Learn the best periods to visit Jeddah to discover its soul - authentic festivals, events and celebrations. We will also reveal the interesting habits, attitude towards the world and to tourists in Jeddah.