Shopping in Jeddah - authentic goods, best outlets, malls and boutiques
In Jeddah, there are a lot of attractive shopping centers. One of the largest is Red Sea Mall. This huge shopping complex includes dozens of clothing stores. There are shopping pavilions with cosmetics and perfumery, and excellent shops with goods for children. For a family recreation the Mall is just perfect, since it offers many restaurants, cafes, and playgrounds for children.
1. Do not forget to take the national currency when you plan to visit local markets and shopping centers. Money can be exchanged at banks or one of private exchange offices. Tourists …
Open
For high-quality brand goods, get over to Mall of Arabia, where you'll find stores of mainly local brands offering attractive prices. There are fine shops with men's clothing and shopping pavilions that offer comfortable sporty clothes.
Visits to local markets should be an indispensable part of shopping in Jeddah. The most fascinating goods are readily available in Gabel Street Souq market. On colorful counters you'll find popular national spices and herbal gatherings which are, according to local sellers, useful against all diseases. Women are obviously going to like pavilions selling oil-based perfumery at agreeable prices. The market offers fabrics, clothing and footwear of local production, as well as lovely handicrafts and jewelry. Copyright www.orangesmile.com
Al Salam Mall has more than a hundred stores and a large entertainment area for visitors with children, as well as restaurants and cafes of different levels. However, the center is attractive not only with a number of clothing stores, but with its supermarkets, that offer ready-made meals, fresh pastries and confectionery.
Jeddah is a large political, trading and industrial center of the Saudi Arabia. This is also one of the most beautiful towns of the country. Unique look of old quarters, large number of …
Open
Jeddah is famous for its luxury jewelry stores. You can purchase exquisite jewelry at really affordable prices. One of the best in its category is Jeddah International Market pavilion. This is a real gold market with an incredible choice of products. They sell exquisite necklaces and pendants in national style, even so, lovers of European-style jewelry will appreciate it, as well. The market has been operating for several decades. It presents excellent jewelry for both women and men.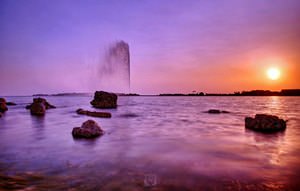 Everyone who wants to bring interesting things and decorations in national style from their trip, should come by MAison BO-M store. They sell great souvenirs. In this store you can choose chic outfits in national style, luxurious jewelry made of precious metals, porcelain and wood products. Many excellent and practical things are sold here, for example, colorful handbags and purses for women, and bright T-shirts for men.
Jeddah also offers travelers with children a lot of interesting prospects for an unforgettable holiday. The city has many beautiful places for walking, modern shopping and entertainment …
Open
One of the busiest and most prestigious shopping streets in the city is Tahlia Street. It's full of very prestigious shops, among which are Gucci and Versace pavilions. This is a great place to look for new beautiful outfits, perfumery and accessories, yet, you can purchase souvenirs in national style and works of art. Budget tourists will surely appreciate stores of local brands.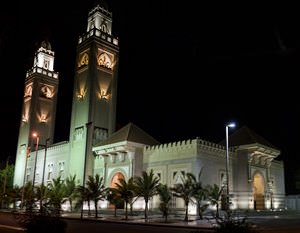 FISH MARKET is an excellent place for gastronomic shopping. This is another attractive place, where a huge choice of fresh seafood is always on offer. Many tourists come here to just admire the colorful shopping arcade and taste delicious fish dishes cooked in local cafes. Those who wish to buy the best marine products, should visit the market as soon as possible.

This guide to shopping in Jeddah is protected by the copyright law. You can re-publish this content with mandatory attribution: direct and active hyperlink to
www.orangesmile.com
.
City tours, excursions and tickets in Jeddah and surroundings
Reference information
Shopping streets in Jeddah
♥ Shopping area ' Al-Balad' Jeddah, 4.9 km from the center.
On the map
Photo
♥ Shopping area ' Tahlia Street' Jeddah, 9.7 km from the center.
On the map
Photo
♥ Shopping area ' Prince Sultan Street' Jeddah, 13.9 km from the center.
On the map
Photo
Shopping in Saudi Arabia
Shopping in Saudi Arabia is one of the main attractions due to the lack of sufficient other entertainment. The country's religiosity affects all areas of life, including shopping. You can bring religious souvenirs, including beautiful rosaries or an ornate edition of the Koran from Saudi Arabia. A traditional men's headscarf can be worn as a scarf. Its checkered pattern never goes out of fashion. Food souvenirs are sweets (Turkish delight, sorbet, halva, and baklava in boxes), dried or candied fruits, as well as sets of spices. It is better to buy them in the markets. Camel milk, hermetically packed in a factory way will be an unusual gift. A curved Arabic dagger can be hung on the wall as a reminder of the trip. The scabbard is usually decorated with gold and silver. Arabic calligraphy is very beautiful. You can buy a text written on paper and enclose it in a frame or buy a necklace with an Arabic script. Aromatic oils are made from natural ingredients. Jewelry made of gold or silver with traditional ornaments. Leather sandals in the traditional Arabic style can be worn for a long time. You can also bring a coffee pot, a small rug or a pillow with a traditional pattern. …
Open

Car rental on OrangeSmile.com

Preferred to Open 9 New Hotels in 2022
In September 2022, the Sommerro hotel in Oslo will start operating in a carefully restored 1930s Art Deco building. This building is a true landmark of Frogner, a historic neighborhood of the Norwegian capital. A multi-million-dollar renovation carefully turned the largest preservation project in Norway into a modern hotel with 231 rooms, including 56 residences. Preferred will open five more hotels in 2022, namely, The Wall Street Hotel in New York, Amrit Ocean Resort & Residences on Singer Island (Florida, the US), TOA Hotel & Spa in Zanzibar, Pendry hotel in Washington, and Pendry Park City hotel in Utah.
Read this
31.03.2023
Photogallery of Jeddah best places
Search for shopping areas, streets, boutiques and supermarkeets on Jeddah map
Shopping advices for the whole region around Jeddah
Shopping advices for Jeddah. The best spots for buying designer clothes and local delicacies from Saudi Arabia - shops, galleries, boutiques and outlets. We provide you with the shopping streets map, so you can plan your efficient shopping routes, while hunting for authentic souvenirs, goods, drinks, shoes and clothes in Jeddah.