Family trip to Jakarta with children. Ideas on where to go with your child
Jakarta is famous for its variety of entertainment centers, which attract tourists with children to this Indonesian city. For young children, the entertainment center Kidzania will be an excellent recreation spot. Large and colorful, it has a lot of interesting entertainment in store for its young guests. Kids can spend time on the original playgrounds, learn the basics of various professions, as well as learn a lot of interesting things about the world and take part in team games. For children in the center, interesting master-classes and recreational activities are regularly conducted.
Hero supermarket is very popular with budget tourists in Jakarta. All popular products are available in it at attractive prices. Only vegetables and fruits are a little more expensive than …
Open
There are several excellent water parks in Jakarta, one of the best among which is Waterbom Jakarta. Among the attractive features of the water park is not only the diversity of swimming pools among which there are children's, but also a wide selection of slides of various levels of difficulty, as well as attractions designed for children of all ages. The water park occupies a large territory decorated with live plants and flowers. On its territory, there are lazy rivers, spacious terraces with sun loungers, playgrounds for the little ones, and attractions for those who prefer extreme entertainment.
Another equally attractive water park is the Wave PondokIndah WaterPark. It also occupies a vast territory and is very beautifully decorated. In this water park, you can comfortably rest all day. Children will definitely like the colorful slides and a pool with artificial waves, while adults will appreciate the recreation zones with sun loungers equipped in the shades of palm trees. In the water park, there is a very small pool with fountains and attractions, designed for the youngest visitors. Copyright www.orangesmile.com
Discovering the architecture of Jakarta from bird's eye view! Istiqlal Mosque, National Monument, Cathedral Jakarta, Museum Bank Indonesia, Gelora Bung Karno Stadium, all those monuments are defining the image of Jakarta …
Open
An obligatory part of the program should be a visit to the SeaWorld aquarium, which is considered one of the best in the country. In this aquarium, there is a transparent tunnel, during a walk along which, you can observe how sharks and other representatives of the underwater world swim above one's head. In large aquariums, you can watch exotic fish, as well as how specially trained scuba divers feed them. One of the favorite places for children in the aquarium is the pool in which turtles live.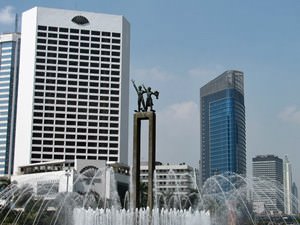 There are also some unusual amusement parks in Jakarta, similar to which one would not be able to find in any other city of the world. An excellent example is Ancol Ocean Dream Samudra - an outdoor theme park which is entirely devoted to the sea elements. There is a beautiful dolphinarium and a small aquarium with an interesting collection of colorful fish, as well as interesting attractions for visitors. In the park, there are many beautiful fountains with bright sculptural compositions which children will surely like. They will also be able to spend time on special gaming and sports grounds. One of the main features of the amusement park is underwater performances with the participation of trained dolphins.
Jakarta is famous for large choice of wonderful places, entertaining and cultural facilities. Many travellers visit Jakarta only when transferring from one destination to another, but this …
Open
There is also a beautiful zoo in Jakarta which is also worth a visit with children. It is the Ragunan Zoo, a significant part of whose inhabitants are typical representatives of exotic Indonesian forests. You can watch cute monkeys, see the world's largest snakes and even pat them, feed elephants and watch exotic birds that live in a special pavilion. The zoo is very large and well maintained, making it pleasant to walk around its territory. Many friendly inhabitants allow children to feed and pet them, so the kids will definitely like it here.

This guide to family holidays in Jakarta is protected by the copyright law. You can re-publish this content with mandatory attribution: direct and active hyperlink to
www.orangesmile.com
.
City tours, excursions and tickets in Jakarta and surroundings
Famous sights of Jakarta
Krakatoa Volcano
From the series
"Volcanoes and Traps That Changed the Face of the Planet"
Check on the map:
Distance from Jakarta center - 155.6 km.
Destructive elements has caused the death of 34 000 people and was a trigger for serious geological changes. The island, which until 1883 housed the volcano, was completely destroyed during the eruption. A huge caldera has formed there. In 1927, the newly awakened volcano eruption triggered the emergence of a new caldera in the center of the cone, called Anak Krakatau. The height of this volcano, whose name can be literally translated as Child of Krakatoa is 813 meters. The original volcano was much higher. …
Read further

Gunung Padang
From the series
"Top Survived Pyramids from Previous Civilizations"
Check on the map:
Distance from Jakarta center - 94.5 km.
The height of the pyramid, which is hidden behind the gentle mountain slopes, forms about 200 meters. It was built of the enormous blocks carved out of the volcano rock. It is remarkable to see on many blocks the obvious traces of artificial processing. Just as with which instruments the blocks could be processed before millennia, the modern scientists can not even guess. The pyramid structure is also very interesting. Its steps are interspersed with six large terraces. …
Read further

Photogallery of best places of Jakarta
Children attractions (aquaparks, zoos, amusement parks) on the map of Jakarta
Interesting places to visit with children around Jakarta
Guide to sightseeing and entertainment for children in Jakarta - parks, attractions, museums, zoos, water-parks. All fascinating and educational sites of Jakarta, which are must visit and see for your child. Find out the best discovery routes and places for kids (local theaters, exhibitions and museums), where you can spend quality time together. Jakarta for families with children.