Culture of Abu Dhabi. Places to visit - old town, temples, theaters, museums and palaces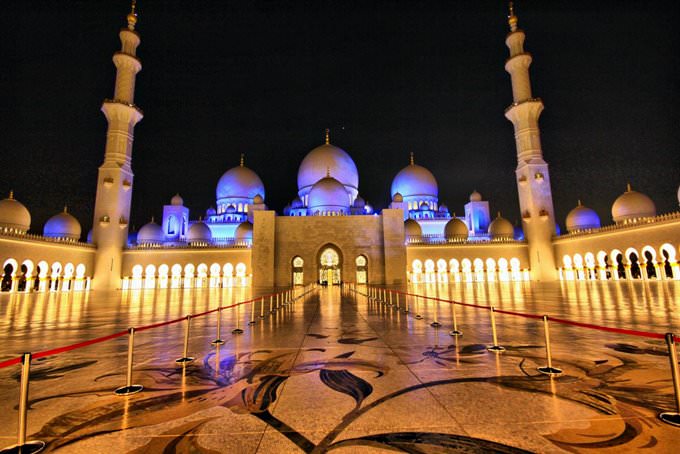 Abu Dhabi is a beautiful modern city that never ceases to amaze its visitors by the beautiful parks, skyscrapers, and fabulous mansions. The most beautiful villas and palaces are located close to the waterfront. You will find luxury shopping malls, entertainment centers and restaurants there. In the city's suburbs you will find beautiful old mosques, beautiful Al Hosn Palace built in the end of the 19th century, and, finally, famous Hafeet Mountain. Magnificent Sheikh Zayed Mosque never ceases to attract travelers from different countries of the world. It is present in the list of the ten largest mosques in the world. The opening ceremony of the masque was held in 2007. The tomb of Sheikh Zayed bin Sultan Al Nahyan, the first President of the UAE, is located near the mosque. Quite a notable fact - the mosque can be entered by anyone. Every day here are organized excursions for tourists, during which you can enjoy the beautifully decorated interior of the mosque and learn a lot about the culture and traditions of local residents.
A selection of luxury hotels in Abu Dhabi is very large, and there are some confident leaders, which are in demand among wealthy guests of the emirate. The luxury hotel Grand Millennium Al …
Open
Abu Dhabi is one of the world's largest oil production centers. There is an oil exhibition near National University. The exhibition is devoted to the development of the industry. Travellers are also recommended to visit Historical Museum, the exhibition of which includes ancient manuscripts and documents older than one hundred years. Tourists with children should definitely visit the local zoo, and make a walk through beautiful Ain Fayyad Park, which is decorated with amazing fountains and statues. Central Market can be also called the local place of interest as this is the place where you can purchase wide range of products, from jewelry and perfume to household appliances and toys. The shopping complex is the location of more than four hundred pavilions, each of which offers a certain type of goods.
An Nasr Street is the best place for gifts as you will find best souvenir shops there. If you want to buy an authentic oriental rug in the memory of your trip, the best place for this kind of purchase will be the local Carpet market. Fans of walking usually consider Corniche Road is the best place of rest. There is nothing strange in this as the street looks more like a huge park. The length of the embankment estimates 10 kilometers and it is decorated with exotic plants, fragrant flower beds and beautiful fountains. Copyright www.orangesmile.com
In the section below, you can get one of our excursion tickets or city discovery tours over Abu Dhabi and surroundings. Our website offers 10-30% lower ticket prices, when compared to the offline purchase on the spot.
City tours, excursions and tickets in Abu Dhabi and surroundings
This guide to cultural sights Abu Dhabi is protected by the copyright law. You can re-publish this content with mandatory attribution: direct and active hyperlink to
www.orangesmile.com
.
What to visit during two-day excursion in Abu Dhabi
Emirates Palace
Where: The Corniche, Abu Dhabi; Telephone: +971 2 690 9000; Tickets: Free;
Al Maqtaa Fort
Where: City Approach Road (near Al Maqtaa Bridge, Abu Dhabi; Telephone: +971 2 444 0444 (Tourist Office); Tickets: Free;
Emirates Heritage Village
Where: The Breakwater, Abu Dhabi; Telephone: +971 2 681 4455; Opening hours: Mon-Thurs & Saturday; Tickets: Free; More info: Info@torath.ae;
Sheikh Zayed Bin Sultan Al Nahyan Mosque
Telephone: +971 2 444 0444 (Tourist Office); Tickets: Free;
Qasr Al Hosn Palace
Where: Corner of Sheikh Zayed First Street and Khalid Sin Al Waleed Street, Abu Dhabi; Telephone: +971 2 621 5300; Opening hours: Open 7:30 a.m. – 2:30 p.m. and 5 p.m. – 9 p.m. Saturday to Thursday.; Tickets: Free;
Women's Handicraft Centre
Where: Al Karamah Street, Abu Dhabi; Telephone: +971 2 447 6645; Opening hours: Open 8 a.m. - 2 p.m. Sunday - Thursday.; Tickets: Free;
Reference information
Art galleries in Abu Dhabi and around
♥ Art museum 'Guggenheim Abu Dhabi' Abu Dhabi, 8.7 km from the center.
On the map
Photo
♥ Art museum 'Zayed National Museum' Abu Dhabi, 9.2 km from the center.
On the map
Photo
♥ Art museum 'Salwa Zeidan Gallery' Abu Dhabi, 9.9 km from the center.
On the map
Photo
♥ Art museum 'Louvre Abu Dhabi' Abu Dhabi, 10.6 km from the center.
On the map
Photo
Unique spots in Abu Dhabi and near
Flower Clock in Abu Dhabi
From the series
"Enchanting Flower Clocks Built by Humans"
Check on the map:
Distance from Abu Dhabi center - 11.9 km.
All of the flowers and plants decorating the flower beds are also selected taking into account the harsh climate. Since its opening, the flower clock in Abu Dhabi is a popular tourist attraction. It is a stop for special bus tours. Some travelers get a taxi to watch the landmark. Even in the hot weather, the pleasant coolness embraces the clock. Guests of the city will have an opportunity to get on the rocks near the pond and watch the fountains, as well as to make photos of one of the most unusual live attractions of the country. …
Read further
Sheikh Zayed Mosque
From the series
"Top Largest and Famous Mosques Worldwide"
Check on the map:
Distance from Abu Dhabi center - 12.3 km.
Inside the huge marble building at once can be up to 40 000 of people. Sheikh Zayed Mosque is a multiple champion of Guinness Book of World Records. The building is decorated with the largest carpet. It is 5 627 square meters large and was made by around 1 200 carpet knotters. In the main hall, you can see the largest chandelier in the world. It has a 10 meters diameter and 15 meters high. All chandeliers were made by a special order in Germany. They are richly decorated with millions of Swarovski crystals. The main vault of the Mosque isn't all elements of the decoration but its luxurious inner yard made with colourful marble. …
Read further
Car rental on OrangeSmile.com
Photogallery of cultural heritage of Abu Dhabi
Landmarks of culture on Abu Dhabi map: art-galleries, monuments, palaces, etc
Excursions over cultural sights of neighbours of Abu Dhabi
Culture guide to Abu Dhabi. Which fascinating sights to visit once you are in Abu Dhabi: temples, churches, museums, theaters and castles. Recommendations (with addresses, phone numbers and links) on the places 'must visit' in Abu Dhabi. Plan your own city excursion by using this page info!