United Arab Emirates sightseeing. Travel guide - attractions, sights, nature and touristic places
The United Arab Emirates remain one of the most famous and popular resort destinations in the world. The country welcomes guests all year round. Each from the 7 Emirates is famous for its own landmarks, excursions and entertainment. One can see the Arabian culture in its full splendor during a visit to Abu Dhabi, the capital of the country. The city simply amazes travelers with its lush greenery. Here, among beautiful parks, you will see luxury palaces, old forts, modern skyscrapers and entertainment centres.
Monuments and architectural objects, notable for the history and culture of the country. …
Read further
Fans of shopping are recommended to visit Dubai, where they will find the biggest market in the UAE. As much fine jewelry is sold on this market, it has become widely known as the Golden Market (Gold Souk). Besides that, there are also several important architectural landmarks in Dubai, such as Sheikh Mohammed Palace, Jumeirah Mosque and other ancient buildings.
In Sharjah you will see the beautiful Cultural Square and unforgettable Pearl Monument. There are also several large bazaars, restaurants and entertainment centers in this Emirate. The Al Ain Emirate is famous for its natural landmarks. Besides nature reserves and national parks, there are several beautiful botanic gardens in Al Ain, as well as a large zoo. Actually, ordinary city streets look like a big blooming garden thanks to numerous flowerbeds and many exotic flowers. Copyright www.orangesmile.com
The luxury hotels in United Arab Emirates, deserving attention of the most discerning traveler.
Read further
Dreamland Aqua Park, which is located in Umm Al Quwain, is known as one of the most famous entertainment parks in the country. Rich choice of attractions, playgrounds for kids, swimming pools and parks zones for picnics have made this park very popular, so it attracts hundreds of visitors every day. There is also a theater in the aqua park, so besides thrilling rides visitors are welcome to attend various performances and concerts that take place there every day. Wild Wadi Aqua Park is no less popular. This park is located in Dubai and is particularly famous for the Kamikaze ride - the 15 meter high ride ends with a giant swimming pool. Beautiful waterfalls, unhurried rivers and swimming pools with artificial waves make Wild Wadi the best place for rest during a hot day.
When describing architectural landmarks of the UAE, it's simply impossible to forget to mention Hatta Fort that is located in a small village. Even several centuries ago the fort was a very important protective facility. Nowadays, travelers are welcome to know more about the history of the fort in a local museum. Modern buildings are no less interesting and are also worth close attention as some of them really deserve it, for example, Burj Al Arab – the most luxurious and expensive hotel in the world.
These spots really worth the attention of a real traveler-researcher. …
Read further
History and Entertainment
The UAE are one of the most developed countries from a tourist point of view. There are world-famous hotels and restaurants, huge shopping malls, and entertainment centers. Most of the tourists associate the Emirates only with beach recreation and shopping. Only few people know that there are excellent conditions for winter sports in Dubai.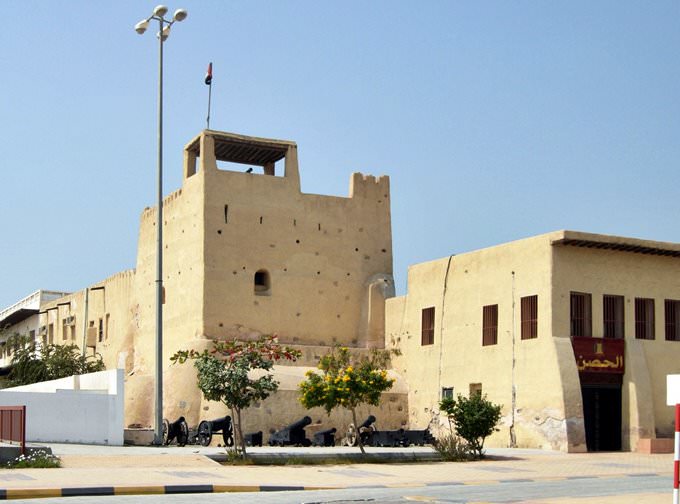 In 2005, in the shopping and entertainment Mall of Emirates was the ski center Sky Dubai opened. Its area is almost 25 000 m2. The indoor center is equipped with powerful snow-making machines that produce over 30 tons of snow every day. In the center, there are ski routes, special zones for snowboarding, and well-equipped playgrounds for children. Almost 1500 people relax in this unusual entertainment center every day. Besides ski routes, the guests can visit a big skating rink.
Monuments and architectural objects, notable for the history and culture of the country. …
Read further
The Emirates are very popular with shopping enthusiasts not only because of different malls. From year to year, an international shopping festival is held in Dubai. Its guests can not only buy unique items with a high discount, but also take part in different entertainments. The festival begins in the second half of January and ends in February. Its guests can take part in interesting lotteries and contests. There are concerts and bullfights organized but the main event of the festival is selling products from all over the world.
Shopping enthusiasts should certainly visit the UAE at any time of the year. There are excellent shopping malls and colorful markets in every emirate. In Dubai, there is the biggest shop of free trade in the world. The prices of different products here are 30-50% lower than in many European countries.
The luxury hotels in United Arab Emirates, deserving attention of the most discerning traveler.
Read further
You should go to noisy eastern markets for rare spices and sweets. Jewels of the local production are very popular with tourists too. On the market, you can always buy luxurious silk fabrics, clothes in national style, hand-made carpets, and interesting souvenirs from local craftsmen. The most popular souvenirs are beautiful coffee pots, hookahs, hand-made caskets, and copper items. Fans of practical gifts will definitely like items of camel hair.
This article about iconic landmarks and sights of United Arab Emirates is protected by the copyright law. You can re-use the content, but only under the condition of placement of an active link to
www.orangesmile.com
.
Fantastic City Tours and Excursions in United Arab Emirates
Famous and uniques places in United Arab Emirates from our review series
Top of Burj Khalifa
From the series
"Breathtaking high-altitude observation points with panoramic views on cities"
Viewing platforms located in the legendary Burj Khalifa enjoy a great popularity among guests of Dubai. The height of the 163-storey skyscraper is 828 meters. The building was completed in 2010. There are multiple viewing platforms at different heights. The highest deck allows to look at the city from the height of 555 meters. This site is located on the 148th floor of a skyscraper. Another, no less amazing observation deck is located on the 124th floor; its height is 452 meters.
Needless to say that the panoramic view of the city is simply mesmerizing. Compared with Burj Khalifa, all the surrounding skyscrapers and large-scale buildings seem quite tiny, and cars on the highways are barely distinguishable. One of the main features of the site is that it allows you to enjoy a circular …
Read all
Wild Wadi Waterpark
From the series
"The greatest and fanciest water parks"
Dubai is a world-class resort, so it is not surprising that one of the best water parks of the planet is situated here. Wild Wadi Waterpark occupies an area of ​​50 000 square meters. It features incredibly smart design. Pools and attractions are interspersed with picturesque garden areas and rivers. One of the main decorations of the water park is a musical waterfall, whose height is 18 meters. The aquapark has an artificial lagoon. The rest there is as comfortable, as relaxing on one of Dubai beaches.
Wild Wadi Waterpark attracts fans of surfing, as it is equipped with several different pools with artificial waves, where you can hone your sports skills. Fans of extreme sports enjoy numerous rides, including one of the most extreme slides  in the world. Jumeirah Sceirah tubes was …
Read all
Dubai Aquarium
From the series
"The coolest and largest oceanariums in the world"
Guests of Dubai should not lose an opportunity to visit one of the most amazing aquariums of the planet. Facilities are located in the territory of the largest shopping and entertainment center in the Middle East, Dubai Mall. The total volume of its aquariums is 10 million liters. The place features more than 33 000 inhabitants. Environment for watching marine life is just fine.
Directly under a huge aquarium a tunnel passes. All tanks have large viewscreens. A visit to the aquarium is sure to be informative, because it runs the School of the Ocean. Guests are offered different types of educational programs, which include special programs for children of different ages and even for students. However, the main attractive feature of the aquarium is its central tank, which in addition to …
Read all
All unique sightseeing United Arab Emirates
Sightseeing in popular cities of United Arab Emirates
Map of travel guides to United Arab Emirates cities