Shopping in Valletta - authentic goods, best outlets, malls and boutiques
Valetta will give its guests a lot of perspectives for an exciting shopping. In the city exist some excellent shopping streets, Republic Street is the central one. It has a number of the most diverse stores, including shopping pavilions with clothes and shoes of various price categories. There are popular souvenir stores on the central street and some excellent bookshops, which are extremely popular with tourists. They sell beautiful postcards, booklets and photographs of Malta's outstanding attractions. Here, are some interesting antique shops for those who are not indifferent to antiquities.
The building of Valetta started yet in 1566. At that time the city was used as a powerful protective facility. Valetta was surrounded by thick walls, behind which were hiding cozy streets …
Open
In search of original presents, many travelers are sent to Liberty Square. There, are located numerous souvenir shops and art workshops, that offer traditional souvenirs and exclusive crafts from local craftsmen. Incredibly beautiful glassware, fine lace, luxurious jewelry and hand-tied clothes from goat's wool - all these and many other items can be bought in the shops on the square.
Connoisseurs of jewelry should definitely visit The Silversmith's Shop. They sell extraordinary silver jewelry, the like of which you won't find in other stores in the world. Frugal buyers will be able to purchase miniature pendants in the form of Maltese cross. There are suitable decorations for wealthy tourists, as well. Skillful masters use a variety of silver accessories and old coins in making jewelry. Copyright www.orangesmile.com
Valetta invites its guests to attend elegant restaurants and charming cafes that are perfect for relaxing after excursions or for a romantic dinner. Not far away from the Cathedral, …
Open
Valletta Glass is the most popular tourist destination. It produces and sells incredibly beautiful glassware. All shop attendees can watch the work of skillful glass blowers. Especially popular are miniature vases and lamps made of colored glass. Yet, they sell a wide variety of dishes.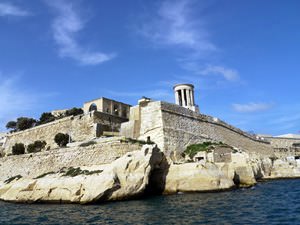 For connoisseurs of high-class alcoholic beverages, there is an excellent Ellul Wines E Spirits store. Hundreds of varieties of local wine are available to its customers. Popular Limuncell liqueur, which they make exclusively from lemons grown in Malta is also sold there. On the territory of the store, is a cozy cafe with an open terrace, so visitors always have an opportunity to comfortably relax with a glass of their favorite wine.
Local people are very friendly and open-minded. They are always glad to meet new guests and treat foreign tourists with curiosity and trust. Valetta locals do not like to hurry. They will …
Open
For the best chocolate on the island, go to Chocolate District store. Its customers are offered dozens of varieties of chocolate. Here you can buy both individual tiles, and very beautiful gift sets. In the shop, a comfortable rest area with tables where one can relax with a cup of tea or coffee is equipped. The owners of the store are real professionals. They are always ready to help customers with the choice of the best sweets for themselves and their loved ones.
There are several large shopping centers in the city. One of the biggest and most interesting is Embassy Shopping Complex. It presents stores of popular European and world brands and very interesting youth clothing stores, as well. After hitting the boutiques, you can relax in one of the local restaurants or go to the cinema, which is also located in the building of the shopping center.
Valetta is famous for its religious monuments. The territory of the city is home to approximately 300 old churches and cathedrals. St John's Co-Cathedral is one of the most famous landmarks …
Open
Those who are partial to the style of the past, will be interested in coming by Kir Royal design store. They sell chic clothes and shoes in vintage style. All the goods presented in the store are of the highest quality. To new items of the wardrobe you can choose elegant 'antiquity' accessories.
Valletta will surprise tourists with a variety of souvenir shops, some of them have truly unique things. The WooHoo store specializes in selling figures of the Maltese knights, each of which is a unique artwork. Each figure is well thought out and modeled down to the last detail. Souvenirs presented in the store are exclusively handmade.

This guide to shopping in Valletta is protected by the copyright law. You can re-publish this content with mandatory attribution: direct and active hyperlink to
www.orangesmile.com
.
City tours, excursions and tickets in Valletta and surroundings
Shopping in Malta

Another popular place for shopping in Malta is the town of St. Julians. It can be reached on foot from Sliema in just half an hour. Shopping is best at Paceville Square. In addition to traditional brands, among the boutiques there is Misto store; where exclusive women's items are sold, boutique G with bright and feminine models for parties, and an art goods store with a huge selection of souvenirs. For the famous Maltese glass, you should go to Ta Ali, the village of artisans. In addition to glassware, lace products and various souvenirs, including door handles are sold at this place, to which the Maltese treat with special respect. …
Open

Photogallery of Valletta best places
Search for shopping areas, streets, boutiques and supermarkeets on Valletta map
Shopping advices for the whole region around Valletta
Shopping advices for Valletta. The best spots for buying designer clothes and local delicacies from Malta - shops, galleries, boutiques and outlets. We provide you with the shopping streets map, so you can plan your efficient shopping routes, while hunting for authentic souvenirs, goods, drinks, shoes and clothes in Valletta.