Shopping in Mechelen - authentic goods, best outlets, malls and boutiques
Mechelen cannot offer an abundance of large shopping centers, but there are many small interesting shops here. On the main city square, you will find a large Het Mechels gift shop where they sell the most popular types of souvenirs at pretty attractive prices. Tiny houses, beautiful magnets and postcards, city guides and maps with marked attractions, a large selection of Belgian chocolate and beer - everyone can choose memorable gifts to their liking here. Large panoramic postcards with city landscapes cost about 2.50 euros, and for the most beautiful magnet, you'll need to pay up to 3 euros.
Mehelen is not distinguished by an abundance of entertainment centers and children's attractions. In any case, family recreation here will definitely not be boring. One of the primary …
Open
Windels is of interest to those who are not indifferent to elite alcoholic drinks, as well as fans of premium tobacco. In this store, you can always get a bottle of wonderful Gosset champagne for about 60 euros and choose some elite varieties of rum and cognac for your mini-bar. It sells cigars and all kinds of smoking accessories. The store's price level is quite high.
A short distance from the bustling central streets is Coventry, a popular men's clothing store that will appeal to those who do not like staying in noisy and crowded shopping centers. The store is quite big and besides the variety of goods offers a wide range of prices. A high-quality sweater or a jacket for everyday wear can be bought for 70 euros, and for fans of exquisite and expensive clothes, there are garments worth several hundred euros. Copyright www.orangesmile.com
In Mechelen, you can try a lot of interesting and original dishes, each of which has a unique history. A traditional local specialty is Mechelen Cuckoo. This is a common name for a variety …
Open
It'd be interesting for ladies to visit Crispino that occupies a beautiful historic building and specializes exclusively in women's shoes. The average cost of a pair is 60-70 euros, the most expensive and exquisite shoes will cost customers no more than 180 euros. Classic style prevails in the store, however, it would be of interest to fans of bright and glamorous shoes too. In addition to the new pair of shoes, ladies will be able to pick up a great handbag.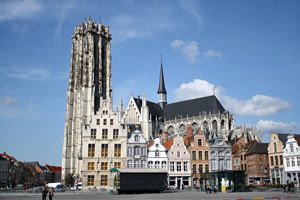 There are several interesting bookstores in Mechelen, and one of the most popular among tourists is Salvator Boekhandel. Travelers are attracted by its large selection of books on national history and culture. The store also sells lovely postcards depicting city attractions for 60-80 cents. The store is dominated by books in Belgian, so tourists rarely buy fiction.
Mechelen residents are proud of their amazing history. Over hundreds of years, the city has gotten a lot of interesting symbols and traditions. One of the most interesting symbols is …
Open
Fans of youth style clothing will be happy to check out Cool Cat offering customers a huge selection of glamorous outfits and accessories. The store always provides a wide choice of colorful T-shirts with drawings and inscriptions, jeans of the most fashionable models, shoes and various accessories that will help make your image unique. The price level is very attractive, fashionable T-shirts will cost you 7 euros and more.
One of the most unusual clothing stores in town is Biba located near the main city square. It offers both men's and women's clothing, as well as a large section with children's clothes. The main attractive feature of Biba is low prices. Most of the garments presented cost customers no more than 10 euros. This will be enough for ladies to choose beautiful blouses, as well as cute baby overalls. Men can always enjoy a large selection of trousers, shirts, and various everyday clothing items. The store also has a large shoe department, but the prices in it are slightly higher than for clothes. Despite low prices, the quality of the goods available deserves the highest praise.
The starting point of most sightseeing routes is Grote Markt. This historic square is striking in its calm atmosphere, it is never too crowded here, so nothing prevents you from admiring the …
Open
"We" clothing store will also appeal to tourists who are not used to spending huge amounts on new outfits. This one occupies a complex of beautiful historic buildings and offers high-quality and modern clothes for all family members. Those who like bright and non-standard clothes will enjoy shopping for sure. Regular discounts held in the store can reach 70%.

This guide to shopping in Mechelen is protected by the copyright law. You can re-publish this content with mandatory attribution: direct and active hyperlink to
www.orangesmile.com
.
City tours, excursions and tickets in Mechelen and surroundings
Reference information
Designer outlets in Mechelen and nearby
♥ Outlet 'Rosada Fashion Outlet' Rosada 70, Roosendaal, 4703, Netherlands, 55.5 km from Mechelen.
On the map
♥ Outlet 'Maasmechelen Village' Zetellaan 100, Maasmechelen, 3630, Belgium, 86.8 km from Mechelen.
On the map
♥ Outlet 'McARTHURGLEN ROUBAIX' 44 mail de Lannoy, Roubaix, 59100, France, 98 km from Mechelen.
On the map
♥ Outlet 'Designer Outlet Roermond' Stadsweide 2, Roermond, 6041, Netherlands, 107.9 km from Mechelen.
On the map
♥ Outlet 'McARTHURGLEN LUXEMBOURG' Route d Messancy, 6780, Belgium,, 186.2 km from Mechelen.
On the map
♥ Outlet 'Marques Avenue Talange ' Z.I. de Talange Hauconcourt, Talange, 57525, France, 234.8 km from Mechelen.
On the map
Car rental on OrangeSmile.com

Preferred to Open 9 New Hotels in 2022
In September 2022, the Sommerro hotel in Oslo will start operating in a carefully restored 1930s Art Deco building. This building is a true landmark of Frogner, a historic neighborhood of the Norwegian capital. A multi-million-dollar renovation carefully turned the largest preservation project in Norway into a modern hotel with 231 rooms, including 56 residences. Preferred will open five more hotels in 2022, namely, The Wall Street Hotel in New York, Amrit Ocean Resort & Residences on Singer Island (Florida, the US), TOA Hotel & Spa in Zanzibar, Pendry hotel in Washington, and Pendry Park City hotel in Utah.
Read this
02.10.2023
Photogallery of Mechelen best places
Search for shopping areas, streets, boutiques and supermarkeets on Mechelen map
Shopping advices for the whole region around Mechelen
Shopping advices for Mechelen. The best spots for buying designer clothes and local delicacies from Belgium - shops, galleries, boutiques and outlets. We provide you with the shopping streets map, so you can plan your efficient shopping routes, while hunting for authentic souvenirs, goods, drinks, shoes and clothes in Mechelen.