Cuisine of Mechelen for gourmets. Places for dinner - best restaurants
In Mechelen, you can try a lot of interesting and original dishes, each of which has a unique history. A traditional local specialty is Mechelen Cuckoo. This is a common name for a variety of dishes prepared from special chicken meat. Many years ago, local farmers developed a special breed of chickens, the color of which is very similar to that of the cuckoo. They are quite big, the weight of adult chickens reaches 4 kg. Today, chefs prepare dozens of wonderful dishes from the incredibly soft and tender meat. The traditional way of cooking is baking chicken fillet with mushrooms and vegetables. The dish is served with traditional creamy sauce.
Mehelen is not distinguished by an abundance of entertainment centers and children's attractions. In any case, family recreation here will definitely not be boring. One of the primary …
Open
Many historic farms that have been preserved in the vicinity of Mechelen are currently among the leaders in vegetable production in Belgium. On these farms, they grow many rare types of Cichorium, wonderful asparagus, and dozens of cabbages. Every year, the city hosts one of the largest vegetable auctions in Belgium, which gathers representatives from different countries. Travelers will have the opportunity to taste wonderful vegetable dishes at local restaurants. In spring, many restaurants offer their guests asparagus specialties.
Many sweet surprises await those having a sweet tooth. They will have a chance to try traditional Mechelen Moon biscuits. The recipe for this traditional dessert was invented back in the 18th century. Today, the crispy biscuit with chocolate can be tasted at many restaurants and pastry shops. The dessert prepared according to the original recipe is sold in Vanderbeek patisserie, a pastry shop located in the main square. The biscuit owes its name to an interesting story that happened in the distant 17th century. Once upon a time, one local man who was returning home drunk saw a full moon rising over the horizon. It was so bright that the man mistook it for fire and hastened to inform others about it, which caused only raised eyebrows and laughter. In Mechelen, you can visit the historic confectionery Patisserie Lints whose sweets are one of the most popular souvenirs among tourists. Copyright www.orangesmile.com
Mechelen residents are proud of their amazing history. Over hundreds of years, the city has gotten a lot of interesting symbols and traditions. One of the most interesting symbols is …
Open
Brasserie 't Vlietje invites guests to try the best dishes of regional cuisine. This restaurant is decorated in accordance with the traditions of the past and serves great dishes from various types of meat and poultry. The menu offers a rich selection of first courses, and in spring and summer, visitors can enjoy a wide choice of dishes from local farm vegetables. Besides traditional Belgian treats, there are popular European and Dutch dishes on the menu.
Connoisseurs of fine cuisine will love La Toque D'or, which serves Belgian and French specialties. All its dishes are characterized by artistic decoration. One of the main secrets is special sauces prepared according to original recipes. The restaurant will surely appeal to fans of seafood, as its menu has a rich selection of fish, crustaceans, and mollusks.
The starting point of most sightseeing routes is Grote Markt. This historic square is striking in its calm atmosphere, it is never too crowded here, so nothing prevents you from admiring the …
Open
At Cosma Restaurant that occupies one of the beautiful historic buildings, you can try modern Belgian and Mediterranean cuisine. Its chefs prepare traditional dishes according to original modern recipes. Here you can try very original versions of many usual treats. Besides a rich menu, an extensive wine list and the best local beers are available to visitors.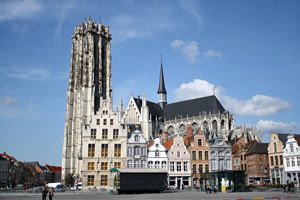 Diversify tasting hearty Belgian dishes by visiting Ili Pili Restaurant. It specializes in seafood and serves rare fish, crab and lobster specialties, fresh mussels, and other shellfish. Despite an original focus and a wide selection of delicacies, the restaurant has attractive prices and serves common international food.
Besides exploring interesting historical attractions, Mechelen's guests can enjoy many more entertainments. Not far from the city center is the main city zoo Planckendael, which would be of …
Open
Lovers of Belgian beer will be happy to relax at O'Fiachs bar. Here you can try various beers produced in the city's main brewery Het Anker, as well as popular types of beer brought from other regions of Belgium. Visitors will also be offered a wide selection of dishes and snacks. The bar serves tasty burgers, Irish-style snacks, and popular European dishes. The historic Het Anker Brewery also houses a great restaurant serving classic Belgian cuisine. Many tourists visit it as part of a tour of the old brewery.

This guide to cuisine and restauraunt in Mechelen is protected by the copyright law. You can re-publish this content with mandatory attribution: direct and active hyperlink to
www.orangesmile.com
.
City tours, excursions and tickets in Mechelen and surroundings
Reference information
Michelin-starred restaurants in Mechelen
♥ Restaurant 'Madrid Madrid' Mechelen. Type - Spanish. 1.1 km from the center.
On the map
Photo
♥ Restaurant 'M-Eatery' Mechelen. Type - Meats and grills. 2 km from the center.
On the map
Photo
♥ Restaurant 'Centpourcent' Sint-Katelijne-Waver . Type - Modern cuisine. 2.5 km from the center.
On the map
Photo
♥ Restaurant ''t Witte Goud' Leest. Type - Market cuisine|Modern cuisine. 3.4 km from the center.
On the map
Photo
♥ Restaurant 'Kasteel Diependael' Elewijt. Type - Modern cuisine. 7.3 km from the center.
On the map
Photo
♥ Restaurant 'Nuance' Duffel. Type - Creative. 7.5 km from the center.
On the map
Photo
♥ Restaurant 'Pastorale' Reet. Type - Creative. 8.3 km from the center.
On the map
Photo
♥ Restaurant 'De Schalk' Willebroek. Type - Modern French. 8.9 km from the center.
On the map
Photo
♥ Restaurant 'Bistro Vintage' Kontich. Type - Modern cuisine. 9.3 km from the center.
On the map
Photo
♥ Restaurant 'Silo's' Boortmeerbeek. Type - Traditional cuisine. 10.5 km from the center.
On the map
Photo
Car rental on OrangeSmile.com

Preferred to Open 9 New Hotels in 2022
In September 2022, the Sommerro hotel in Oslo will start operating in a carefully restored 1930s Art Deco building. This building is a true landmark of Frogner, a historic neighborhood of the Norwegian capital. A multi-million-dollar renovation carefully turned the largest preservation project in Norway into a modern hotel with 231 rooms, including 56 residences. Preferred will open five more hotels in 2022, namely, The Wall Street Hotel in New York, Amrit Ocean Resort & Residences on Singer Island (Florida, the US), TOA Hotel & Spa in Zanzibar, Pendry hotel in Washington, and Pendry Park City hotel in Utah.
Read this
29.09.2023
Mechelen in photo set
Searching where to eat - restaurants and cafe on Mechelen map
Cuisine and restaurants in the neighbours of Mechelen
Travel notes on best cuisine and restaurants of Mechelen (Belgium) on OrangeSmile.com. Famous recipes and traditional dishes and courses in Mechelen restaurants. Where to eat - our recommendations on popular places in Mechelen, where you can taste delicious meal and also spend a good time with your friends.