Family trip to Mechelen with children. Ideas on where to go with your child
Mehelen is not distinguished by an abundance of entertainment centers and children's attractions. In any case, family recreation here will definitely not be boring. One of the primary city attractions is the entertainment center Technopolis. This center will be interesting not only for children, but also for grown-ups. In this entertainment center, visitors are offered the opportunity to get acquainted with the basics of various sciences in a game form. There are many interactive exhibits and wonderful game rooms prepared here for children of different ages. Young visitors will have the opportunity to try themselves in the role of a builder and a doctor. They will be able to independently develop energy by simply pushing the pedals of a bicycle. There is an astounding café in the center which has suitable entertainment available for both young visitors and teenagers.
Besides exploring interesting historical attractions, Mechelen's guests can enjoy many more entertainments. Not far from the city center is the main city zoo Planckendael, which would be of …
Open
It is necessary to include visiting the most interesting – Flanders Toy Museum, to the vacation program. The main visitors of this toy museum are tourists with children. Fascinating excursions are carried out in the historical center for kids. The museum has a fascinating collection of old toys some of which are more than 50 years old. Kids are sure to be interested in the collection of teddy bears, among which there are also unique antique artifacts and some of the world's first musical toys. This museum will appeal to even adults. It is likely that among the toys displayed, guests will be able to see some of their favorite ones from their childhood.
One of the most visited children's attractions is the Planckendael zoo. A walk along this zoo will be an unforgettable event. The zoo is positioned on the terrain of a picturesque forest park area. There are beautiful spacious aviaries here for animals. Among the inhabitants of the zoo are majestic elephants, clever lemurs and raccoons. Many of the zoo's inhabitants are completely not afraid of people and gladly accept their treats. In the warm season, exciting entertainment and games are conducted in the zoo for children. Many playgrounds and sports grounds are outfitted here. The zoo is very large. Visitors can combine tours along it with visiting the cafes located on its territory. Copyright www.orangesmile.com
1. Mechelen can be easily reached from nearby Brussels or Antwerp. There are regular regular rail and bus services between these cities. 2. The city is famous for the variety of …
Open
In Mechelen, there are a few magnificent parks which are also worth visiting with children. A real work of landscape art is the Provinciaal Groendomein Vrijbroekpark. It is most fascinating to visit this park in spring or summer. There are a lot of flowers in the park, arches twisted by plants, many spacious green lawns and oases with exotic plants. Among this entire natural splendor, comfortable recreation areas with benches are prepared for visitors. There are always a lot of visitors with children in this park.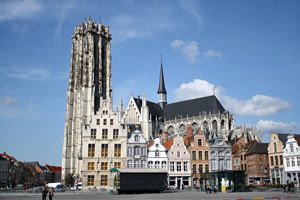 In the immediate vicinity of the city is situated the Vrijbroekpark. It is considered to be an awesome place not only for walking, but also for cycling. A lot of intriguing surprises awaits visitors of the park. You can discover a unique public library on its territory. Instead of shelves with books, huge stumps with carved shelves were installed in which books are stored in the park. Everyone can collect their favorite book here and read it sitting in the shade of trees. You can also bring your own books to the library. There are prepared picnic areas in the park. Leisure in such an extraordinary place will unquestionably appeal to children. Mechelen is perfect for a tranquil family vacation and it will be interesting to visit at any time of the year.

This guide to family holidays in Mechelen is protected by the copyright law. You can re-publish this content with mandatory attribution: direct and active hyperlink to
www.orangesmile.com
.
City tours, excursions and tickets in Mechelen and surroundings
Famous sights of Mechelen
Central Station Antwerp
From the series
"Top 14 Most Astonishing Railway Stations in the World"
Check on the map:
Distance from Mechelen center - 20.7 km.
Unfortunately, in the middle of the 20th century, the building was too close to be ruined. The reconstruction, that was made at the right time, saved the valuable architecture monument. The old station attracts a lot of people. Some visit it for moving to another place, another come here like in a museum. The huge shopping mall has also placed in the station. More than that, you can find over 30 jewellery saloons, several restaurants, and cafes. Waiting won't be boring at this railway station. It is a good place to visit for every tourist. This station is included in every tour around the city. …
Read further

Dinner In The Sky
From the series
"The Most Exotic Restaurants in the World"
Check on the map:
Distance from Mechelen center - 18.7 km.
Despite the impressively high prices, the restaurant has never lacked the customer. To book the platform for a few hours, you must pay at least 20,000 US Dollars. On a special order, a platform next door can be raised, on which the piano is set up. The more frugal guests can dine with the violin. The second most populous restaurant of the network is in Vienna and was opened a few years ago. Dinner in the Sky is an excellent restaurant for those travelers who want to get hungry after new impressions and change their everyday life. …
Read further

Antwerp City Hall
From the series
"Famous Buildings of Renaissance Architecture"
Check on the map:
Distance from Mechelen center - 21.4 km.
A famous Belgium architect Cornelis Floris De Vriendt has projected the Antwerp City Hall. Apart from classical marks of the Renaissance epoch, the building has the unique elements of Flemish Gothic. Together they make the four stored building look marvellous. The historical building height is 76 meters. It is placed in the main city square where are held social and holiday events. …
Read further

Car rental on OrangeSmile.com

Thailand Relaxes Its COVID-19 Policy
New Year events in Thailand are likely to bring more people this year because everyone is tired of lockdowns and craving normal life. Many tourists, who book hotels in Pattaya, Krabi, or Phuket for the holiday season, also want to participate. As champagne has become an essential drink for New Year celebrations, the question regarding alcohol consumption comes to mind. The government allowed serving alcoholic drinks during the New Year countdown but only open-air cafes and restaurants with good ventilation will be permitted to do this until 1 am on 1 January 2022. This rule is nationwide.
Read this
30.03.2023
Photogallery of best places of Mechelen
Children attractions (aquaparks, zoos, amusement parks) on the map of Mechelen
Interesting places to visit with children around Mechelen
Guide to sightseeing and entertainment for children in Mechelen - parks, attractions, museums, zoos, water-parks. All fascinating and educational sites of Mechelen, which are must visit and see for your child. Find out the best discovery routes and places for kids (local theaters, exhibitions and museums), where you can spend quality time together. Mechelen for families with children.