Colors of Kingston - traditions, festivals, mentality and lifestyle
Kingston residents are characterized by an incredibly cheerful and positive nature, they are full of love for their homeland and life. This attitude may seem completely carefree and frivolous to some foreign guests; in fact, local people just know how to enjoy life and all its delights to their fullest. They are very welcoming and friendly, always ready to help tourists, provide any kind of assistance or keep a casual conversation going. While walking through the city streets, you can see smiling people at every step. If one of them smiles at you, you should definitely smile back.
1. Kingston residents speak English fluently, while other foreign languages are much less common here. To show your respect for citizens, you can learn a few simple phrases in their native …
Open
Along with that, residents of the city are very responsible and obligatory people. They approach any problem very thoroughly and without haste, whether standard work duties or just household chores. Such unhurriedness should be treated with understanding and never regarded as a sign of neglect or disrespect.
Like in many other cities in Jamaica, in Kingston, locals love colorful clothes and bright accessories. Even planes that bring tourists here are painted literally in all the colors of the rainbow. Colorful shirts, shorts, and women's dresses, as well as traditional rastaman hats, have long become an integral part of the culture for citizens. Everyone can join the local style and pick the appropriate outfit for themselves, as the city has a lot of clothing stores and markets. Copyright www.orangesmile.com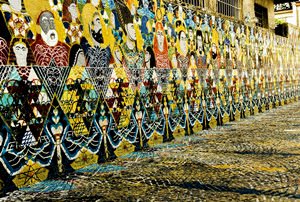 In general, local people can be described as very polite and prone to a conservative attitude. They honor their historical traditions and orders, which change extremely rarely and with great reluctance. Manifestations of politeness in any forms are always admired here, so you should not skimp on them. Hold the door in the store, say "thank you" and "please", yield the sear in public transport - any similar signs will surely be appreciated by Kingston residents.
The most popular shopping area in Kingston is Half Way Tree, this is where you should look for the most popular clothing stores, all kinds of specialty and souvenir shops. Despite the huge …
Open
Since Kingston is one of the largest cities in Jamaica, literally all of its residents are fluent in English. However, they also revere their indigenous traditions, so they can often speak to each other in Jamaican Patois language, which prevailed here before the arrival of the first colonizers. During the year, the Kingston note a lot of interesting festivals, most of which have religious or historical roots. One of the most famous holidays is the annual carnival, which is held not only in the capital but in other major Jamaican cities.
The carnival was first organized in Kingston in 1989 at the initiative of representatives of popular musical group Oakridge Boys. The very first carnival turned out to be quite modest, it was participated by just about 150 people. Next year, the number of participants has increased several times. In 1990, the carnival in Kingston was headed by Byron Lee, the founder and key member of the Dragonaires band.
Kingston is a large trading port, a center of trading and tourism. The city is located in one of the bays. Kingston is surrounded by small settlements and villages. For many years fishing …
Open
Over the years, the Jamaican carnival has gained huge popularity and has become known far beyond the country's borders. The main event of the festival is costume processions, in which representatives of many famous carnival groups take part. Preparations for this procession lasts the whole year, its participants sew unique costumes and craft accessories and jewelry on their own.
The costume procession is always accompanied by the rhythms of calypso - musical accompaniment is paid a lot of attention. It is noteworthy that the Kingston Carnival traditionally brings together people of all ages. On festive days, special children's processions pass along city streets, and among participants of "adult" processions, one can often see elderly people.
There are a lot of fascinating entertainment centers and museums in Kingston. Tourists with children just do not have to be bored here. They should definitely visit the Miller Museum of …
Open
In addition to the costumed processions, guests of the festival will enjoy music and dance performances, as well as interesting themed beach parties. The festival usually hosts programs devoted to contemporary art, including body painting. Today, the Jamaican Carnival is considered one of the largest and most colorful in the world. Tourists from all over the world come here to see it with their own eyes.

This guide to traditions and festivals in Kingston is protected by the copyright law. You can re-publish this content with mandatory attribution: direct and active hyperlink to
www.orangesmile.com
.
City tours, excursions and tickets in Kingston and surroundings
Reference information
Cathedrals and basilicas near Kingston
♥ Holy Trinity Cathedral, Kingston, 3.2 km from the center.
On the map
Photo
National traditions of Jamaica
English is the official language in Jamaica. As a rule, people working in hotels and tourist-related industries can speak English well. In everyday life, Jamaicans talk to each other in a local dialect called Patois (Patwa or Patwah). Patois sounds like a combination of English, Spanish, and Portuguese languages, as well as different African dialects. Rastafarian slang makes this language even more interesting. Of course, tourists can hardly understand Patois, so if a Jamaican speaks this language to a foreigner, it is a good idea to ask politely to say it in English. The language has become an important part of the island's culture and traditions, so when communicating with local people do not even try to hint about the superiority of English to Patois. …
Open

Car rental on OrangeSmile.com

Hilton builds third luxury hotel in Kyoto
The project organizers note that the new Kyoto hotel is perfect for both business and leisure. Just to remind you, the opening of the Roku Kyoto hotel took place in the city in 2021. The luxury hotel also never ceases to amaze guests with its exquisite atmosphere and variety of services. It is close to famous attractions like Kinkaku-ji Temple, and Shozan Resort Kyoto Pavilion is a short walk from the hotel.
Read this
27.03.2023
Colors of Kingston in photos
Search for popular touristic sites on Kingston map
Traditions and festivals in cities around Kingston
Cityguide on traditions, mentality and lifestyle of people in Kingston. Learn the best periods to visit Kingston to discover its soul - authentic festivals, events and celebrations. We will also reveal the interesting habits, attitude towards the world and to tourists in Kingston.