Shopping in Kingston - authentic goods, best outlets, malls and boutiques
The most popular shopping area in Kingston is Half Way Tree, this is where you should look for the most popular clothing stores, all kinds of specialty and souvenir shops. Despite the huge popularity of the neighborhood, it also has budget stores, while many expensive ones hold sales a few times a year. Here you can visit not only shops and malls but also some great restaurants and cafes.
The country's most interesting attractions are concentrated in Kingston; The Zoology Museum is very popular among travelers with children. It contains a unique collection of natural science …
Open
Want to bring something special in the memory of your trip to Kingston? Then be sure to check out Martello Alley, a store that looks more like an interesting art gallery. Here you can buy wonderful paintings, handmade glass and wood souvenirs, as well as postcards and other tourist stuff aimed at thrifty customers.
One of the most colorful places in town is the historic Kingston Public Market, it is here that you should go in search of national delicacies and locally produced goods. The market presents a huge selection of delicious farm products; in the summer here you can always buy fresh fruit and berries. Besides that, sellers offer wonderful crockery from local factories. Several interesting stalls with souvenirs are operating in the market as well. In the same place, one can buy the best maple syrup and honey from local farmers or just watch street performances. Copyright www.orangesmile.com
Kingston is famous for its unique natural beauties, the city has many beautiful parks and gardens. Nature enthusiasts must visit the Hope Zoo, which was opened in 1961. Initially, it was …
Open
The capital city has several interesting antique shops, among which it is worth highlighting Antique Alley. This store is housed in a beautiful historic building. Already at the entrance, you'll be able to see carefully placed antiques. Many tourists visit this store as a museum, where they can buy beautiful old sculptures and paintings, as well as very unusual antiques, for example, an old ship's wheel. Even budget travelers will be able to choose some cheap but interesting souvenirs for themselves.
Among jewelry stores presented in the city, Reve Jewelery & Accessories stands out as a real city attraction. In the store, customers are met by its owner herself, Madame Tesea; she offers buyers a huge selection of designer jewelry. All the jewelry are made by her brother who is one of the most talented and famous jewelers not only in the city but in the country. In this store, you can buy ready-made products or order custom jewelry.
1. Kingston residents speak English fluently, while other foreign languages are much less common here. To show your respect for citizens, you can learn a few simple phrases in their native …
Open
One of the largest and most famous shopping centers in town is Cataraqui. Here, suitable stores can be found for both young and elderly people; visitors can choose clothes and shoes for virtually every taste. Women will sure be interested in branded underwear and cosmetics stores, and young people would be happy to visit stylish clothing and accessories stores.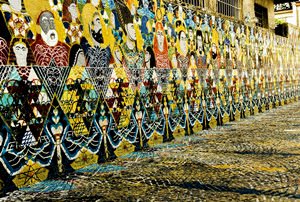 General Brock's Commissary can safely claim the title of the most unusual shop in town. It offers customers a wide range of locally produced goods, from dozens of sweets and chocolates to delicious farm jams, honey, and other canned foods. Literally every day the store holds tastings of all kinds of products, and its main feature is that the shop owners wear very beautiful military uniforms.
Ladies will be delighted with Passionate Artisans, which is entirely devoted to them. This store sells beautiful jewelry, handmade soap, cosmetics, chic glassware with handmade elements, and various home decorations. It is here that you should go for nice postcards, calendars, and other interesting gifts for loved ones.

This guide to shopping in Kingston is protected by the copyright law. You can re-publish this content with mandatory attribution: direct and active hyperlink to
www.orangesmile.com
.
City tours, excursions and tickets in Kingston and surroundings
Shopping in Jamaica
The choice of souvenirs that travelers can bring from Jamaica is not big. Different items with the portrait of Bob Marley, such as t-shirts, bandanas, caps, and scarves, are very popular on the island. A Rastafarian hat is also an interesting and eye-catching accessory. Consider buying original stone figurines, wooden and ceramic items created by local artisans. They still have traces of the African past of the islanders. Dried crabs are also a popular Jamaican souvenir. Nowadays, it is hard to surprise anyone with a gift like this, but dried crabs are still sold everywhere in Jamaica. Local shops and souvenir stores always offer paintings by local artists and CDs with the music of the legendary founder of reggae music. …
Open

Car rental on OrangeSmile.com

Traveling in Norway: the Best Places to See During a Short Getaway
If you want to enjoy a panorama of Bergen and take memorable photographs, the Floban Funicular will take you to a mountain above the city. The ride lasts only 8 minutes, after which you will see the entire Bergen behind your feet. Don't leave this hospitable city without exploring its popular attractions such as the Bergen Castle and fish market.
Read this
17.06.2021
Photogallery of Kingston best places
Search for shopping areas, streets, boutiques and supermarkeets on Kingston map
Shopping advices for the whole region around Kingston
Shopping advices for Kingston. The best spots for buying designer clothes and local delicacies from Jamaica - shops, galleries, boutiques and outlets. We provide you with the shopping streets map, so you can plan your efficient shopping routes, while hunting for authentic souvenirs, goods, drinks, shoes and clothes in Kingston.