Cuisine of Kingston for gourmets. Places for dinner - best restaurants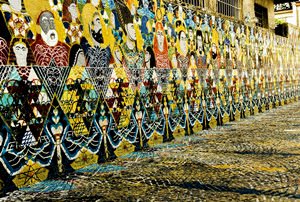 The present-day culinary traditions of Kingston were greatly influenced by England, Spain, China, India, and even African countries. Its modern cuisine is an amazing combination of cooking traditions of different countries of the world. A significant part of popular dishes is prepared from seafood and vegetables, some products that locals are used to may seem like exotic to foreign guests. For example, the daily food for residents of Kingston is breadfruit. They are rarely eaten raw, the fruits are typically cut into thin slices and lightly fried in oil. For local people, they have become a substitute for ordinary bread.
Kingston is famous for its unique natural beauties, the city has many beautiful parks and gardens. Nature enthusiasts must visit the Hope Zoo, which was opened in 1961. Initially, it was …
Open
The most common seafood is shrimps, and here you can taste more than ten shrimp varieties. In restaurants, fans of fish dishes will be offered original cod and mackerel treats. The most popular desserts are made from fruits here. To appreciate their diversity, go to local grocery markets. Foreign guests may not know some types of fruits - for example, Chrysophyllum cainito. Fruits are used to prepare cocktails, smoothies, and fruit salads, while many tourists prefer just to buy fresh fruit at the markets.
An important feature of local cooking is the active use of spices and seasonings. Here they cook dishes with curry, often add hot peppers, garlic and ginger to meat and fish dishes, so local dishes may be very spicy. Many dishes in Kingston restaurants are necessarily served with specialty sauces, and Pickapeppa Sauce is a real pride of locals. The recipe of this sauce is kept secret, its small bottles are very popular souvenirs among tourists. Copyright www.orangesmile.com
1. Kingston residents speak English fluently, while other foreign languages are much less common here. To show your respect for citizens, you can learn a few simple phrases in their native …
Open
Among the most common dishes that are worth trying while in Kingston are goat curry and original Cows Cod soup. The first dish is considered so hearty and nutritious that it is included in the daily diet of all local athletes. Exotic fruit Chocho is used for the preparation of a variety of stews that will appeal to fans of savory vegetable dishes.
In the markets and in some restaurants of Kingston, you can try jerked meat, the cooking traditions of which date back more than one hundred years. Many popular dishes that are characterized by affordable prices are prepared from chicken. Especially delicious are grilled dishes.
A very popular tourist spot is Starapples restaurant located near the Bob Marley Museum. Although the restaurant is quite small, its menu is more than decent. It serves dishes from chicken and goat meat, fresh seasonal vegetables, and seafood. Many regular guests of the restaurant come here just to relax on a hot day and drink their favorite fruit drinks. The restaurant pleases customers with reasonable prices and generous portions.
The most popular shopping area in Kingston is Half Way Tree, this is where you should look for the most popular clothing stores, all kinds of specialty and souvenir shops. Despite the huge …
Open
Indian restaurants are widely spread in Kingston, and Akbar is one of the best in this category. Among its specialties are chicken with creamy walnut sauce, lamb with a spicy sauce, as well as beef dishes prepared according to author's recipes. A large part of the dishes is prepared on an open fire - special barbecue grills are set right in a garden. Some of the restaurant tables are also served outdoors; from the terraces, it is nice to watch skilled chefs grilling delicious dishes.
Alexander's Restaurant specializes in regional cuisine and is notable for the fact that all the dishes here are prepared according to old recipes. Here you can try the most exquisite delicacies that only wealthy plantation owners could afford hundreds of years ago. Grilled crab meat, beef tenderloin baked with tomatoes, brandy-braised pork with mustard, and incredibly decorated desserts are just some of the surprises awaiting visitors to this restaurant.
Kingston is a large trading port, a center of trading and tourism. The city is located in one of the bays. Kingston is surrounded by small settlements and villages. For many years fishing …
Open
Fans of dining in an unusual setting will love Almond Tree restaurant. It is hidden in a tropical garden where individual gazebos with tables are equipped for guests amidst crowns of the trees. This restaurant would be an ideal place to organize a romantic date, and delicious regional cuisine will make your evening truly unforgettable.

This guide to cuisine and restauraunt in Kingston is protected by the copyright law. You can re-publish this content with mandatory attribution: direct and active hyperlink to
www.orangesmile.com
.
City tours, excursions and tickets in Kingston and surroundings
National cuisine of Jamaica
Jarky is one of the most popular Jamaican dishes. This is chicken or any other meat marinated in a special sauce that is then cooked on burnt pimento tree wood. This wood adds a special flavor to the meat. Ackee with saltfish is a dish that has a central role on any table in Jamaica. This dish contains boiled cod, vegetables, sweet dumplings, and cooking bananas. Curry with goat meat is one more dish that has a central role in Jamaican cuisine. This dish appeared on the island from distant India and has quickly become very popular. Goat meat is marinated in lemon juice and spices and then roasted in olive oil. It is deliberately not made very spicy. The ready meat is served with rice. Seafood dishes are also very popular in Jamaica. Locals like jerky shrimps, smoked fish, mackerel with yam, and pies with fish stuffing. Both tourists and islanders are in love with Jamaican dessert called Gizzada. This is a crispy and sweet pastry shell filled with butter, nougat, ginger, and coconut. …
Open

Car rental on OrangeSmile.com

Preferred to Open 9 New Hotels in 2022
In September 2022, the Sommerro hotel in Oslo will start operating in a carefully restored 1930s Art Deco building. This building is a true landmark of Frogner, a historic neighborhood of the Norwegian capital. A multi-million-dollar renovation carefully turned the largest preservation project in Norway into a modern hotel with 231 rooms, including 56 residences. Preferred will open five more hotels in 2022, namely, The Wall Street Hotel in New York, Amrit Ocean Resort & Residences on Singer Island (Florida, the US), TOA Hotel & Spa in Zanzibar, Pendry hotel in Washington, and Pendry Park City hotel in Utah.
Read this
27.03.2023
Kingston in photo set
Searching where to eat - restaurants and cafe on Kingston map
Cuisine and restaurants in the neighbours of Kingston
Travel notes on best cuisine and restaurants of Kingston (Jamaica) on OrangeSmile.com. Famous recipes and traditional dishes and courses in Kingston restaurants. Where to eat - our recommendations on popular places in Kingston, where you can taste delicious meal and also spend a good time with your friends.