Active vacation in Ethiopia - things to do, entertainment and nightlife
Ethiopia offers a broad range of entertainments for any taste. For example, tourists may like a unique opportunity of looking at the country from a bird's eye view. They can do this with comfort in a hot air balloon. Abyssinia Ballooning offers this tremendous opportunity to all locals and guests of the country. In order to enjoy the flight, it is better to visit the company early in the morning. This way it is possible to not only admire fabulous panoramic views from the balloon but also to see a truly fantastic view of the sun rising above the mountains. Surprisingly, tourists do not need any kinds of special training to participate in the flight. Even children are allowed to fly in a hot air balloon if they are with parents, of course.
This country amazes visitors with sunny weather all year round and the atmosphere of celebration. The best way to start exploration of Ethiopia is to …
Read further
It is very interesting and educative to explore rural areas of the country. This is an excellent opportunity to learn more about the culture of the Ethiopian people and their traditions. As a rule, these excursions start from the capital, Addis Ababa. Companies like Inside Ethiopia and Escape Tour offer this unforgettable adventure. Tourists, who are interested in archaeological excavations and ancient landmarks, simply cannot miss an opportunity to participate in an archaeological tour. Sador Ethiopia Tour and Pleasure Ethiopia Tour offer several interesting routes that also start in Addis Ababa.
Bahir Dar Market is a specific but, nevertheless, very interesting attraction. Some tourists may wonder, how can a visit to a city market be interesting? For an average person from a large city in Europe, Asia, or America, items sold at Ethiopian markets may look odd, funny, and absolutely useless. Perhaps, Ethiopians do not share this opinion. This is the only possible explanation that comes to mind when you look at the items for sale: shoes without a pair, broken umbrellas, worn clothing, and used plastic containers. However, a visit to such a market can easily turn into a real adventure and an interesting photo shoot. The most important – do not forget about pickpockets. Copyright www.orangesmile.com
Everyone, who has tried Ethiopian cuisine at least once, mentions how delicious and addictive it is. Local cuisine is absolutely incredible. People …
Read further
Tourists can ride a horse in Addis Ababa. There are also excursions to the highlands with special routes that cross savannah. Surprisingly, tourists do not need any horseback riding experience to participate in these tours. Local coaches can help even children to learn the basics of horse riding. Moreover, only the most peaceful and calm horses are selected for these tours. The ride can cross woodlands, making this adventure even more picturesque. If this idea sounds appealing, it is time to contact Beka Ferda Ranch that is open in Addis Ababa.
The Lion Zoo in the capital is simply a must-visit destination. Don't say that zoos are entertainment for children! The park like the one in Ethiopia is very interesting to visit, and age doesn't matter. As it is not hard to guess by the name, lions are the main inhabitants of this zoo. Actually, there are lions of several species, such as African and Asian lions. Besides that, there are some other animals and birds in this zoo. Menegesha-Suba Forest is an absolutely stunning nature reserve. It is located at a distance from the city. In order to reach it, it is better to hire a guide with his own car. The road is not the easiest one, but an opportunity to see pristine nature and local inhabitants is worth the effort.
Ethiopia is one of the most unusual countries in Africa in terms of traditions and mentality. Oriental lifestyle, traditions of Cushitic peoples, the …
Read further
Vacationers, who prefer relaxed recreation in the city, will not be disappointed as well. The Addis Ababa Golf Club is the right choice for them. In this club, visitors can play their favorite game or simply relax and enjoy leisure time. Vacationers, who are in search of a "roofed" entertainment center suitable for both adults and children, will hardly find something better than Bob and Bongo's. This is a popular entertainment center that offers various slides, trampolines, swings, kids' houses, and even a separate hall for visitors in love with computer games. For small children, there is a cinema with colorful cartoons.
Are you in search of quality nighttime entertainment? If yes, here is the list of venues that are worth visiting when the sun goes down. First, it is important to mention The Black Rose Bar that is a wonderful choice for fans of pleasant music, amazing drinks, and quality service. The Vault Addis is famous for its quality cocktails and other drinks. The JAMS Addis Bar is the right choice for all fans of live performances. H2O Club appeals to everyone in love with modern rhythms. Finally, Mama's Kitchen has two important advantages – live performances and delicious cuisine.

This article about active leaisure, entertainment, recreation and attractions in Ethiopia is protected by the copyright law. You can re-use the content, but only under the condition of placement of an active link to
www.orangesmile.com
.
Fantastic City Tours and Excursions in Ethiopia
Reference information
National and city parks of Ethiopia
♥ National Park 'Nechisar' .
On the map
Photos
♥ National Park 'Simien Mountains' .
On the map
Photos
♥ World Heritage Site 'Simien National Park' .
On the map
Photos
♥ National Park 'Yangudi Rassa' .
On the map
Photos
Unique attractions in Ethiopia
Danakil Desert
From the series
"Top 11 Dangerous Spots for Adrenaline-Seekers"
The Danakil Desert located in Ethiopia is incredibly popular among tourists, although it possesses threat. This desert is one of the hottest and most lifeless in the world. That's a huge volcanic wasteland, in the territory of which the land has melted underfoot. The main feature of the dangerous desert is the almost complete absence of breathable oxygen in its territory. The air here is burnt and is filled with poisonous gases, so people can only be in certain areas of the desert for a very short time without risking their lives.
Many researchers believe that even a short stay in the Danakil Desert can affect health. The reason for this is a high concentration of poisoning vapors of sulfur that is complemented with the most adverse effects. The air temperature in the desert rarely …
Read all
Danakil Depression
From the series
"Amazing Land Areas Below the Sea Level"
Danakil Valley, which is located in Ethiopia, is also often referred to as 'Danakil Desert'. The valley is located in the unique spot - on the border of three large tectonic plates: the African, the Indian and the Arabic. Danakil desert is considered to be the most dangerous and most damaging in the world. The poisonous landscapes scare fear and hide many dangers. The exit points of the toxic gases, the constantly erupting volcanoes and sulphurous water, all together forming the terrible landscapes - it is only part of the natural formations that can be seen at the depth of 125 meters below sea level.
The incredibly hot and lifeless desert was discovered in 1928 by a group of travelers led by Tullio Pastori. The courageous travelers have overcome the wasteland on foot. To this day, no …
Read all
All unique sightseeing Ethiopia

Country maps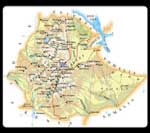 Car rental on OrangeSmile.com

Preferred to Open 9 New Hotels in 2022
In September 2022, the Sommerro hotel in Oslo will start operating in a carefully restored 1930s Art Deco building. This building is a true landmark of Frogner, a historic neighborhood of the Norwegian capital. A multi-million-dollar renovation carefully turned the largest preservation project in Norway into a modern hotel with 231 rooms, including 56 residences. Preferred will open five more hotels in 2022, namely, The Wall Street Hotel in New York, Amrit Ocean Resort & Residences on Singer Island (Florida, the US), TOA Hotel & Spa in Zanzibar, Pendry hotel in Washington, and Pendry Park City hotel in Utah.
Read this
27.09.2023
Photogallery of Ethiopia
Entertainment, recreation and attractions in cities of Ethiopia
Map of Ethiopia locations for active vacation