Nature of Ethiopia - national parks and reserves for active recreation
The natural beauty of Africa, incredibly clean and untouched land, is one of the main reasons why so many tourists visit Ethiopia every year. Fabulous Lake Tana, the stunning Ethiopian Highlands, nature reserves with rare fauna (local fauna is rare even for the continent!), and endless savannah – indeed, this country is so unique and breath-taking. Moreover, there are many tribes that live in the wild nature and follow the centuries-old lifestyle of their ancestors. Tourists can witness shaman rituals and touch something mystical and unknown.
These spots really worth the attention of a real traveler-researcher. …
Read further
Ethiopia is famous for its mild climate, and this is a great advantage for fans of hiking and camping. The tropical monsoon climate is predominant in Ethiopia, so the temperature fluctuation is minimal in almost all territory of the country. The average daily temperature is 25°C - 30°C. The eastern part of Ethiopia is the only exception – it has desert terrain, and the temperature can often fall below 15°C. Comfortable climatic conditions make it very pleasant to get acquainted with the nature of Ethiopia, its flora and fauna.
There are several volcanoes in the country. Erta Ale is the most active of them all. The crater of this volcano is filled with lava. Erta Ale has been continuously active since the 60s of the previous century. Besides that, Erta Ale continuously grows – every eruption makes the volcano taller. At the moment, the height of Erta Ale exceeds 600 meters. Dallol Volcano has become internationally famous because of its unique look. The area surrounding this volcano looks like some distant planet, maybe Jupiter, but definitely not Earth. Bright yellow and lilac hues of the nearby lake create the "out-of-this-world" picture. Copyright www.orangesmile.com
This country amazes visitors with sunny weather all year round and the atmosphere of celebration. The best way to start exploration of Ethiopia is to …
Read further
It is always a good idea to visit the Simien Mountains National Park. This is a unique natural landmark that has an area of more than 22 thousand hectares. This is where tourists can see Ras Dashen Mountain, the height of which exceeds 4,600 meters. There is one more reason to visit this park – it has several types of terrain that are typical of Ethiopia. Tourists can see the mountains, savannah, and highlands within one day. Needless to say, this park is home to many rare animals that people can see only in Ethiopia.
Ethiopia's body of water is also always popular with travelers. This country is home to Lake Tana, one of the main sources of water for local people. The Blue Nile River originates from Lake Tana. It is one of the two tributaries of the Nile, one of the greatest rivers in the world. The hydroelectric power station on Lake Tana is an important source of electricity for the country. The lake is also a significant cultural landmark – there are as many as 40 small islands with twenty churches and monasteries in Lake Tana's water area.
Everyone, who has tried Ethiopian cuisine at least once, mentions how delicious and addictive it is. Local cuisine is absolutely incredible. People …
Read further
Lake Abbe is the best destination for a unique photo shoot. It is a salt lake with an absolutely cosmic landscape. Big limestone constructions of the weirdest geometric shapes look nothing but impressive, and steam coming from the underground remains about continuous volcano activity in Ethiopia. A mix of amazement, surprise, shock, and a bit of thrill – this is what people usually feel when they see this area for the first time.
The national park along the Awash River is one more interesting destination in Ethiopia. It is not possible to see such a great number of antelopes and gazelles anywhere else. The valley of the river is a fertile area perfect for cultivating cotton and cane. The last but not the last, the Blue Nile Falls are a landmark of incredible power. This picturesque waterfall, which is a part of the Blue Nile River, is a favorite of both locals and tourists.

This article about nature and national parks of Ethiopia is protected by the copyright law. You can re-use the content, but only under the condition of placement of an active link to
www.orangesmile.com
.
Fantastic City Tours and Excursions in Ethiopia
Reference information
National and city parks of Ethiopia
♥ National Park 'Abijatta-Shalla Lakes' .
On the map
Photos
♥ National Park 'Alatish' .
On the map
Photos
♥ National Park 'Awash' .
On the map
Photos
♥ National Park 'Bale Mountains' .
On the map
Photos
♥ National Park 'Kafta-Sherao' .
On the map
Photos
♥ National Park 'Nechisar' .
On the map
Photos
♥ National Park 'Simien Mountains' .
On the map
Photos
♥ World Heritage Site 'Simien National Park' .
On the map
Photos
♥ National Park 'Yangudi Rassa' .
On the map
Photos
Country maps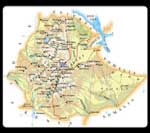 Car rental on OrangeSmile.com

Cambodia Opens Its Borders for Tourists in November
As 99% of the hotel's staff is double vaccinated, hotel guests do not need to worry about their safety. The new Hyatt hotel in Phnom Penh has five dining venues including all-day dining restaurants, an outdoor restaurant, a metro-themed bar with sustainable seafood and striking city views, and a breakfast and high tea café.
Read this
25.10.2021
Photogallery of Ethiopia
Cultural sights in regions of Ethiopia
Ethiopia: Map of sightseeing in regions