Maps of cities and regions of Ethiopia
Additional maps of Ethiopia
Fantastic City Tours and Excursions in Ethiopia
Country maps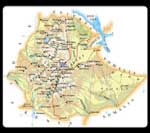 Expo 2020 in Dubai Was Visited by More Than 7 Million Visitors
If you haven't visited this event yet, there is still time to book a hotel in Dubai because Expo 2020 Dubai runs until 31 March 2022. People who are unable to visit the emirate can make a virtual tour on the Expo 2020 website. By the way, the virtual visitation has already reached 31.6 million by the end of December.
Read this
07.12.2023
Interactive maps of hiking and biking routes in Ethiopia
1. You can zoom in/out using your mouse wheel, as well as move the map of Ethiopia with your mouse.
2. This interactive map presents two modes: 'Biking Routes' and 'Hiking Routes'. Use the '+' button on the map to switch between them.
Railway and landscape maps of Ethiopia
This Ethiopia map has two modes: 'Railway Network' and 'Landscape & Rural Map'. Use the '+' button on the map to navigate.
Maps of cities and regions of Ethiopia