Maps of cities and regions of Ethiopia
Additional maps of Ethiopia
Fantastic City Tours and Excursions in Ethiopia
Country maps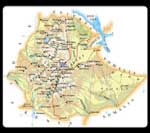 Reykjavik to Host Two Important Esports Events
The second event, The VALORANT Champions Tour (VCT) Masters Reykjavík, will start soon after the end of MSI, on May 24. For the first time in history, the top ten Valorant teams will meet during a live international championship. The teams will fight for the right to enter Valorant championships that will take place later this year. The event is expected to end on May 30.
Read this
13.04.2021
Interactive maps of hiking and biking routes in Ethiopia
1. You can zoom in/out using your mouse wheel, as well as move the map of Ethiopia with your mouse.
2. This interactive map presents two modes: 'Biking Routes' and 'Hiking Routes'. Use the '+' button on the map to switch between them.
Railway and landscape maps of Ethiopia
This Ethiopia map has two modes: 'Railway Network' and 'Landscape & Rural Map'. Use the '+' button on the map to navigate.
Maps of cities and regions of Ethiopia