National traditions of Ethiopia. Habits, mentality and the way of living
Ethiopia is one of the most unusual countries in Africa in terms of traditions and mentality. Oriental lifestyle, traditions of Cushitic peoples, the Kingdom of Kush, and Mediterranean folks intertwined together in this country. Such religions as Judaism, Christianity, and Islam have significantly shaped the beliefs and traditions of local people. Ethiopians are religious people who try to maintain and respect the traditions and customs of their forefathers.
Ethiopia offers a broad range of entertainments for any taste. For example, tourists may like a unique opportunity of looking at the country from a …
Read further
Some traditions are connected with acts of mutilation. However, this is not a crime in the country because the person who performs this act and the one who has certain parts of the body mutilated simply follow the traditions that are adopted in Ethiopia. No one forces people to do this, it is their own will and desire. Such traditions as female genital mutilation and uvulectomy are adopted in Ethiopia. The latter means partial or complete removal of the uvula. This ritual is performed on girls only. Sharp blade or a loop made of horse hair is a typical tool for the ritual, and it is hard to call these tools sterile.
Local people believe that uvulectomy prevents headaches, grants a beautiful thin voice to girls, protects eyesight, and prevents the change of eye color. In the opinion of Ethiopian people, this surgery has aesthetic and preventive importance. There is one more strange medical treatment – to cure diarrhea in one-month-old babies, some remove the non-erupted milk teeth. This treatment helps Ethiopians to grow healthier in the opinion of some people. Copyright www.orangesmile.com
1. Ethiopia is, generally speaking, a safe country, but there are areas that tourists should refrain from visiting or visit them with extreme caution …
Read further
Early marriages are adopted in the country. One-third of all Ethiopian girls get married before they reach their fifteenth birthday. Sometimes parents marry their small daughter to a grown-up man, but she lives with her parents or with the parents of her husband until puberty. Young girls can be married to elderly men. In some cases, two families agree that their kids get married in the future. Sometimes this agreement is made before the actual birth of these kids.
Ethiopians wear their national clothes even nowadays. This applies not only to small villages but also to large cities. This is particularly true about national holidays. Shamma is an important element of the traditional dress. This is a white shawl, often with beautiful embroidery, that covers shoulders or the complete body with only eyes open. Both men and women wear Shamma. Men also wear pants that can be narrow or very wide. Women usually wear Shamma with an ankle length shirt. To show wealth, local people wear Kaba, a silky cape with rich embroidery. People in the mountain regions wear fur capes.
Vacationers, who plan to travel to Ethiopia with kids, are better to stay in Addis Ababa. The capital has better infrastructure, is more comfortable …
Read further
Music and everything connected with it are very important in Ethiopian traditions. By the way, Ethiopian music is of a great value for world music traditions. It is different from other melodies of the continent as roots of Ethiopian music traditions stretch back to oriental Christianity and ancient Jewish traditions. Some even call Ethiopian music psychedelic because its main purpose is to reach a state of mind that is similar to trance. This is true about both religious and secular music. Ethiopians use music during different rituals, and mesenqo (a single-stringed bowed lute) and begena are the most popular musical instruments in the country. They produce a sound that brings both listeners and players to a meditative state of mind.
Dancing is no less important in the culture of Ethiopia. Ethiopians enjoy dancing on special occasions. All dances can be conventionally separated into several categories. These are battle dancing, the main aim of which is to strengthen the spirits of warriors, labor dancing, and ceremonial dancing. The latter has a tight connection with celebrations and rituals. For example, Eskista or "dancing shoulders" is a solely entertaining dance that can be very passionate if not to say erotic. Despite this piquant characteristic, it is possible to see Eskista in public venues such as restaurants and bars.
Shopping in Ethiopia can be very different depending on the type of items that you want to purchase. Do you want to purchase gifts and souvenirs for …
Read further
There are certain peculiarities in the everyday life of Ethiopians. For example, local people first greet each other with a handshake and then kiss each other's hands. This is absolutely normal, so don't be shocked if an Ethiopian kisses your hand even if you see each other for the first time and even if you are a man. When resting in a bar, you can be asked to return an empty beer bottle. Beer bottles are reused here. Local people are friendly with tourists. Most probably, an Ethiopian person will speak well of the tourists' home country. Work hours and departure times can be shifted in the country. This applies even to authorities and large offices. Don't be surprised if you arrive at the bus station early because your bus departs at 5 am to find out that the first buses depart no earlier than 6 am. Such situations are typical here.

This article about national traditions in Ethiopia is protected by the copyright law. You can re-use the content, but only under the condition of placement of an active link to
www.orangesmile.com
.
Fantastic City Tours and Excursions in Ethiopia
Reference information
Cathedrals and basilicas in Ethiopia
♥ Cathedral of the Holy Trinity, Soddo.
On the map
Photos
♥ Cathedral of Emmanuel, Robe.
On the map
Photos
Country maps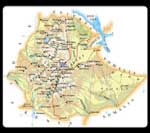 Car rental on OrangeSmile.com

Saudi Arabia to Open 38 Hotels in Diriyah
Diriyah is one of the first mega projects in Saudi Arabia. Hotels and other infrastructure will start opening next year, and all works are expected to end in 2026. The first 18 restaurants in Bujairi Terrace will start operating already in early 2022.
Read this
04.06.2023
Famous sites of Ethiopia in pictures
Unique traditions in cities of Ethiopia
Map of Ethiopia regions with authentic traditions