Family holidays with children in Ethiopia - attractions and entertainment
Vacationers, who plan to travel to Ethiopia with kids, are better to stay in Addis Ababa. The capital has better infrastructure, is more comfortable to say, and is less polluted. If there is a wish to visit another city and explore its landmarks, tourists can always hire a taxi or buy bus tickets. This is still easier than staying in a small town constantly as tourists can face such problems as lack of bottled water, poor sanitary conditions, and unsafe food in this case.
Christianity has an important role in Ethiopia. However, the local church is an orthodox one, so Ethiopian Orthodox Christian Church has some …
Read further
In the capital city, don't forget to visit one of the most popular entertainments for children – the zoo. The Lion Zoo is home to a whole family of lions. That being said, there are other animals besides lions. For example, kids will be excited to see the deer, handsaw, ape, and various amphibians that live in Africa. It is allowed to hand feed some animals. Naturally, this rule applies only to safe and friendly animals that cannot bite or injure neither adults nor children. Needless to say, only certain products can be used to feed the animals because not all food for humans is safe for animals. The zoo provides detailed information on this subject to its guests. The Lion Zoo is a charming place with several comfortable areas for recreation and a café with ice cream and desserts.
Parents with teenager children may find it interesting to visit Menegesha-Suba Forest. This is a natural reserve that has several interesting trails for visitors. Children are usually super excited to walk in the real tropical jungles where they can see marvelous inhabitants of wild African forests and unusual plants that do not grow anywhere else in the world. If your child likes camping, Menegesha-Suba Forest has a dedicated camping area where visitors can stay overnight. Roast meat or sausages, enjoy sports games, and then seat near the campfire and tell scary stories to each other – no teenager can refuse such a vacation! Copyright www.orangesmile.com
The natural beauty of Africa, incredibly clean and untouched land, is one of the main reasons why so many tourists visit Ethiopia every year. Fabulous …
Read further
School-age children will be in love with services that Equus Ethiopia offers. Day Travel Rides – this is the most popular entertainment that this company offers. This is an adventurous excursion on a horse. The whole family can participate in this horseback riding tour that will take them to the mountains or savannah. By the way, this entertainment is suitable even for tourists who have never tried horseback riding before. Experienced guides always stay with tourists until the end of the tour. Horses are fantastic animals and are very smart, so even children will find it not difficult to get into contact with them.
Does your teenager like extreme adventures and thrilling emotions? If the answer is yes, he or she will be super excited about an opportunity to make a hot air balloon flight. Abyssinia Ballooning offers this service in Ethiopia. This unusual entertainment will let parents and their children enjoy panoramic views of Ethiopia. Needless to say, this is a unique occasion to make dozens of fantastic photographs and selfies! Early morning is the best time for a flight because a view of the sun rising above Africa is breath-taking. Vacationers can be sure that their efforts to wake up early and reach the departure area will be rewarded.
These spots really worth the attention of a real traveler-researcher. …
Read further
If your child is keen on museums, take him or her to several interesting exhibitions in Addis Ababa. For example, the National Museum – the main museum in the country – excites even children who usually feel bored in long halls with glass display windows. This museum exhibits unique findings of archaeologists, ancient human skeletons, petrified plants, relics – in short, everything that was discovered in Ethiopia and that has at least some historic or cultural value. Your child will be able to learn more about the lifestyle of ancient humans and find out how our forefathers picked berries, hunted, and what tools they had.
Of course, almost all excursions look boring for small children. If your child sits in a baby stroller from time to time, he or she is likely to fall asleep. What can make a child stand up and go? A visit to a game center, of course. In Ethiopia, tourists can visit Bob and Bongo's Fun and Game Center that is intended for pre-school children. Playgrounds, numerous toys, swings, slides, trampolines, bubble pools – the center has so much to offer. There is even a separate hall with virtual reality games. Finally, a small cinema at Bob and Bongo's screens funny cartoons.

This article about vactions in Ethiopia with children is protected by the copyright law. You can re-use the content, but only under the condition of placement of an active link to
www.orangesmile.com
.
Fantastic City Tours and Excursions in Ethiopia
Reference information
Zoos and gardens in Ethiopia
♥ Zoo 'Addis Ababa Lion Zoo' .
On the map
Photos
Country maps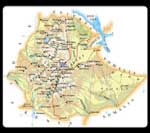 Car rental on OrangeSmile.com

Hilton builds third luxury hotel in Kyoto
The project organizers note that the new Kyoto hotel is perfect for both business and leisure. Just to remind you, the opening of the Roku Kyoto hotel took place in the city in 2021. The luxury hotel also never ceases to amaze guests with its exquisite atmosphere and variety of services. It is close to famous attractions like Kinkaku-ji Temple, and Shozan Resort Kyoto Pavilion is a short walk from the hotel.
Read this
07.06.2023
Ethiopia by photographers
Top cities of Ethiopia for children
Map of Ethiopia cities for family trip with kids