National cuisine of Ethiopia for gourmets. Authentic recipes, delicacies and specialties
Everyone, who has tried Ethiopian cuisine at least once, mentions how delicious and addictive it is. Local cuisine is absolutely incredible. People keen on hot and spicy food will be particularly pleased. For centuries, local farmers used fertile lands of the country to grow teff, maize, chili peppers, and moringa. These ingredients add a special charm and inimitable taste to local cuisine. If there was a task to describe Ethiopian cuisine in several words, it would be "various cereals and spicy sauces". When it comes to describing the look of local food, there is one word that fits the best – injera.
Shopping in Ethiopia can be very different depending on the type of items that you want to purchase. Do you want to purchase gifts and souvenirs for …
Read further
So what is "injera"? This is an irreplaceable element in every Ethiopian meal. It is a sourdough-risen flatbread that Ethiopians eat on a daily basis. Injera is made from teff flour. The flatbreads are approximately 50cm in diameter. Injera adds a special Ethiopian charm to all food. The flatbreads are usually served with Kitfo and Tibbs on top (we will talk about this one a bit later), as well as vegetable ragouts, ground meat – in short, almost everything. The main rule is to make food taste spicy and rather hot. By the way, forks and spoons are also not very popular because local people enjoy dipping pieces of Injera in food and eating them.
Berbere is the second most important element in Ethiopian cuisine after Injera. Berbere is a mix of chili peppers, roasted onions, and some spices. The taste is so divine that it feels like pure magic. By the way, local cooking experts keep in secret the exact proportions of spices that they use for Berbere. This spice mixture is used not only in the main dishes but also in desserts. Thick paste-like consistency, dark cherry color, and incredible fragrance – these are the key characteristics of Berbere. Knowing them, it is not hard to recognize an Ethiopian dish wherever you are. Copyright www.orangesmile.com
Christianity has an important role in Ethiopia. However, the local church is an orthodox one, so Ethiopian Orthodox Christian Church has some …
Read further
Let's talk about meat. Ethiopians eat meat, but not always. The truth is that local church – Ethiopian Christianity – is based on multiple traditions and customs from the Old Testament. In accordance with the religion of Christian Ethiopians, there are several fasting periods every year. Moreover, Wednesday and Friday are also days with a special menu. Ethiopians eat vegetarian dishes only on these days. Luckily, the choice of delicious dishes without meat is truly incredible. Local people do not eat pork, and this rule applies to Christians who live in accordance with the Old Testament traditions and Muslims. That being said, goat meat, beef, poultry, and mutton are very popular in Ethiopia.
Now let's be more detailed about certain dishes as this will help tourists to know more about local cuisine and to make the right choice when they look at the menu in a local restaurant. Tibbs is the term for longer slices of meat, usually mutton or beef, which are roasted and served with a spicy sauce. Doro Wot is the best choice for everyone who likes chicken meat. This is chicken in an onion sauce. Kitfo is one of the most popular dishes in the region. It contains marinated and then roasted ground beet meat, chili pepper, and Niter Kibbeh (spiced clarified butter). Kitfo can also contain cheese and greens. Just like many other dishes, Kitfo is served with Injera flatbreads.
The natural beauty of Africa, incredibly clean and untouched land, is one of the main reasons why so many tourists visit Ethiopia every year. Fabulous …
Read further
Without a doubt, everyone knows about Ethiopian coffee. Actually, the word "coffee" derives from Kaffa, the name of a province in Ethiopia. Some of the best sorts of Arabica coffee grow in Ethiopia. Even though the country is not the leader in terms of coffee beans production, local coffee is delicious and is worth the attention of tourists. It is impossible to imagine a friendly meeting of Ethiopians without a cup of this fragrant drink. Every meal or feast always ends with coffee. Tourists interested in local alcohol should try honey wine and local beer.
There are interesting traditions about food consumption in Ethiopia. As it was mentioned above, locals often use pieces of flatbread instead of forks and spoons. However, no one will be surprised if you take the food with your hands. Quite the opposite! This way you will eat like an Ethiopian. It may look uncomfortable and confusing at the start, but once you get accustomed you may wonder why do we even need all those utensils when it is so comfortable to eat with hands? Ethiopians don't like eating alone, so it is absolutely normal to invite a solitary person to join others and eat together.

This article about national cuisine of Ethiopia is protected by the copyright law. You can re-use the content, but only under the condition of placement of an active link to
www.orangesmile.com
.
Fantastic City Tours and Excursions in Ethiopia
Country maps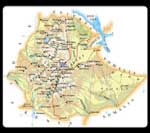 Car rental on OrangeSmile.com

Thailand Relaxes Its COVID-19 Policy
New Year events in Thailand are likely to bring more people this year because everyone is tired of lockdowns and craving normal life. Many tourists, who book hotels in Pattaya, Krabi, or Phuket for the holiday season, also want to participate. As champagne has become an essential drink for New Year celebrations, the question regarding alcohol consumption comes to mind. The government allowed serving alcoholic drinks during the New Year countdown but only open-air cafes and restaurants with good ventilation will be permitted to do this until 1 am on 1 January 2022. This rule is nationwide.
Read this
13.08.2022
Sights of Ethiopia - photostream
Cuisine and restaurants in popular cities of Ethiopia
Map of Ethiopia cities with popular restaurants