Shopping in Ethiopia - outlets, shopping streets and boutiques
Shopping in Ethiopia can be very different depending on the type of items that you want to purchase. Do you want to purchase gifts and souvenirs for friends and family or pamper yourself with cute items? Or do you prefer something not cute but useful in the household? Are eatable and delicious souvenirs the best for you? There are tourists who don't really care about the type of items that they buy because they seek authentic experiences and simply want to bargain and enjoy the atmosphere of bazaars. Everything mentioned here is possible in Ethiopia.
Vacationers, who plan to travel to Ethiopia with kids, are better to stay in Addis Ababa. The capital has better infrastructure, is more comfortable …
Read further
Bahir Dar Market is one of the most popular and iconic places that tourists visit in order to feel the real atmosphere of an African market. Indeed, it is possible to buy many items in this market, but many of the items for sale are not very attractive and not very suitable as souvenirs. That being said, it is a fantastic place to see Ethiopian lifestyle and feel like an African. Moreover, it is a mesmerizing experience that will result in many interesting photographs. Tourists shouldn't forget about safety measures in order not to fall a victim of pickpockets, so nothing spoils this interesting adventure.
Bahir Dar Market is an interesting place for everyone who wants to see the real life of Ethiopian people. The choice of goods for sale at this market is very broad, but there are buyers for all of them. A big part of the market is dedicated to livestock. There are also many items that Ethiopians need for everyday use and that have zero interest for tourists – imported plastic goods like bottles, slippers, tableware, etc. For vacationers, it is more interesting to move to the stalls that sell national clothing, traditional leather lunch boxes, and spices. The market is particularly busy on Saturday because sellers from the nearby settlements come to Bahir Dar Market to offer their goods. Some sellers offer odd items that look more like garbage. Copyright www.orangesmile.com
Christianity has an important role in Ethiopia. However, the local church is an orthodox one, so Ethiopian Orthodox Christian Church has some …
Read further
The choice of items available at Addis Mercato, a large open-air market in Addis Ababa, is more interesting for tourists. However, this market looks less authentic. This is a noisy and always crowded place. Subsequently, there are many pickpockets, so tourists need to be cautious and attentive. By the way, merchants themselves often try to trick tourists. Inflated prices for nonlocals, lies about the change, manipulations with banknotes are not rare in Addis Mercato. Foreigners need to stay alert all the time. Don't let sellers convince you! Then it is possible to buy really interesting gifts at this market.
Coffee and spices are the most typical goods in Addis Mercato. That being said, there are donkeys, chicken, and other livestock for sale, but tourists are not likely to want to take them home. Cute clay pots, old coins, wooden totems, and ferrules for weapons also appear on stalls of local merchants. Antiquity shops have a better selection of items of this type. Addis Mercato is not the best place to shop for clothes and shoes because many sandals are made from car tires. Local clothing is often quite rough and not suitable for wearing in a megalopolis.
The natural beauty of Africa, incredibly clean and untouched land, is one of the main reasons why so many tourists visit Ethiopia every year. Fabulous …
Read further
What else can tourists buy in Ethiopia? Take a look at authentic local goods – wooden masks, woven baskets and plates, cowhide carpets, and colorful paintings on leather. Massive and heavy Ethiopian style jewelry is also attractive and unique. However, buying silver, gold, and precious stones may be a bad idea. No one gives authenticity certificates, and gold items are not stamped. In short, it is often impossible to tell whether a jewelry piece is genuine or fake. An important thing to consider: do not buy items made from ivory and horns of the rhinoceros. The same applies to skins of wild animals. It is prohibited to export these items from the country.
Tourists, who are in search of truly quality items that can make a good gift even to the boss, should visit Salem's Ethiopia. This shop is open in Addis Ababa. Salem's is a craft store, so local artisans work on the spot and take customized orders. Woven baskets, elegant bags made of cane, small statuettes, cute souvenirs, ethnic fine jewelry, fine jewelry (this jewelry is not fake) – in short, the choice of items is simply amazing. Buyers get receipts at Salem's, so there will be no problem with customs when leaving the country.

This article about shopping in Ethiopia is protected by the copyright law. You can re-use the content, but only under the condition of placement of an active link to
www.orangesmile.com
.
Fantastic City Tours and Excursions in Ethiopia
Country maps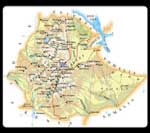 Car rental on OrangeSmile.com

Thailand Relaxes Its COVID-19 Policy
New Year events in Thailand are likely to bring more people this year because everyone is tired of lockdowns and craving normal life. Many tourists, who book hotels in Pattaya, Krabi, or Phuket for the holiday season, also want to participate. As champagne has become an essential drink for New Year celebrations, the question regarding alcohol consumption comes to mind. The government allowed serving alcoholic drinks during the New Year countdown but only open-air cafes and restaurants with good ventilation will be permitted to do this until 1 am on 1 January 2022. This rule is nationwide.
Read this
07.06.2023
Sightseeings of Ethiopia in photostream
Shopping malls, boutiques and outlets in top cities of Ethiopia
Map of shops in Ethiopia cities