National traditions of Egypt. Habits, mentality and the way of living
Egyptians are religious people. Most of the inhabitants of the country profess Islam, therefore life in Egypt is based on Muslim dogmas. Once the muezzin's singing is heard from the top of the minaret, believers drop everything and go to pray. The hot climate has defined the second main feature of the Egyptians' national character - calmness. People in Egypt do not like to be in a hurry. That's why they are often late and spend a lot of time for making decisions. Non-punctuality and slowness are justified by the habit of living by the "Egyptian time". Egyptians' favorite word is "Bukra", which means "tomorrow". They rarely refuse, but do not hesitate to repeatedly move an appointment to a later date and postpone the fulfillment of the promised.
Egypt is a country of rich family vacations. The tourist sphere offers the best entertainment for children and their parents: excursions to the desert …
Read further
People of Egypt are open and friendly, but non-observance of the rules of local etiquette causes disapproval. At the first meeting, people of different sex greet each other only verbally. Men introduce themselves first. Public opinion is of great importance to Egyptians. To prevent rumors and gossips, marital status is always mentioned in communication. Men greet each other with a handshake. You can only use the right hand since the left is considered "unclean". Close friends and male relatives hug and kiss each other's cheeks. For women, a handshake and a symbolic kiss are compulsory. The introduction ends with the phrase "Fursa saida," which means "Nice to meet you".
Despite the insistence on local standards, Egyptians are quite tolerant. There are many foreigners in the country who are married to Egyptians or work in local companies. In local cities, Christian churches operate along with mosques. The neighborhood of the two faiths is clearly visible in Cairo and Alexandria. Muslims and Christians are often friends, celebrating religious holidays together. Egyptian men often have foreign wives. The family is the most important value in their lives, so divorces are rare. In villages and small settlements, several generations live under one roof. In large cities, young families move away from their parents and live separately. Copyright www.orangesmile.com
Tourists coming to Egypt are struck by the variety of goods. If you don't want shopping in the country to disappoint you, it is better to decide what …
Read further
An Egyptian man is the head of the family. He maintains his wife and children, being responsible for their well-being. In their spare time, Egyptians watch football in male company, leaving their houses and gathering in sports bars on days of important matches. Most women are housewives who do the housework, watch TV and receive guests. Residents of Egypt like to visit each other late at night, and often sit up till midnight. Masters of the house offer their guests light snacks and refreshments, tea or coffee with sweets. Invited foreigners are served national dishes, the refuse from which is impolite. The meal is accompanied by lively conversations and jokes.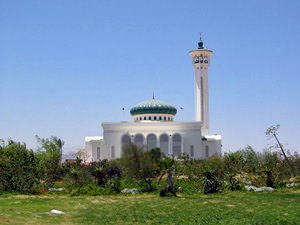 As true Muslims, Egyptians do not accept pork and alcohol. A gift in the form of a bottle of expensive alcohol is perceived as an insult to the religious feelings. The ban on alcohol has led to an increase in the number of smokers in the country. Smoking cigarettes and hookah that is locally known as "Shisha" is common in Egypt. The Egyptians are cheerful people and easily come into contact with foreigners. If they liked a person, they will try to strike up a friendship with him or her. When talking with local residents, try to be cautious in your statements. Criticism of the country and government is regarded as a personal offense and brings to naught the communication.
Egypt is a Muslim country, whose holidays reflect the interpenetration of culture and religion. Along with religious events, in Egypt, there are many …
Read further
Residents of Egypt are extremely superstitious. Protective amulets, talismans of health and wealth are in huge demand. Similar attributes are found everywhere: in poor houses and luxury apartments, small shops and brand stores. Egyptian superstition sometimes reaches the point of absurdity. Excessive praise, compliments to women and children may be regarded as attempts to put the evil eye. This kind of words are accompanied by the traditional "Mashallah!", which means "as God willing". Egyptians love, pamper their children and try to protect them in all possible ways. In order not to cause envy, they are given simple names, dressed in rags and smeared with soot.
The respect of the Egyptians for their own traditions is manifested in their love for national clothes. Men wear long "jellabiya" cotton shirts and short pants, their heads are covered with a felt "lebda". The traditional outfit of Egyptian women is the black hijab. It is decorated with bright details and laces. Wealthy men and women who have received higher education dress in a western manner. Tourists are allowed to wear usual clothes, if it is not tight-fitted and does not reveal shoulders, back, neckline or legs.

This article about national traditions in Egypt is protected by the copyright law. You can re-use the content, but only under the condition of placement of an active link to
www.orangesmile.com
.
Fantastic City Tours and Excursions in Egypt
Reference information
Cathedrals and basilicas in Egypt
♥ Cathédrale Saint-Georges, Luxor.
On the map
Photos
♥ Cathédrale Notre-Dame d'Héliopolis, Cairo.
On the map
Photos
♥ Cathédrale Sainte Catherine, Alexandria.
On the map
Photos
Famous sites of Egypt in pictures
Unique traditions in cities of Egypt
Map of Egypt regions with authentic traditions