Additional maps of Egypt
Unique points of interest in Egypt
6th October Bridge
From the series
"The Longest Bridges in the World"
In Cairo is the bridge of 6 October with the length of 20.5 km. This bridge crosses the Nile twice and connects the western part of the city to the international airport, which is located in the eastern part of Cairo. The bridge was named to honor the important historical event. On 6 October 1973, the Ramadan war between Egypt and Israel began. The bridge building started in Cairo in 1969 and lasted a little over 30 years. In 1996 the bridge was put into operation.
Since the opening, the bridge of 6 October has been the most important street of the capital, but also of the whole state. Every day driving more than 500,000 people cross the bridge, which is also the number of guests from other countries. With care that traffic on the bridge is very dense at any time of the day, the trip …
Read all
Suez Canal
From the series
"Greatest Man-Made Waterways and Channels"
The most famous and recognizable one on the planet is the Suez Canal that connects the Red Sea to the Mediterranean Sea. The unique geographical location between Africa and Eurasia gives the canal the priority of being an important transport junction and one of the outstanding global sights. The canal is 163 km long and 60 metres wide, its depth is approximately 20 metres.
The passing vessels spend at least 14 hours to bridge the distance. About 50 units of water transport transit the waterway. The Suez Canal was opened for navigation in 1869. It has no shipping locks. The Canal is an important link between two major harbour cities of Suez and Said, which are also trading and travel centres of great importance. The idea of ​​establishing a grand canal dates back to the oldest times, …
Read all
All unique sightseeing Egypt

Fantastic City Tours and Excursions in Egypt
Country maps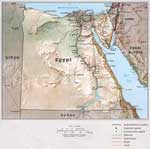 Nobu Will Open a Hotel in Hamburg
Elbtower is an exceptional place. This is not only the tallest skyscraper in Hamburg but also in entire Northern Germany. The skyscraper is a perfect choice for the first Nobu hotel in Hamburg as Elbtower will house prestigious office spaces, and the hotel's exclusive fine dining is matching this place. This is the first project of SIGNA and Nobu but the companies plan to continue their partnership.
Read this
15.04.2021
Interactive maps of hiking and biking routes in Egypt
1. You can zoom in/out using your mouse wheel, as well as move the map of Egypt with your mouse.
2. This interactive map presents two modes: 'Biking Routes' and 'Hiking Routes'. Use the '+' button on the map to switch between them.
Railway and landscape maps of Egypt
This Egypt map has two modes: 'Railway Network' and 'Landscape & Rural Map'. Use the '+' button on the map to navigate.
Maps of cities and regions of Egypt