Additional maps of Egypt
Unique points of interest in Egypt
Great Sphinx
From the series
"The Oldest Surviving Monuments on Earth"
The Great Sphinx of Giza is probably one of the most famous and recognizable ancient monuments in the world. The ones in Giza. The huge statue, which is not far from the Cheops pyramid, attracts hundreds of thousands of tourists and is considered one of the most mysterious buildings in the world. One of Sphinx's main castles is the history of its origins. According to one of the versions, Sphinx was built in honor of Chephren Pharaoh. However, there is no official confirmation of this theory.
The exact time of the statue building remains unknown. The scientists believe that it was built 4 000 years ago. With respect to the impressive size of the statue and the complexity of some of its elements, the construction of such an unusual seems more than 4,000 years just incredible. The length …
Read all
Pyramid Of Djoser
From the series
"The Oldest Surviving Monuments on Earth"
The Djoser Pyramid, located in Sakkara, is the oldest in the world. It is almost 200 years older than the world-famous Cheops pyramid. The crypt for Djoser Pharaoh was built about 6 700 years ago, it consists of six steps and has the height of 62 meters. The building has been preserved for several thousand years. However, since the pyramid was heavily sanded, it was not easy to evaluate its exact parameters. The length of the sides from the rectangular base of the pyramid is about 121 and 109 meters.
The first step pyramid in the world was built by Imhotep, the High Priest, and has a unique peculiarity. In contrast to the other pyramids, their construction contains a deep vertical pit with the dome-shaped covering, the exact purpose of which still remains unknown. In the research of the …
Read all
All unique sightseeing Egypt

Fantastic City Tours and Excursions in Egypt
Country maps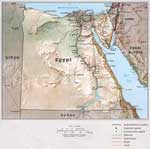 Thailand Relaxes Its COVID-19 Policy
New Year events in Thailand are likely to bring more people this year because everyone is tired of lockdowns and craving normal life. Many tourists, who book hotels in Pattaya, Krabi, or Phuket for the holiday season, also want to participate. As champagne has become an essential drink for New Year celebrations, the question regarding alcohol consumption comes to mind. The government allowed serving alcoholic drinks during the New Year countdown but only open-air cafes and restaurants with good ventilation will be permitted to do this until 1 am on 1 January 2022. This rule is nationwide.
Read this
29.03.2023
Interactive maps of hiking and biking routes in Egypt
1. You can zoom in/out using your mouse wheel, as well as move the map of Egypt with your mouse.
2. This interactive map presents two modes: 'Biking Routes' and 'Hiking Routes'. Use the '+' button on the map to switch between them.
Railway and landscape maps of Egypt
This Egypt map has two modes: 'Railway Network' and 'Landscape & Rural Map'. Use the '+' button on the map to navigate.
Maps of cities and regions of Egypt