Cuisine of Delft for gourmets. Places for dinner - best restaurants
National cuisine is quite simple, so many even call it "village". Herring is one of the most favorite dishes of the local people. These are slices of herring with fresh onion and mild-cured cucumbers. This delicacy is present on all holiday tables and is offered in any restaurant of national cuisine. It should be also noted that herring is prepared in various ways in this region.
Travelers will surely find great pleasure in making a walking tour around the city. On its territory they will find beautiful parks and alleys. Daytime is full of festivals and celebrations …
Open
Among other seafood, which is respected by local people, we should definitely underline perch and eel, the methods of preparation of which are also different. Fresh and steamed vegetables remain the main garnish to fish and meat dishes. We recommend trying "potaten" - fried potato slices that are somewhat reminiscent of familiar French fried potato.
The dish called "hotpot" is among the most popular meat dishes of the region. This is a stew that is usually served with roasted cabbage. Vegetarians will love "stampot" - soft mashed potatoes served with braised cabbage. Local restaurants also feature widest selection of hot and cold sandwiches. Uitsmijter is considered the "king of sandwiches". This is a big sandwich with scrambled eggs, ham and bacon. When it comes to alcohol, local people definitely prefer beer. If beer is "too light" for you, you may enjoy juniper vodka that is very popular here. Copyright www.orangesmile.com
1. Tourists, who plan to make phone calls to other states, should use local telephones. They can be found near underground stations, close to major shopping malls and traffic stops. This …
Open
Spijshuis de Dis restaurant is one of the most popular gastronomic facilities of the city. This is a perfect place for special occasions, and for romantic dinners or business meeting. The restaurant specializes in cooking dishes of national cuisine. On evenings Spijshuis de Dis attracts guests by an interesting entertainment program. Natuurlijk 015 is one of the most popular coffee shops of the city. Here you can relax, either alone or with your family, and enjoy the best dishes of European cuisine. This café will be loved by vegetarians as the choice of vegetable dishes here is really large. Fans of exotic dishes will love Maharani restaurant devoted to Indian cuisine. The hall of the restaurant is full of barely noticeable aroma of spices. No need to say that all dishes are prepared in strict accordance with Oriental recipes.
Market Square is the location of a popular café, Het Gulden Abc. It offers a rich selection of popular national dishes. Many visit it with only one purpose – to try delicious fresh pastries, but the café has an amazing lunch menu. Vacationers will be pleased to find a fine selection of soups, hot dishes, salads, and signature desserts. All desserts are available in the see-through window. Consider trying Choco gebak as this chocolate cake is a signature dessert of the café.
A stylish hotel, Shanghai Hotel Holland will amaze visitors with its modern architecture. The façade of the creative building is completely made of glass, so it lets much daylight in, …
Open
Ladera is an attractive national cuisine restaurant that is located at some distance from the city center. Don't expect to find rare delicacies or exotic food at this dining venue as it offers the most popular local food cooked in accordance with old home recipes. For an affordable price, visitors can order simple and hearty dishes that locals eat every day. Magnificent meat and potatoes, homemade pastries, and desserts made of natural ingredients make up the basis of the menu. The small restaurant is also distinguished by a relaxing, home-like atmosphere.
Saucijzenbroodjes is a small snack house that is located not far from the waterfront, near Oude Delft canal. This venue is very popular with savvy travelers. In the morning, Saucijzenbroodjes offers excellent buns that attract numerous locals and guests of the city, so expect long queues there. Various types of freshly baked bread, all kinds of buns and croissants simply cannot leave anyone indifferent. The prices do not exceed 2.5 euro.
Without a doubt, there are high-class hotels in Delft, a stay at which will please even the most discerning travelers. Not far from the city center you will find a unique eco-friendly hotel, …
Open
Travelers wishing to relax in an elegant and romantic place will be pleased with a visit to Les Copans. This restaurant also specializes in cooking the classical Dutch cuisine. Signature dishes are distinguished by an attractive, artistic serving that is completely in line with the romantic setting that reigns in the venue. It is hard to find a better restaurant in Delft for a romantic night out.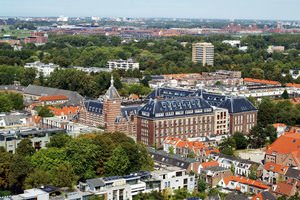 Van Der Dussen restaurant has become a true landmark of the city. It is open in a unique historical building that dates back to the 13th century. Despite such an honorable age, the building still has many elements of the original design. Van Der Dussen is recognized as the most prestigious and expensive restaurant in Delft. It is very popular, so it is better to book a table in advance. Local chefs cook even traditional herring in an unusual and unique way. The restaurant's visitors can order rare fish delicacies and enjoy exclusive cheese. Besides a rich food menu, the restaurant offers a fabulous wine list with varieties of the drink brought from different parts of the world. Despite the fact that prices at Van Der Dussen are among the highest in the city, all tables of the dining venue are still booked a couple of weeks in advance.

This guide to cuisine and restauraunt in Delft is protected by the copyright law. You can re-publish this content with mandatory attribution: direct and active hyperlink to
www.orangesmile.com
.
City tours, excursions and tickets in Delft and surroundings
Reference information
Michelin-starred restaurants in Delft
♥ Restaurant 'Les Copains' Delft. Type - Modern cuisine. 1.4 km from the center.
On the map
Photo
♥ Restaurant 'Le Vieux Jean' Delft. Type - Modern cuisine. 1.5 km from the center.
On the map
Photo
♥ Restaurant 'Van der Dussen' Delft. Type - Modern cuisine. 1.8 km from the center.
On the map
Photo
♥ Restaurant 'Aan de Zweth' Schipluiden. Type - Modern French. 4.5 km from the center.
On the map
Photo
♥ Restaurant 'Niven' Rijswijk. Type - Creative. 5 km from the center.
On the map
Photo
♥ Restaurant 'Savarin' Rijswijk. Type - Modern cuisine. 5.5 km from the center.
On the map
Photo
♥ Restaurant 'Villa la Ruche' Voorburg. Type - Modern French. 7.2 km from the center.
On the map
Photo
♥ Restaurant 'De Lickebaertshoeve' Maasland. Type - Modern cuisine. 7.3 km from the center.
On the map
Photo
♥ Restaurant 'Le Barquichon' Voorburg. Type - Classic cuisine. 7.5 km from the center.
On the map
Photo
♥ Restaurant 'Brasserie De Koepel' Voorburg. Type - Market cuisine. 7.8 km from the center.
On the map
Photo
Delft in photo set
Searching where to eat - restaurants and cafe on Delft map
Cuisine and restaurants in the neighbours of Delft
Travel notes on best cuisine and restaurants of Delft (Netherlands) on OrangeSmile.com. Famous recipes and traditional dishes and courses in Delft restaurants. Where to eat - our recommendations on popular places in Delft, where you can taste delicious meal and also spend a good time with your friends.