Cape Verde sightseeing. Travel guide - attractions, sights, nature and touristic places
A famous windsurfing center, an ideal destination for fans of beach recreation and recreational fishing, a wondrous country with pristine nature and luxury modern hotels – the Cape Verde Archipelago never stops amazing its guests with contrasts and various activities. This is a place where pristine nature peacefully borders with territories of high-class resorts, and the inimitable underwater world of the island country is considered one of its biggest treasures. Have you ever dreamt of mastering scuba diving, windsurfing, and other underwater sports? If yes, these picturesque islands with extremely clean beaches and unique ocean fauna are the best choice.
If you think that a yacht or catamaran ride is leisure and passive entertainment, during which you can motionlessly look at the ocean waves and blue …
Read further
The archipelago consists of 15 islands; the country's total area is 4,033 square meters. First mentions of Cape Verde date back to the 12th century. Some sources mention Arabian traveler Al-Idrisi as a possible discoverer of the islands. Europeans appeared on the islands in 1460. These were military and discoverers from Portugal. They found a chain of beautiful and uninhabited islands, so they started conquering the islands actively.
In 1462, first settlers from Portugal appeared on the islands. Later, colonists from Spain and France followed their example. This is one of the reasons why the modern culture of islanders is a fabulous combination of national traditions of many different countries. During the medieval period, the Cape Verde Islands were one of the biggest centers of slavery in the world, and so many slaves from Africa were brought here. Copyright www.orangesmile.com
1. Do not listen to scary stories in the airport that this is Africa, and it is dangerous, so tourists need to stay in their hotels more. Here is the …
Read further
The islands officially became Portugal's colony in 1495, and they could return their independence only in 1975. For centuries, agriculture and slavery were the main sources of income for the island country. As trading connections with Europe became stronger, trading became an important activity for the local budget. The revolutionary movement emerged in the middle of the 20th century. The main target of the movement was to make the islands independent, and it took more than 20 years to make that dream come true. Nowadays, the Cape Verde Islands are primarily famous as a popular vacation destination with beautiful beaches, incredible natural landmarks, and excellent beach resorts.
Sal is the most visited island of the republic. This is a popular center of diving and surfing on the international level. There are many pristine beaches here that attract visitors with their tranquil atmosphere. Naturally, there are many water sports centers on the island. Incredibly beautiful coral reefs not far from the coast attract both experienced divers and beginners. Tourists, who are not interested in diving with a heavy scuba, can always make a refreshing motorboat or paddleboat ride. Fans of sightseeing will find it interesting to visit Oásis de Algodoeiro, an old military fort.
What makes a vacation in Cape Verde so pleasant? First of all, it is important to mention the local weather. The average temperature is 25°C. The …
Read further
Are visits to picturesque areas and beach-side entertainment your most favorite activities? If so, the tiny island of Fogo is an ideal destination. This is a volcanic island with many deserted fields covered with black petrified lava. Picturesque vineyards grow close to these lava fields, creating an incredible view. Local people have been growing coffee in this region for several centuries. There are also old wineries here. Of course, it would be a mistake not to mention charming beaches that are never crowded on this island.
Brava Island is a unique place. The island has an informal name – the island of flowers – and this is a precise description. Brava has a diverse wild flora with many rare flowers. This is the smallest island in the country that has interesting tourist trails. However, there are no beaches on Brava because its coast is a continuous chain of impenetrable rocky formations. This is one of the reasons why the tourist infrastructure is not developed on the island, so this is an ideal destination for fans of seclusion and pristine nature.
Escudo is the national currency in Cape Verde. Tourists need to know this fact but do not really need to prepare for a vacation to the country, …
Read further
Santiago Island never stops amazing its guests with incredible landmarks. Here, tourists can explore the medieval city of Praia and see its architectural landmarks, visit an interesting ethnographic museum, and relax in an old park with centuries-old baobabs. Of course, it would be a mistake not to mention the 16-century Sao Felipe Fortress that is now a UNESCO World Heritage Site.
It is possible to reach the island country by airplane. It is also the main means of transport that connects remote islands. Tourists can move between the nearby islands by motorboats and ferry. If you are not on a tight budget, you can always rent a motorboat or a small airplane. Lisbon and Munich have the best air connection with the Cape Verde Islands. It is possible to reach the tropical country from these cities all year round.

This article about iconic landmarks and sights of Cape Verde is protected by the copyright law. You can re-use the content, but only under the condition of placement of an active link to
www.orangesmile.com
.
Famous and uniques places in Cape Verde from our review series
Cabo de Santa Maria Wrecks
From the series
"The Surviving Remains of Shipwrecks You Can Observe Yourself"
The freight ship Cabo de Santa Maria has an outstanding history. In 1968 it was transported very precious cargo – presents from Francisco Paulino Hermenegildo Teódulo Franco for Spanish alliance partners that support the country at the time of the economic crisis. There were expensive cars, products, medicine, clothes and other precious things.
When the ship was coming along the Cabo Verde islands the vessel has sat around. Within several days the precious items were transported from the ship. The freight ship Cabo de Santa Maria was left neglected. Now you can see it on the coast of Boavista island, not far from the island capital of Sal Rei. Today this ghost ship is a kind of tourist sightseeing.
When the vessel sat aground, local tugboats tried to loosen it but no one try was …
Read all
Country maps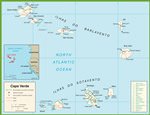 Car rental on OrangeSmile.com

Hilton builds third luxury hotel in Kyoto
The project organizers note that the new Kyoto hotel is perfect for both business and leisure. Just to remind you, the opening of the Roku Kyoto hotel took place in the city in 2021. The luxury hotel also never ceases to amaze guests with its exquisite atmosphere and variety of services. It is close to famous attractions like Kinkaku-ji Temple, and Shozan Resort Kyoto Pavilion is a short walk from the hotel.
Read this
01.06.2023