Shopping in Cape Verde - outlets, shopping streets and boutiques
Escudo is the national currency in Cape Verde. Tourists need to know this fact but do not really need to prepare for a vacation to the country, checking local banks and trying to exchange the money. All local shops accept payments in euro. However, there is an important detail that can easily drain any budget – if paying in Cape Verde in euro, and not in escudo, you will lose a lot of money because local merchants usually use the 1 to 1 exchange ratio, but one euro actually costs around a hundred escudos. Tourists can also lose money when they receive the change. It doesn't matter what currency they use to pay, sellers will give the change in escudo. That is why it is more beneficial to make purchases in escudo. It is easy to exchange euro to escudo in local banks, but exchanging escudo to euro or any other currency is problematic. Banks are open on workdays only. It is possible to pay with bank cards in large hotels, but vacationers need cash anywhere else.
What makes a vacation in Cape Verde so pleasant? First of all, it is important to mention the local weather. The average temperature is 25°C. The …
Read further
Many Cape Verdeans know several languages, and there is a simple explanation for this fact. Tourism is crucially important for the country, and so many tourists visit it every year. Portuguese is the official language in Cape Verde, but almost all merchants can speak English. If you talk English in Cape Verde, local sellers will always reply in English. It is even possible to try to bargain. Tour guides often tell the history of the islands and their most notable landmarks in two-three languages at the same time. There is nothing strange in this – there can be Italians, French, and Polish in the same tour group, and everyone must understand what the guide is saying. Guides can also recommend the most popular shopping spots.
When tourists visit local souvenir shops, sellers usually start with offering African masks. In African culture, masks are connected with rituals and magic. They are an epitome of numerous spirits that exist in our world. Masks can have a different purpose: there can be everyday masks, special masks, and masks that underline the power of nature. They are made from wood and can have absolutely different shapes. There are oval, oblong, and round masks – the visual difference is striking. Even a European person, who sees African masks for the first time, will be able to see the difference. An African mask is a wonderful souvenir that can add a touch of mystery to every interior design. Don't forget to bargain – patient tourists can get almost a 50% discount. Copyright www.orangesmile.com
The islands that we currently know as Cape Verde were discovered by the Portuguese. They were the first settlers on the islands, and they built first …
Read further
Memorable photographs taken in Cape Verde can be a great souvenir too. Perhaps, underwater photographs are the most impressive. It is also a great reason to try scuba diving. If you have never tried scuba diving before, Cape Verde is the best place to learn. Coastal waters near such islands as Sal, Boa Vista, and Santiago are famous as the best destination for divers. Local diving clubs offer all scuba diving gear for rent and have many professional instructors. Tourists only need to take underwater cameras and take fabulous pictures of the beautiful underwater world of the region. A collection of photographs taken during scuba diving sessions can become an original souvenir that will cheer you up on boring workdays. Funny underwater selfies will bring a smile to your face and faces of your loved ones.
Having visited Cape Verde in February, don't miss a chance to visit the carnival that takes place in the capital of the country, Praia (Santiago Island), and the city of Mindelo in Sao Vicente. Having enjoyed the festive atmosphere, tourists usually want to take a piece of fun and entertainment to their home countries. This is the best time to visit local souvenir shops that always offer a great variety of items that are in some way connected with or inspired by the carnival. These can be ceramic mugs and cups and various artworks inspired by local flora and fauna – all of them will necessarily have the emblem of the carnival. Moreover, it is possible to buy fantastic carnival costumes and even all kinds of caps and hair decorations.
If you don't like limitations like dress code during vacation and do not want to take proper clothing such as evening dress and tuxedo, then Cape …
Read further
If you spend your vacation in Mindelo where you rent an apartment with a kitchen and cook all food yourself, then you certainly need to visit the main market. It is a municipal market that is located not far from the waterfront. Tourists say that the market in Mindelo has better prices than the one in Sal. The food sold in this market is what Cape Verdeans eat on a regular basis. Besides all kinds of fish and seafood, the ration of local people is almost the same as in the continent. There are fruits, vegetables, greens, meat, and spices for sale. There is a separate fish market in the city that is located close to the ocean. Visiting local markets is always a good idea even if you don't plan to buy anything because it is an amazing opportunity to see the authentic local life from the inside. Art connoisseurs will find it interesting to visit Art D'Cretcheu Gallery. Capvertdesign+Artesanato is a popular souvenir shop that offers a range of artworks, interesting souvenirs, and household items in Cape Verdean style.
In Santa Maria, don't forget to visit Djunta Mo Art. This is a small shop that numerous tourists recommend visiting. Friendly staff, a broad range of items for sale, and affordable prices make it a must-visit destination for everyone interesting in authentic items. Handmade souvenirs are particularly appealing: rag dolls, white turtles, paintings, souvenirs made of salt, earrings, handbags, towels, clay figurines – it is hard to leave this shop without a purchase. There are also eatable souvenirs, such as jars with papaya and mango jam that are suitable for long-distance flights. Finally, many tourists recommend local liqueurs – it is possible to sample them before purchasing.

This article about shopping in Cape Verde is protected by the copyright law. You can re-use the content, but only under the condition of placement of an active link to
www.orangesmile.com
.
Country maps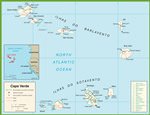 Car rental on OrangeSmile.com

Saudi Arabia to Open 38 Hotels in Diriyah
Diriyah is one of the first mega projects in Saudi Arabia. Hotels and other infrastructure will start opening next year, and all works are expected to end in 2026. The first 18 restaurants in Bujairi Terrace will start operating already in early 2022.
Read this
25.03.2023
Sightseeings of Cape Verde in photostream