National traditions of Cape Verde. Habits, mentality and the way of living
Cape Verdeans are very attractive and friendly people. They are charming and it is pleasant to communicate with them. Don't be surprised if you suddenly find yourself telling about your life and family to an unknown person. Perhaps, you will make a new friend and will be invited to visit his or her house. Life is quite slow on the islands, and all foreign guests quickly adopt this pace. Many say they feel calmer and even happier in Cape Verde. Tourists from big cities first make an effort to look into their smartphones less often, then they quickly forget about their gadgets and enjoy the atmosphere of this place. This way they adopt the leisure and relaxed lifestyle of the islands.
The islands that we currently know as Cape Verde were discovered by the Portuguese. They were the first settlers on the islands, and they built first …
Read further
Portuguese is the official language of Cape Verde Islands. Portuguese mixed with African languages evolved into several dialects. Famous singer Cesária Évora used one of these dialects – Creole. The majority of the population is Creoles – descendants of mixed marriages between Africans and the Portuguese who discovered the islands. The islanders love music. Many of them, if not everyone, can play different musical instruments and sing. Music has become an essential part of life on the islands. Besame Mucho is among the most popular tunes in Cape Verde. This song was written in Mexico at the beginning of the 20th century, but it sounds like it originally appeared in Cape Verde – the song got an inimitable romantic charm of the islands. Enchanted by the magic tune, tourists adore this song even if they don't understand a single word. The Cape Verde variant of Besame Mucho is incredibly emotional, and everyone feels this.
A mere wish to stay calm, the "No Stress" phrase has become the unofficial motto of Cape Verde islands. Local people say it when they are greeting and saying goodbye, they use it in conversations and print it on t-shirts. It doesn't matter what island tourists choose to stay on, they will surely see the popular "No Stress!" motto. Waiters in restaurants, sellers in shops, hotel's staff – they will repeat "No Stress!" again and again. Indeed, stress is virtually non-existent on the islands. Ultimate relaxation is visible in all aspects of life, and the Internet is no exception. This doesn't mean that Internet connection is absent on the islands; it is just not very popular in Cape Verde because local people prefer to communicate in person. Wi-Fi is paid everywhere, even in large hotels. When enjoying a vacation in Cape Verde, it is impossible to neglect national cuisine. Consider trying Cachupa – this popular dish can help tourists to understand the southern country a bit better. Cachupa is the most popular dish on the islands, so it possible to buy it virtually everywhere. Locals can eat Cachupa for breakfast and dinner, Cachupa is present on the menus of all restaurants and cafes, and every cook in Cape Verde makes Cachupa. That being said, having arrived in Cape Verde, respect local traditions and try this delicious and nourishing dish. Cachupa can contain beans, cabbage, pumpkin, meat, fish, corn, onion, and many other ingredients. Despite such a variety of different products, the ready dish tastes pleasant and harmonious. As proportions and ingredients differ every time, there are no two Cachupas that taste identically. Copyright www.orangesmile.com
If you don't like limitations like dress code during vacation and do not want to take proper clothing such as evening dress and tuxedo, then Cape …
Read further
Cape Verdeans have a legend that explains how water bodies appeared on the islands why there are so few of them. When traveling around the world, Jesus Christ was answering the call of nature and taking a pee in different countries. When he visited Cape Verde, he didn't need to relieve himself, so only a few drops fell down. Because of that, water is so scarce on the islands. Water is indeed a valuable resource here. Santa Luzia Island doesn't have water at all, and so this is an uninhabited island that has a status of the national reserve. Sao Nicolau Island has enough water even for agriculture. This island is the birthplace of the popular national trend in literature, Claridade, which means "transparency".
The Atlantic Ocean is the main "occupation" of local people. It gives food and work to islanders. Nowadays, Cape Verde is a popular tourist destination, so tourism gives local people the necessary funding to support their living. When tourism was not developed yet, the majority of local men had to go to the continent and search for a job. Not all of them returned back home. Some sent money as an apology. Their women stayed on the islands and were waiting for their loved ones. Some women waited years and ended up forever alone. Cesária Évora sang about the sad destiny of these women. She mentioned that Cape Verde was mostly built by women, and it was women who supported it. Everyone in Cape Verde knows Cesaria – she has become the national symbol of the country. The singer is like a godmother for all residents of Mindelo, her home city.
A famous windsurfing center, an ideal destination for fans of beach recreation and recreational fishing, a wondrous country with pristine nature and …
Read further
Many local people do small souvenirs and try to support their living this way. There are two main themes in crafts here – people and animals. Figurines of turtles, slim girls (the symbol of Santa Maria), women in colorful national costumes, and various African masks – these are the most typical souvenirs. Tourists gladly buy items made by local artisans. When a merchant sees a new tourist, he usually starts talking with the traditional "Do you visit Cape Verde for the first time?" After a small friendly chat, tourists usually buy something.

This article about national traditions in Cape Verde is protected by the copyright law. You can re-use the content, but only under the condition of placement of an active link to
www.orangesmile.com
.
Country maps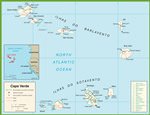 Car rental on OrangeSmile.com

Preferred to Open 9 New Hotels in 2022
In September 2022, the Sommerro hotel in Oslo will start operating in a carefully restored 1930s Art Deco building. This building is a true landmark of Frogner, a historic neighborhood of the Norwegian capital. A multi-million-dollar renovation carefully turned the largest preservation project in Norway into a modern hotel with 231 rooms, including 56 residences. Preferred will open five more hotels in 2022, namely, The Wall Street Hotel in New York, Amrit Ocean Resort & Residences on Singer Island (Florida, the US), TOA Hotel & Spa in Zanzibar, Pendry hotel in Washington, and Pendry Park City hotel in Utah.
Read this
04.06.2023
Famous sites of Cape Verde in pictures