National cuisine of Cape Verde for gourmets. Authentic recipes, delicacies and specialties
Just like any original and independent territory, Cape Verde Islands have their own cuisine. More than a dozen of islands are surrounded by the main food provider – the endless ocean. There are fruit trees on some islands. On Cape Verde, tourists can try such original dishes as Cachupa, Bochada, a pie with the "devil" stuffing, Caldeiras wine that is produced on one of the islands, and cane grog.
If you think that a yacht or catamaran ride is leisure and passive entertainment, during which you can motionlessly look at the ocean waves and blue …
Read further
Caldeiras wine is a true gastronomic landmark of Cape Verde. This wine is produced on Fogo Island that is rich in fertile soil, but because of problems with fresh water, cultivation of grape is very limited. The local wine has a distinctive taste and an alcohol content that is 2% higher than the wine made from the same grape in Europe. Tropical sun and volcanic soil add peculiar taste to local wine. Don't forget to try local grog. This drink can be served hot alone, and there are variations of grog with fruit flavors that are widely used in various cocktails. Grog from Santo Antao Island is particularly popular.
Sal Island doesn't have fertile soil and rich vegetation, but there is an international airport on this island. Sal is not big, but its small towns have the biggest concentration of foreign tourists from different countries. Their gastronomic preferences include not only seafood delicacies but also more usual dishes with chicken and pork. Local restaurants offer lamb meat, sausages, and various salads. Copyright www.orangesmile.com
1. Do not listen to scary stories in the airport that this is Africa, and it is dangerous, so tourists need to stay in their hotels more. Here is the …
Read further
Tourism is the main source of income for the small country, so there are many different cuisines of the world in local restaurants. Besides national cuisine, tourists can easily find the European one. For example, there are many pleasant cafes, small bars, and restaurants with European cuisine in Santa Maria, a town in the southern part of the island. In short, tourists can find a suitable restaurant to dine. Food can also play a central role in evening entertainment events that hotels organize for their guests. One of these parties, Typical Cape Verde Night, always has buffet style food with numerous dishes and appetizers. A pleasant atmosphere and nutritious dinner are guaranteed.
The traditional menu is always full of fresh fruits of the sea – tuna, marlin, and shrimps are present in the menus of virtually all dining establishments. Ice cream is the most popular dessert. Many restaurants and cafes have live music, so visitors can enjoy a delicious dinner and listen to relaxing music at the same time. Most restaurants have a copy of the menu with all prices and pictures at the entrance. Visitors can check the menu, price, and decide whether they want to visit this restaurant or not.
What makes a vacation in Cape Verde so pleasant? First of all, it is important to mention the local weather. The average temperature is 25°C. The …
Read further
Fans of fish dishes need to visit Cape Verde at least to try delicious dishes with freshly caught tuna, marlin, rockfish, and sawfish. Octopuses, lobsters, and crayfish – local chefs get them while they are very fresh – both gourmets and fans of simple food will certainly find something suitable.
Cachupa is a traditional dish of all Cape Verde Islands. Ask everyone who has tried this dish at least once, and that person will probably say that it is delicious and nutritious. Virtually all dining establishments on the islands offer this dish to tourists. It may sound strange, but the dish rarely tastes the same in different restaurants.
Escudo is the national currency in Cape Verde. Tourists need to know this fact but do not really need to prepare for a vacation to the country, …
Read further
Cachupa is a popular national dish, so almost every family on the islands cooks it regularly. An interesting fact – Cachupa has so many ingredients that it always tastes different. Many chefs add their own ingredients to make their Cachupa taste unique. The dish can contain beans of different types, pumpkin, sweet potato, corn, fish, chicken, beef, bacon, olive oil, cabbage, and onion – in short, everything that cooks have at the moment. Naturally, this doesn't mean that all these ingredients are put in the same pot. As a rule, richer families use more expensive ingredients for Cachupa and vice versa.
Bochada is a local delicacy. This dish contains the stomach and blood of the lamb. Bochada is usually served with rice. "Devil" pies got their name because of their stuffing that contains tomatoes, onions, and a lot of tuna. This is a delicious local alternative to continental fast food. The pies are usually served roasted, and it is possible to buy them virtually everywhere.
The islands that we currently know as Cape Verde were discovered by the Portuguese. They were the first settlers on the islands, and they built first …
Read further
Restaurants in Cape Verde usually offer quite a diverse menu containing seafood. Tourists can order different dishes with seafood every day and do not eat the same dish twice during their vacation. Consider trying such local delicacies as lobster with peanuts, rice with seafood, grilled langoustines or soup with mussels and spices. Shrimps soaked in wine are one more interesting local dish.
Tourists, who cannot imagine their lives without fruits but do not feel ready to eat the fruits they don't know, will feel revealed to see many familiar titles, including orange, banana, coconut, date, mango, and papaya. It is always very pleasant to start a new day with a fruit dessert and a glass of fresh pressed juice and then head to the beach. Some may prefer more nourishing options, such as bananas baked in dough or papaya pudding with cottage cheese.
If you don't like limitations like dress code during vacation and do not want to take proper clothing such as evening dress and tuxedo, then Cape …
Read further
Cape Verde offers many interesting sweets, some of which are not available outside the islands. For example, papaya jam has an unusual and very attractive taste. As the jam is sold in cute small jars, it is a wonderful souvenir from the islands. Many tourists buy this exotic jam as a gift.

This article about national cuisine of Cape Verde is protected by the copyright law. You can re-use the content, but only under the condition of placement of an active link to
www.orangesmile.com
.
Country maps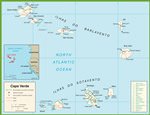 Car rental on OrangeSmile.com

Saudi Arabia to Open 38 Hotels in Diriyah
Diriyah is one of the first mega projects in Saudi Arabia. Hotels and other infrastructure will start opening next year, and all works are expected to end in 2026. The first 18 restaurants in Bujairi Terrace will start operating already in early 2022.
Read this
21.03.2023
Sights of Cape Verde - photostream