Country maps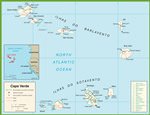 Fully Vaccinated Tourists Can Now Enter Qatar
The new entry policy is valid for travelers arriving by air, land, and sea. The Ministry of Public Health also published a list of precautionary measures aimed to protect citizens, residents, and guests of Qatar. It is important to ensure that everyone stays safe and healthy, and the ability to travel doesn't cause the spread of the virus.
Read this
29.07.2021
Interactive maps of hiking and biking routes in Cape Verde
1. You can zoom in/out using your mouse wheel, as well as move the map of Cape Verde with your mouse.
2. This interactive map presents two modes: 'Biking Routes' and 'Hiking Routes'. Use the '+' button on the map to switch between them.
Railway and landscape maps of Cape Verde
This Cape Verde map has two modes: 'Railway Network' and 'Landscape & Rural Map'. Use the '+' button on the map to navigate.