Nature of Cape Verde - national parks and reserves for active recreation
If you don't like limitations like dress code during vacation and do not want to take proper clothing such as evening dress and tuxedo, then Cape Verde is the right place. Travelers can safely wear their everyday clothing when exploring local towns and do not need to pretend to be someone else. Wild nature and friendly people in Cape Verde will only help to enjoy an unforgettable adventure. This country has many beautiful natural landmarks that amaze visitors with their beauty and thrill them with harsh conditions. There are places to relax and enjoy tender sun and places where visitors must stay attentive and alert.
Just like any original and independent territory, Cape Verde Islands have their own cuisine. More than a dozen of islands are surrounded by the main …
Read further
It is a good idea to visit Fogo Island. This is also the location of the highest point on Cape Verde Islands – Fogo Volcano, the height of which is 2,829 meters. There are also two small towns, Sao Filipe and Mosteiros. The volcano has been calm in recent years. The last eruption happened in 2014, but it was a lot less devastating than the eruption in 1995. All people living in the dangerous area had to move to the neighbor islands and wait until everything ended. As eruptions were not sudden, people were warned and there was no life threat for locals and tourists. Tourists may find it interesting to participate in excursions to the colonial era quarters, get to the top of Pico do Fogo (the top of the volcano), and go down to volcanic caves. There are interesting cycling routes that cover various climatic areas – tropical and subtropical. The climate changes as people go down from the volcano to the ocean. The weather is hot near the coastline, but it is cool and refreshing at a height of 1,000 meters.
Fans of snowboarding can test their physical strength and try something new and extreme meanwhile. Traditionally, snow is required to enjoy snowboarding, but there is no snow on the tropical island. Local people have developed a very unusual entertainment – they use snowboard to go down from the top of the volcano, using its sand slopes as if they are covered with snow. Not only has the fact that there is sand instead of snow made this activity unusual. Volcanic sand has a natural black color. Tourists liked the new entertainment, so there are always many people who want to get to the top and try volcano snowboarding. However, this requires good physical condition because tourists first need to climb to the top with their equipment. There are support tools except for a simple rope that serves a railing purpose. Copyright www.orangesmile.com
Cape Verdeans are very attractive and friendly people. They are charming and it is pleasant to communicate with them. Don't be surprised if you …
Read further
In Boa Vista, there is a giant beach area, the length of which is 55 kilometers. There are not many tourists here, so the area looks deserted. The beautiful coast with clean and soft sand usually attracts fans of wild nature. There are always many turtles on the northern beaches as this is their usual nesting area. Safaris are banned in the areas where the reptiles live, so it is not possible to use cars or quad-bikes. Boa Vista doesn't have a well-developed infrastructure yet, so tourists are better to prepare all beach gear they may need. There may be simply no offices to rent sun loungers and umbrellas, as well as no bars and cafes. Boa Vista is the third largest island in Cape Verde, but its population is very small – only several thousand people. However, isn't this something that so many tourists really crave for?
It almost never rains in Sal Island. Even when other islands in Cape Verde have a small compared to South East Asia but still a rainy season, there is zero precipitation in Sal. Hot wind that is constantly blowing from the African continent is the reason for that. As Sal is the closest to Africa, the hot wind is the strongest here. The "Moon-like landscape" of Sal Island becomes more comfortable for living on the southern coast. This is where the most popular tourist city, Santa Maria, is situated. The long and gorgeous beach of the southern coast covered with soft golden sand is the location of countless hotels. Santa Maria has developed infrastructure with numerous cafes, restaurants, and cycling trails. Sal is one of a few islands where it is allowed to swim. For instance, coastal water near Fogo Island is very unpredictable, and the current is always strong, so no one swims there. Sal Island is also a true paradise for kite surfers, surfers, and divers. If you have never tried any of these sports types, it is high time to learn the basics.
In resort towns, there are always street painters who offer to draw a portrait in pencil for 20 minutes. These are not necessarily experienced …
Read further
Tourists can always book interesting excursions in Sal Island. As a rule, travel agencies in Santa Maria and Espargos offer different routes. The length of the island from the north to the south is 30 kilometers, and its width is 12 kilometers. The terrain is mostly deserted and with stony soil. Tourist routes usually cover such settlements as Murdeira and Buracona. It is also interesting to visit Terra Boa, the "good land" that is famous for its mirages. Of course, it would be a mistake not to mention Espargos, the capital of Sal, and Pedra de Lume – a small settlement near an ancient volcano where the Portuguese were mining salt for more than a century. The settlement is still not abandoned, and tourists can swim in the salt lake for an extra fee, of course. After an interesting excursion on the surface, it is twice more pleasant to explore the beauty of the ocean and admire its pearl transparent water and colorful coral reefs. Naturally, only divers can see the glorious underwater world, so it is one more good reason to try scuba diving.
This article about nature and national parks of Cape Verde is protected by the copyright law. You can re-use the content, but only under the condition of placement of an active link to
www.orangesmile.com
.
Country maps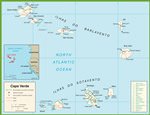 Car rental on OrangeSmile.com

Thailand Relaxes Its COVID-19 Policy
New Year events in Thailand are likely to bring more people this year because everyone is tired of lockdowns and craving normal life. Many tourists, who book hotels in Pattaya, Krabi, or Phuket for the holiday season, also want to participate. As champagne has become an essential drink for New Year celebrations, the question regarding alcohol consumption comes to mind. The government allowed serving alcoholic drinks during the New Year countdown but only open-air cafes and restaurants with good ventilation will be permitted to do this until 1 am on 1 January 2022. This rule is nationwide.
Read this
29.09.2023
Photogallery of Cape Verde