Fun and festivities in Cape Verde - celebrations, festivals and cultural events
The islands that we currently know as Cape Verde were discovered by the Portuguese. They were the first settlers on the islands, and they built first buildings in accordance with continental architectural trends. This is how European culture became the dominating one on the small islands in the Atlantic Ocean. The Portuguese were bringing people from the African continent to Cape Verde, and so local culture got shaped by these people as well. With time, it became more African and less European, but its European core is still unchanging. First of all, it is important to mention that 95% of the country's population is Catholics.
A famous windsurfing center, an ideal destination for fans of beach recreation and recreational fishing, a wondrous country with pristine nature and …
Read further
All islands except for one – Santa Luzia, which is an uninhabited island and a national reserve – have similar planning. Even small towns have a city hall with a square in front of it. These are the key elements of the city infrastructure. As a rule, these squares are a typical meeting place for locals. People talk, stroll, and have fun – the town hall square is a popular recreation area. Some town hall buildings are quite old and were built several centuries ago. Santa Luzia Island is completely uninhabited because there is no fresh water. Some time ago, there were attempts to settle on this island, but living without own fresh water turned out to be too difficult and expensive. Nowadays, tourists can participate in excursions to Santa Luzia.
Cape Verde has been participating in the Summer Olympic Games since 1996. Athletes from this country participate in such sports as windsurfing and kitesurfing. They train in the same areas as tourists who like these sports. When visiting Sal Island, tourists can join the Olympic movement by simply doing what they like. Fortunately, local clubs accept beginners and have all gear available for rent. On Sal Island, it is very interesting to visit a salt lake in a volcano crater. Salinas de Pedra de Lume is an important tourist attraction these days. In the past, salt was mined here, and so the lake gave the name for a small settlement. The lake is small, but it is comfortable for swimming, and this is exactly what tourists do. In Pedra de Lume, don't forget to see the 200-year-old town hall building. This is the oldest building on the island that still remembers the time when salt manufacture was very active and salt was regularly exported to the continent. Copyright www.orangesmile.com
Just like any original and independent territory, Cape Verde Islands have their own cuisine. More than a dozen of islands are surrounded by the main …
Read further
It is always interesting to visit the country's capital, Praia. The city frequently hosts exhibitions of talented local artists, as well as traditional handicraft trade fairs. Having visited them, tourists can purchase beautiful paintings dedicated to the ocean, picturesque landscapes, and everyday life on the islands. Souvenirs with the images of people, animals, and marine fauna made of wood, clay, ceramics, straw, shells, teeth of big fish, and coconut shell are like a magnet for tourists. Many painters from Cape Verde have gained international recognition. These are Barros-Gizzi, Kiki Lima, Manuel Figueira, and many more.
The capital city and Mindelo host the annual carnival in February. This is the quintessence of temperamental dancing, energetic music, and never-ending fun. Naturally, tourists cannot stay indifferent and actively join the fun. This is true about tourists from all over the world, even about residents of Brazil, the queen of carnivals. In order to get acquainted with the diverse culture of the country and its musical life, in particular, tourists do not necessarily need to wait until the next carnival or even until the next Sunday. It is enough to go outside and take a stroll to the center of the city. Music is an essential part of life for local people, so music is played everywhere – in street cafes, restaurants, and residential buildings.
Cape Verdeans are very attractive and friendly people. They are charming and it is pleasant to communicate with them. Don't be surprised if you …
Read further
Cape Verde is a country with people who are talented in music and have a good taste in music. Music is a universal passion here. Classical guitar is one of the most popular musical instruments here. It is present in virtually every house, so sounds of the guitar have become common and typical in Cape Verde. Occupation and age are not important – absolutely everyone on the islands can sing and play the guitar. No evening entertainment program in any hotel is possible without charming guitar sounds. Solo or together with other musical instruments, guitar live music lingers absolutely everywhere. If sensual music is your passion, you have come to the right place. It is everywhere in Cape Verde – in Sal, Boa Vista, Santiago, Sao Vicente – on every island of this small country in the Atlantic Ocean.
Locals sing songs in different languages, including the Creole, which is a mix of Portuguese and African Swahili. This is the language that the legendary singer from Cape Verde, Cesária Évora, used in her songs. Cesaria's fans think that her performance of Besame Mucho is the best even though many pop stars of international level sang this song, which was written in the middle of the 20th century. Everyone knows Cesaria in Cape Verde, she has become an informal symbol of the country and its biggest pride. To learn more about the great singer and feel the atmosphere that she lived in, it is always interesting to visit her home city – Mindelo on Sao Vicente.

This article about national fests and celebrations of Cape Verde is protected by the copyright law. You can re-use the content, but only under the condition of placement of an active link to
www.orangesmile.com
.
Country maps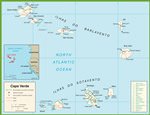 Car rental on OrangeSmile.com

Expo 2020 in Dubai Was Visited by More Than 7 Million Visitors
If you haven't visited this event yet, there is still time to book a hotel in Dubai because Expo 2020 Dubai runs until 31 March 2022. People who are unable to visit the emirate can make a virtual tour on the Expo 2020 website. By the way, the virtual visitation has already reached 31.6 million by the end of December.
Read this
09.06.2023
Beauty of Cape Verdein pictures