Cultural sightseeing in Cape Verde. What to visit - museums, temples, castles and palaces
In resort towns, there are always street painters who offer to draw a portrait in pencil for 20 minutes. These are not necessarily experienced portraitists – quite often, these artists draw colorful paintings dedicated to local life and call themselves local Picassos. If you want to see one of them, visit Sal Island and take a stroll along the coastal area, for example, Santa Maria, and you will certainly find at least one painter. Colorful and authentic works by local artisans are a worthy addition to any home collection. Moreover, they will be a pleasant reminder of the vacation. Modern Cape Verde is rich in painters who have become internationally famous. These are Mito Elias, Kiki Lima, Manuel Figueira, Barros-Gizzi, and Maria-Luisa Queirós. Praia, the capital of the country, frequently hosts exhibitions of local artists.
What makes a vacation in Cape Verde so pleasant? First of all, it is important to mention the local weather. The average temperature is 25°C. The …
Read further
There are many artisan shops that offer items and souvenirs of all kinds. Merchants in these shops are often the makers who sell their own creations. There are many interesting artworks made from unusual materials, such as coconut shell and woven hay. Wood and ceramics are also popular materials. Local souvenirs are usually inspired by the islands and their nature. These are turtles, figurines of animals, young women reminiscent of Santa Maria, and African masks. Many of these items are so detailed and skillfully made that they deserve to be exhibited in a museum. Local shops also offer authentic Cape Verde coffee that tourists are unlikely to find anywhere else. Because of this, local coffee is a wonderful souvenir that tourists can buy for their friends and family.
It is possible to use airplanes by Transportes Aereos de Cabo Verde to move between the islands. As a rule, there are one or two flights between Cape Verde Islands every day. Besides airplanes, tourists can move from one island to another by the ferry and motorboats. In order to move from one town to another within the same island, tourists can use taxi services and intercity buses or they can simply rent a car. Buses are the cheapest, of course, but there is one thing that tourists need to take into consideration. It is virtually impossible to guess the departure time in advance because local buses do not have a fixed schedule. Drivers wait until the bus is full of passengers and then depart. It is also possible to rent a taxi for the whole day. The price will be fixed in this case. Copyright www.orangesmile.com
Escudo is the national currency in Cape Verde. Tourists need to know this fact but do not really need to prepare for a vacation to the country, …
Read further
In Cape Verde, landmarks can be very different and unusual for unprepared tourists. For example, these can be islands, terrain, and nature. Tourists are recommended visiting Sal Island as this is the oldest island in the archipelago. Actually, it is impossible to miss it because the only international airport in Cape Verde is located here. Sal Island appeared approximately 50 million years ago. In the past, it was famous for its large salt deposits. Until now, the island has almost no vegetation. Local terrain looks absolutely cosmic, and so locals call Sal Island's landscape "Moon surface". Monte Grande Mount is the only hill in this deserted and stony landscape. The height of the mount is 400 meters. It is a fantastic location for a photo shoot.
Santiago is the oldest island in Cape Verde, and it is also the location of the country's capital – Praia. Santiago is a frequent location of different trade fairs, music festivals, and art exhibitions. The Presidential Palace and Quartel Jaime Mota are among the most notable architectural landmarks of the island. Fans of colorful and loud events should plan the time of their vacation, so they visit Cape Verde just in time for the annual carnival. The fabulous event takes place in Praia and Mindelo in February. Just as one would expect from a carnival, this is an incredibly energetic and colorful event with numerous participants dressed in fancy costumes. Music, singing, and energetic dancing are the essential attributes of this celebration.
The islands that we currently know as Cape Verde were discovered by the Portuguese. They were the first settlers on the islands, and they built first …
Read further
There is an interesting historic landmark approximately 13 kilometers away from the capital. This is the Royal Fortress of Saint Philip. Portuguese sailors discovered the islands in the middle of the 15th century. They were also the first ones to leave a reminder of their presence – several European style buildings. They built a Catholic church, living quarters, and a fortress that needed to protect citizens from the pirate raids. Nowadays, the Royal Fortress of Saint Philip has an unusual decoration – cannons that were collected from the ships that had sunk in the ocean. The landmark is situated in Cidade Velha. The name of this city can be translated as "Old City". This is a must-visit destination for all guests of Cape Verde.
Cape Verde Islands are very different. Some islands are very picturesque. For example, Sao Antao is a tropical paradise island with lush vegetation. This island is also the place where the famous Cape Verdean grog is produced. This strong 40% ABV drink made from sugar cane is a true pride of the country. Sao Antao is also famous for its coffee. Brava Island is mostly recognized for its gorgeous flowers and greenery. On Sao Nicolau, tourists can see one of the most unusual landmarks in the country - Rotcha Scribida. This rock has carvings made by ancient people. By the way, archeologists couldn't decrypt the mysterious writings. Many tourists visit Rotcha Scribida to see this mystery of the past in person.
If you don't like limitations like dress code during vacation and do not want to take proper clothing such as evening dress and tuxedo, then Cape …
Read further
Fogo Island is one more must-visit destination in Cape Verde. This is an incredibly beautiful place with an active volcano and picturesque landscapes. Tourists can book an excursion to the volcano – the exotic tour includes a night that participants spend in a village at the foot of the volcano. Fogo Island has its own wine – Caldeiras. Finally, don't forget about Sao Vicente Island. This is a cultural center of the island country and the motherland of Cesária Évora, the legendary singer who is also known as the "Queen of Morna".

This article about cultural sites of Cape Verde is protected by the copyright law. You can re-use the content, but only under the condition of placement of an active link to
www.orangesmile.com
.
Country maps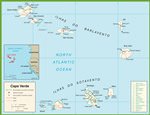 Car rental on OrangeSmile.com

Saudi Arabia to Open 38 Hotels in Diriyah
Diriyah is one of the first mega projects in Saudi Arabia. Hotels and other infrastructure will start opening next year, and all works are expected to end in 2026. The first 18 restaurants in Bujairi Terrace will start operating already in early 2022.
Read this
24.03.2023
Famous sites of culture and history of Cape Verde in photoset