Active vacation in Cape Verde - things to do, entertainment and nightlife
If you think that a yacht or catamaran ride is leisure and passive entertainment, during which you can motionlessly look at the ocean waves and blue sky, you are wrong. Of course, the look of the crisp white watercraft and sunny weather are universal mood raisers. If the watercraft is small, tourists may be asked to take their shoes off. So, the ride begins. The further you are from the coast, the stronger the waves are. This is already a serious challenge for the vestibular system. If you live the life of an office worker, such an adventure can easily become a test of your endurance.
Escudo is the national currency in Cape Verde. Tourists need to know this fact but do not really need to prepare for a vacation to the country, …
Read further
It is a good and intensive workout because you will need to catch yourself and hold onto something. The horizon changes its location all the time: it goes down to the level of your feet, then jumps high to the sky, and sometimes even looks almost vertical. While fighting with strong ocean waves, it is so easy to forget about whales and dolphins that tourists usually want to see in detail. By the way, there are not many opportunities to do this – both whales and dolphins live in this part of the ocean, but they usually do not come close to the islands. It is not a problem because many travelers are focused on their moves and motion sickness symptoms. Having returned back to the land, you will feel happy and deeply satisfied, just like after a thorough workout.
Cape Verde is a fantastic destination for surfers. It is windy all the time here – 24 hours a day, and 7 days a week. The majority of surfing clubs are located in Santiago, Sao Vicente, Sao Nicolau, and Boa Vista. There are as many as six surfing clubs in Sal Island. These clubs are equally suitable for beginners and experienced surfers. Vacationers can also try such activities as windsurfing and kitesurfing. Santa Maria beach is one of the best places to enjoy kitesurfing on the islands. The beach is 5 kilometers long and is wide enough to find free space to prepare a kite. Local clubs offer all kinds of sports gear for rent and train visitors aged 9 to 99. Copyright www.orangesmile.com
The islands that we currently know as Cape Verde were discovered by the Portuguese. They were the first settlers on the islands, and they built first …
Read further
That being said, Kite Beach is the most popular destination for all fans of kitesurfing. This is a giant beach in the south-east of Sal Island. There are no other people except kite surfers on this beach, but the beach is always crowded, and one needs experience in order not to crush into someone. In Cape Verde, vacationers can enjoy yoga sessions – many local surfing schools offer it. These lessons help to learn how to breathe correctly, give more energy, make the body stronger and more enduring and help to restore peace of mind. The latter is particularly pleasant when you meditate near the ocean. After that, it doesn't matter what you choose to do, your mood will be good.
Life doesn't stop at night in Cape Verde. If you consider yourself a fan of surfing, then all other fans, both locals and Europeans, gather in Calema Bar (Santa Maria) closer to midnight. Pirata hosts the biggest disco for everyone. The party starts at 2 am. Live music is very popular in Santa Maria in general. After 9 pm, pleasant and relaxing live music plays everywhere.
If you don't like limitations like dress code during vacation and do not want to take proper clothing such as evening dress and tuxedo, then Cape …
Read further
Cape Verde has always attracted divers. Local water is warm and transparent, so the area is perfectly suitable for scuba diving. Coastal areas of such islands as Santiago, Sal, and Boa Vista are particularly popular with divers. Local diving centers accept complete beginners and provide them with all the equipment they need. Tourists can easily find new friends here. Local underwater life is rich and colorful. Moreover, divers have an opportunity to see sea creatures in their natural habitat. Vacationers can rent underwater photo shooting equipment and create a fantastic collection of beautiful photographs. Indeed, the local underwater world is so picturesque – there are not only tropical fishes, lobsters, and octopuses but also reefs, grottoes, underwater rocks, and, of course, sunken ships. By the way, there are absolutely no sharks in the coastal waters of Cape Verde.
Fans of extreme activities and everyone wishing to experience free-fall will certainly enjoy paragliding. Sao Antao Island is the best destination for all paragliding enthusiasts. Amazing mountains and constant strong wind create ideal conditions for paragliding – it is possible to make flights again and again without any need to wait for the wind. After that, change a paraglider to a bicycle and go down to the valley that is perfect for cycling. Fogo Island offers an absolutely unique entertainment – volcano snowboarding. There are not many places in the world that can offer this activity. Participants use snowboards to descend from the volcano as if it is a snow-covered hill. The burst of adrenaline is guaranteed. Even though this is an extreme entertainment, it is incredibly popular.
A famous windsurfing center, an ideal destination for fans of beach recreation and recreational fishing, a wondrous country with pristine nature and …
Read further
Fishermen and hunters will not want to miss an opportunity to try underwater hunting. Vacationers can easily rent all the gear needed for this activity. When the hunting ends, a chef will cook your catch and turn it into a delicious dinner. Every island in Cape Verde offers its own interesting activities. Tourists, who simply want to sunbathe and swim, can simply head to Sal Island and enjoy quality beach recreation. Sal is the only island with sandy beaches. Of course, simple beach recreation is not likely to bring many unforgettable memories and satisfaction.

This article about active leaisure, entertainment, recreation and attractions in Cape Verde is protected by the copyright law. You can re-use the content, but only under the condition of placement of an active link to
www.orangesmile.com
.
Country maps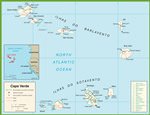 Car rental on OrangeSmile.com

Hilton builds third luxury hotel in Kyoto
The project organizers note that the new Kyoto hotel is perfect for both business and leisure. Just to remind you, the opening of the Roku Kyoto hotel took place in the city in 2021. The luxury hotel also never ceases to amaze guests with its exquisite atmosphere and variety of services. It is close to famous attractions like Kinkaku-ji Temple, and Shozan Resort Kyoto Pavilion is a short walk from the hotel.
Read this
02.10.2023
Photogallery of Cape Verde