Culture of Batam Island. Places to visit - old town, temples, theaters, museums and palaces
Just a few decades ago Batam Island was a land if fishers and artisans who used to live here in small villages. However, the island became a part of the free trade's zone in 1989 and it had become one of the most popular resort destinations for travelers from all over the world. Anyway, you still can come and see a little local settlement which is far from the modern world. People here still build their houses as their ancestors did many centuries ago, they celebrate traditional holidays and they earn money by farming, fishing, and crafting. Teluk Mata Ikan and Bakau Serip are the most peculiar settlements on the island. There there are not only ancient houses and administrative buildings but also antique religious ones.
Even though Batam Island became an extremely attractive tourist destination only a few decays ago, it's already can be considered as a perfect place for holidays with children. In some …
Open
All who are keen on exotics definitely must visit the local refugee camp. It appeared here in the period of the Vietnam War. Nowadays, the abounded Vietnamese village has already been reconstructed and it looks just the way it always was. Now it's a highly fascinating museum dedicated not only to the Vietnam War but to the Vietnamese culture and mode of life as well. You can see diverse traditional houses, farm buildings, a great variety of décor items, etc. here. Those who are interested in ancient buildings have to visit the Batam Miniature House – a small park near Golden City. You can see a great variety of stunning miniature buildings including traditional pagodas and Gothic cathedrals.
One more exceptional place of the island is the old-world Japanese cemetery called Nong Isa Cemetery Complex which is more than a few hundred years old. It was constructed in the 18th century and it has been reconstructed since then as needed. Talking about modern architecture, Samudra Dharma Temple is one of the most prominent. The Temple was designed in 1990 in the traditional East style. Now it attracts tourists not only with its bright colours, but its magnitude as well as it's the biggest temple on the island. Here you can see twelve Zodiac signs and gorgeous statues representing Chinese Gods and mythical heroes. Copyright www.orangesmile.com
If you're looking for European or American cuisine, you can easily find it here on Batam Island, too. There is a wide choice of hamburgers, sushi, Chinese noodles, pizzas, and pasta …
Open
Another building – Pura Agung Amerta Buana – is just a little bit smaller. It has no bright colours, just simple strict forms of gray stone. Even though it's not the most popular temple here, it's one of the oldest ones. Besides, it not just an example of typical Far East architecture, but it also includes a magnificent garden. It's functioning, so anybody can come there and meditate or try to discover yogi. Tua Pek Kong Temple is a tremendously beautiful temple which is known for its bright and skillfully made statues of deities. And there is also a local school there. Moreover, you can buy everything you would need for a ritual on the territory of the temple. Besides, if you follow Buddhist or Taoist religion, you can also pray there.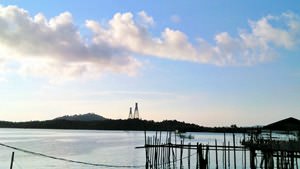 Another special building is Maha Vihara Duta Maitreya Temple. It's a white-gold building where there are about ten statues of Gotama. If you have time, visit Budhi Bhakti Temple. It's a rather small temple which is a perfect option for families who want to have some rest from long trips and hiking. You can see various statues dedicated to the famous heroes of the East: there are very small ones as well as extremely big (twice higher than an ordinary human). What is more, there is a nice little garden with a fountain and a mini-waterfall. Muhammad Cheng Ho Mosque is quite unusual. It's designed in the East style and it actually reminds Red Pagoda.
Indonesians are quite a contradictory nation. On Batam Island, you could either be surrounded by friendly people who are always ready to help, or you could collide with an aggressive youth …
Open
Baitul A'la Mosque is a typical Muslim building. It's a functioning mosque, so any tourist can go there and enjoy seeing its appealing exterior decoration. Jabal Arafah Mosque is a huge building that proves that religion and modern technologies can actually be a worthy fusion. Batam Grand Mosque is also very peculiar. The mosque surprisingly combines traditional East motives and modern trends in architecture. One more dignified sight is the Barelang Bridge. It's a significant construction which represents skills of modern architects. The bridge connects Batam Island, Rempang, and Galang.

In the section below, you can get one of our excursion, activities or city discovery tours over Batam Island and surroundings. Our website offers 10-30% lower ticket prices, when compared to the offline purchase on the spot.
City tours, excursions and tickets in Batam Island and surroundings
This guide to cultural sights Batam Island is protected by the copyright law. You can re-publish this content with mandatory attribution: direct and active hyperlink to
www.orangesmile.com
.
Reference information
Public palaces near Batam Island
♥ Palace 'Istana Singapore' , 24.1 km from the center.
On the map
Photo
♥ Palace 'Istana Tyersall' , 26.9 km from the center.
On the map
Photo
♥ Palace 'Istana Besar' , 42.6 km from the center.
On the map
Photo
♥ Palace 'Istana Pasir Pelangi' , 43 km from the center.
On the map
Photo
♥ Palace 'Istana Bukit Serene' , 46.9 km from the center.
On the map
Photo
Art galleries in Batam Island and around
♥ Art museum 'ArtScience Museum' Singapore, 21.2 km from the center.
On the map
Photo
♥ Art museum 'Singapore City Gallery' Singapore, 22 km from the center.
On the map
Photo
♥ Art museum 'National Gallery Singapore' Singapore, 22.1 km from the center.
On the map
Photo
♥ Art museum 'Nei Xue Tang Museum' Singapore, 22.1 km from the center.
On the map
Photo
♥ Art museum '8Q SAM' Singapore, 22.6 km from the center.
On the map
Photo
Unique spots in Batam Island and near
Marina Sky Park
From the series
"Breathtaking High-Altitude Observation Points with Panoramic Views on Cities"
Check on the map:
Distance from Batam Island center - 21.5 km.
The pool comes right up to the edge of the site, and literally blends with the horizon. At a first glance, it seems like the huge swimming pool is dropped into the abyss. The design is so skilfull, that not all vacationers dare to swim to the edge. The observation deck offers spectacular views of the bay, as well as the gardens located by the coast. Many iconic Singapore attractions, including a Singapore Flyer and Supertrees can be seen out of there. As a rule, most tourists visit the observation deck in the evening, that's why it won't be easy to make high-quality photos of the cityscape at sunset. …
Read further

Esplanade Theatre
From the series
"Top 16 Most Amazing Buildings of the Planet"
Check on the map:
Distance from Batam Island center - 21.8 km.
In the huge building, besides the theater, the excellent concert hall was arranged for 2,000 spectators. There is also the large commercial complex and several popular restaurants in the original building. The building was built in 2002 and today is one of the most striking architectural sights in Singapore. The unique cultural center is absolutely worth seeing for all tourists. This is where the various cultural events take place every day. In good weather the theatrical performances are performed in the open air. …
Read further

Fountain of Wealth
From the series
"The Most Spectacular Fountains in the World"
Check on the map:
Distance from Batam Island center - 21.9 km.
The trading center itself was built according to the Feng Shui rules, which caused the unusual form of the fountain. According to the canons of Feng Shui, the inward water movement symbolizes the enrichment process. The Chinese consider water to be one of the main symbols of prosperity and prosperity. Every evening the grandiose light-and-music shows take place in the commercial center. During an hour you can hear the beautiful music and the rays of the fountain are lit with the laser beams. After the opening, the fountain of wealth was listed in the Guinness Book of Records as the largest fountain in the world. …
Read further

Photogallery of cultural heritage of Batam Island
Landmarks of culture on Batam Island map: art-galleries, monuments, palaces, etc
Excursions over cultural sights of neighbours of Batam Island
Culture guide to Batam Island. Which fascinating sights to visit once you are in Batam Island: temples, churches, museums, theaters and castles. Recommendations (with addresses, phone numbers and links) on the places 'must visit' in Batam Island. Plan your own city excursion by using this page info!