Shopping in Batam Island - authentic goods, best outlets, malls and boutiques
Batam Island, just like some other local islands, is a part of the free trade zone. Here you can find a great variety of goods by the world leading producers and for a very good price. Besides, if you want to buy inexpensive but qualitative clothes, then you can find it among the local producers, like Sofie, Ferry Sunarto, Kisoon Harto, Ali Charisma, Talisa House, Biyan, Ghea, Sebastian's, Poppy Dharsono, Herman Nuary. But it's better not to buy it without a fitting. The thing is that the islanders are quite short and slim, so they sew clothes here according to their own parameters, even if it's labeled as the European ones.
There are lots of ways to do something really active on Batam Island. For instance, if you want to try yourself in water skiing, then go to CableSki Park. Besides, you can also try surfing …
Open
There are extremely beautiful local pictures made in the batik technique. Lots of tourists also enjoy buying various pieces of jewellery here, especially silver ones with semi-precious stones. It's better to buy it in jewellery stores, not directly, and always ask for a certificate of authenticity. You can even order unique jewellery in some small stores. What is more, you can see with your own eyes the process of it being made. People also sell here diverse hand-made goods from ebony and sandalwood, for instance, cat-like statuettes (according to the local beliefs, cats are the symbol of love and body).
Cats are highly popular here on the island. The locals sell different clay or stone statuettes, oil canvas paintings, and even magnets depicting these whiskered animals. People also embroider cats as an ornament on different soft goods. However, you can also find lots of other ornaments – it could be realistic drawings or simple geometric ones. People embroider their tablecloths, napkins, bedclothes, and towels. Remember that if the price is really low, then it doesn't mean that you would just save some money, but the factory origin of a thing. Copyright www.orangesmile.com
Landscaped resort areas in Batam will please fans of upscale vacations. Coast of the island has an advanced infrastructure; you can find a lot of leisure and entertainment centers on its …
Open
In case you want any other proper decoration than a simple napkin, take a look at the rattan furniture. Ask a seller about how to take care about this kind of furniture, otherwise would get out of order as soon as you come back home. Another peculiar thing you can buy on Batam Island is the Indonesian sarong. This large piece of embroidered fabric would perfectly complete a men's or women's beach outfit. What is more, you can't get into a local temple without this piece of clothes.
Wayang puppets (a form of the local puppet theatre art) would be a very unusual present. Wayang often depicts mythical creatures, Gods, and heroes. You can also buy a memento copy of the local music instruments like maracas, mbira, drums, and flutes (and these souvenirs are pretty cheap). You can even produce a simple melody with it. However, if clarity of sound is an important aspect for you, then it's better to look for a real instrument by the local craftsmen.
The first hotels on the island of Batam started appearing quite recently, less than 30 years ago. All hotel complexes feature first-class equipment, including some of the elite accommodation …
Open
Another useful stuff you can buy here is leather bags, bracelets, or a pair of shoes. They're usually made from python or cobra skin. It's not really expensive, looks quite nice, and they are of good quality. Some travelers prefer to bring local masks or erotic souvenirs from the island. The erotic ones are that popular not just for its provocative look but as they symbolize fertility and prosperity. Above all, you can also buy organic cosmetics here.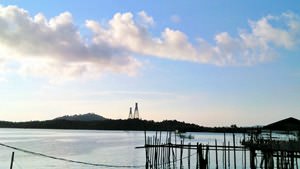 Don't forget to buy a pack or two of coffee, as Indonesia stand on the fourth place in the international coffee production rating. The local sorts are known for its high quality and reasonable price. Or you can buy Jasmine tea, Jasmine honey or chocolate as well. As you do shopping, remember that you do can and must bargain in markets and small shops in order not to pay too much. As you bargain, don't show how you actually like a product, you can even just leave. If a seller agrees to low the price, he'll come and catch you up; if not, just look for another seller.

This guide to shopping in Batam Island is protected by the copyright law. You can re-publish this content with mandatory attribution: direct and active hyperlink to
www.orangesmile.com
.
City tours, excursions and tickets in Batam Island and surroundings
Photogallery of Batam Island best places
Search for shopping areas, streets, boutiques and supermarkeets on Batam Island map
Shopping advices for the whole region around Batam Island
Shopping advices for Batam Island. The best spots for buying designer clothes and local delicacies from Indonesia - shops, galleries, boutiques and outlets. We provide you with the shopping streets map, so you can plan your efficient shopping routes, while hunting for authentic souvenirs, goods, drinks, shoes and clothes in Batam Island.