Culture of Ahmedabad. Places to visit - old town, temples, theaters, museums and palaces
Ahmedabad is a fabulous destination for fans of sightseeing and everyone who likes visiting original museums while traveling. Bhadra Fort remains the main historic symbol of the city. It was built in the first half of the 15th century in order to protect the area. Initially, the fort was very big and had luxurious palaces, temples, and various service buildings.
It is hard to find so many amusements for children in other cities of India. In Ahmedabad, tourists will find colorful water parks, picturesque gardens with playgrounds, modern sports …
Open
More than five centuries later, Bhadra Fort still has many original buildings. Today, offices of the city administration, court, post, and other organizations are open in these old buildings. During an excursion in Bhadra Fort, don't forget to visit an ancient temple dedicated to the goddess Kali. This temple still features elements of the original design and ancient Hindu artifacts made centuries ago. It is allowed to go up to the roof of the building and admire the breathtaking views from one of the best observation areas in the city.
Textile manufacturing remains one of the main industries in Ahmedabad. Some of the oldest and most famous textile factories in India are open here. They produce various fabric types. Calico, an interesting thematic museum, is dedicated to the history and development of textile manufacturing in the city. Some of its exhibits are very valuable, for example, fabrics produced more than five centuries ago. At the time, all fabrics were made by hand. The museum also exhibits old weaving equipment that local factories were using centuries ago. Copyright www.orangesmile.com
Have you visited all ancient Hindu temples and museums in Ahmedabad? In this case, it is time to enjoy all amusements that the city can offer to its guests. In Ahmedabad, you will find …
Open
Stepwells are very interesting constructions that tourists can see in the region. Centuries ago, local people built them to store water. The age of some of the stepwells is more than 500 years. Dada Hari Ni Vav, which was built in 1499, is a wonderful example and a must-see attraction in Ahmedabad.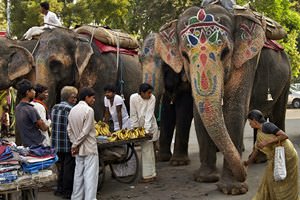 The construction looks impressive – the inner part of the stepwell has beautiful arches and columns. The level of water was different in different years, and so the stepwell has passages for people at different heights. Although Dada Hari Ni Vav lost its importance many years ago, it was decided not to demolish it. Don't forget to try a popular activity among all tourists – go down to the bottom of the well. It is cool inside even in the midst of a hot day. There are several ancient wells in the suburbs of Ahmedabad and they are also open for visitors. Having explored the well, consider visiting the nearby Dai Halima Mosque that is famous for its attractive design. The mosque still has the original skillfully carved windows and numerous elements of the inner décor. There are many interesting religious landmarks of different periods in Ahmedabad.
Unusual locally manufactured goods – this is the main target of all shopaholics in Ahmedabad. This city is famous for premium natural fabrics that local masters use to make beautiful and …
Open
The ancient Hutheesing Jain Temple is one of the most prominent architectural attractions in the city. The eye-catching temple is decorated with red and white marble. All construction works finished in 1848. The most talented local masters were building this architectural masterpiece. Intricate wooden and stone ornaments decorate inner premises. Visitors can see beautiful sculptures of Hindu gods and other sacred objects. Hutheesing Jain is one of the most important temples for local people. Many symbolic ceremonies and celebrations take place in this temple every year.
Swaminarayan Temple is a religious landmark that was finished a bit earlier, in 1822. The marvelous Hindu temple also has many elements of the original design. Finely made and detailed wooden ornaments are the main attraction of the famous temple. A popular walking route starts near the temple. This is the place where tourists can admire gorgeous views and visit the most attractive observation sites.
Beautiful Ahmedabad, which is situated in the western part of India, is the largest city in the state of Gujarat and one of the largest cities in the country. This is a true megalopolis – …
Open
Do you want to familiarize yourself with the traditions and culture of the indigenous people? In this case, don't forget to visit Shreyas Museum that was established under the patronage of the namesake cultural fund. The museum features an interesting collection of national artworks and exhibits wooden and stone artworks of famous masters. A significant part of the exhibition is dedicated to textile manufacturing. The museum also stores examples of the old traditional costumes. A collection of patchwork blankets is considered one of the most unusual. Even today many people in Ahmedabad still use them. Today, the ethnographic museum forms a united cultural center with the Kalpana Mangaldas Museum. The collection of the latter establishment is even more unusual. This museum exhibits skeletons of prehistoric animals, carnival masks that are popular during various celebrations in India, and many other artifacts.

This guide to cultural sights Ahmedabad is protected by the copyright law. You can re-publish this content with mandatory attribution: direct and active hyperlink to
www.orangesmile.com
.
Reference information
Art galleries in Ahmedabad and around
♥ Art museum 'Sanskar Kendra' Ahmedabad, 1.1 km from the center.
On the map
Photo
♥ Art museum 'Lalbhai Dalpatbhai Museum' Ahmedabad, 2.5 km from the center.
On the map
Photo
Photogallery of cultural heritage of Ahmedabad
Landmarks of culture on Ahmedabad map: art-galleries, monuments, palaces, etc
Excursions over cultural sights of neighbours of Ahmedabad
Culture guide to Ahmedabad. Which fascinating sights to visit once you are in Ahmedabad: temples, churches, museums, theaters and castles. Recommendations (with addresses, phone numbers and links) on the places 'must visit' in Ahmedabad. Plan your own city excursion by using this page info!