Shopping in Ahmedabad - authentic goods, best outlets, malls and boutiques
Unusual locally manufactured goods – this is the main target of all shopaholics in Ahmedabad. This city is famous for premium natural fabrics that local masters use to make beautiful and comfortable clothes. Tourists can purchase fabric or ready clothes available at an affordable price. Many shops and sellers at markets offer fabrics by the meter – you can buy it and then make an individual order at a local atelier. When it comes to regional goods, pay your attention to accessories and items made from natural leather. Local masters have been skilled leather crafters for centuries. One more advantage – local leather goods have a very affordable price. Multiple shops in Ahmedabad offer leather belts, purses, bags, and other interesting accessories. Most shopping malls have pavilions with similar leather items.
It is hard to find so many amusements for children in other cities of India. In Ahmedabad, tourists will find colorful water parks, picturesque gardens with playgrounds, modern sports …
Open
If you want to bring original items in Indian style from your vacation in Ahmedabad, take a look at local handmade carpets. They are quite expensive because the process of making carpets is very hard and tiresome. Silver items are one more popular type of national souvenirs. Local craftsmen make not only beautiful silver jewelry but also exquisite tableware and utensils. You can purchase premium silver trays, sets of utensils, silver tea and coffee brewing items, and decorative silver souvenirs.
Sets of spices are among the most popular edible souvenirs in Ahmedabad. Many tourists enjoy buying tea here – there are dozens of different tea types at local markets. If you like sweets, pay your attention to stalls with dried fruit and nuts as they are inexpensive here. Several attractive shopping malls have opened in Ahmedabad in recent years. Sometimes they have even more affordable prices compared to markets. Copyright www.orangesmile.com
Ahmedabad is a fabulous destination for fans of sightseeing and everyone who likes visiting original museums while traveling. Bhadra Fort remains the main historic symbol of the city. It was …
Open
Ahmedabad One Mall is open in the central part of the city. This is a modern shopping mall in a European style that has more than a hundred shops. There are shops selling locally produced goods and stores that offer items by internationally famous brands. One of the largest Levi's shops in Ahmedabad is open in this mall. There are also large cosmetic and perfume shops here. The supermarket on the first floor offers popular Indian spices and sauces, desserts, and canned food. When you're done shopping, go to a local cinema or try signature dishes at one of the local restaurants.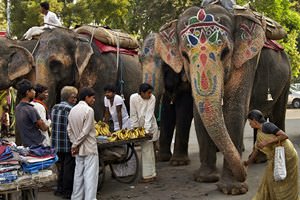 The Acropolis, another popular shopping mall, is located nearby. It also offers goods brought from different parts of the world. Prices at the Acropolis can please even savvy tourists. This mall is a great place to shop for attractive and comfortable natural fiber clothing for all family members. Besides shops, the Acropolis features numerous cafes with delicious ice cream and other desserts.
Have you visited all ancient Hindu temples and museums in Ahmedabad? In this case, it is time to enjoy all amusements that the city can offer to its guests. In Ahmedabad, you will find …
Open
Don't forget to visit Iscon Mega Mall that is famous as one of the best shopping malls for visitors with children. It has multiple shops with toys and children's goods. Moreover, there are many amusements and playgrounds for children here. Many tourists come here for the sake of a big supermarket that sells not only popular products but also Indian cosmetics. Fashionistas will like clothes and accessory shops. There are also several jewelry shops in the mall.
Ahmedabad Fashion Street is a market that is less known among tourists. It is located at a distance from the city center and vibrant tourist areas, and that is why local people make up the majority of visitors here. Inexpensive clothes and home textiles are the main wares sold here. Some sellers offer shoes and cheap jewelry. Stalls with local crafts are also available at Ahmedabad Fashion Street, so you can select and buy affordable and practical souvenirs here. Pay closer attention to items in Indian style decorated with hand embroidery as they can be good and memorable gifts.
Beautiful Ahmedabad, which is situated in the western part of India, is the largest city in the state of Gujarat and one of the largest cities in the country. This is a true megalopolis – …
Open
Padmavati Market is located in the center of the city. This is also a good destination to buy the most popular local goods. Check out pavilions that sell leather items, clothes, and jewelry in Indian style. Ramakda Market is located not far from the city center. This is another good destination for tourists who want to shop for inexpensive clothes and original crafts. Multiple specialty shops offer interesting jewelry, practical household items, souvenirs in Hindu style, and original artworks. Pavilions with clothes and shoes, and shops that offer leather goods occupy a significant part of the market's territory. As there are several toy stores in this market, many people visit it together with children.

This guide to shopping in Ahmedabad is protected by the copyright law. You can re-publish this content with mandatory attribution: direct and active hyperlink to
www.orangesmile.com
.
City tours, excursions and tickets in Ahmedabad and surroundings
Photogallery of Ahmedabad best places
Search for shopping areas, streets, boutiques and supermarkeets on Ahmedabad map
Shopping advices for the whole region around Ahmedabad
Shopping advices for Ahmedabad. The best spots for buying designer clothes and local delicacies from India - shops, galleries, boutiques and outlets. We provide you with the shopping streets map, so you can plan your efficient shopping routes, while hunting for authentic souvenirs, goods, drinks, shoes and clothes in Ahmedabad.