Sightseeing in Ahmedabad - what to see. Complete travel guide
Beautiful Ahmedabad, which is situated in the western part of India, is the largest city in the state of Gujarat and one of the largest cities in the country. This is a true megalopolis – Ahmedabad is home to 5.6 million people. The city is built on the bank of the Sabarmati River. This region is often regarded as the center of the Gujarat State. Ahmedabad has a long and rich history, and local buildings, numerous quarters, and labyrinths of streets are a fantastic way to learn more about it. Tourists will need much time to see the complete city because Ahmedabad occupies a large area and it is quite hard to navigate in it because the city is crowded.
It is hard to find so many amusements for children in other cities of India. In Ahmedabad, tourists will find colorful water parks, picturesque gardens with playgrounds, modern sports …
Open
Ahmedabad was officially established in 1411. According to local legends, Sultan of Gujarat Ahmed Shah once saw an unusual rabbit that was chasing a dog. Sultan was amazed to see such a courageous animal and decided to build a city on the site where he saw the rabbit. Ahmedabad was growing quickly and became one of the best cities in India already in the 17th century. It became an important center of trade. Historians mention several periods of prosperity in Ahmedabad, but there were also periods of decline. Despite this fact, Ahmedabad could overcome numerous difficulties and turn into a large center of the textile industry.
However, the business didn't always run smooth, and mills started closing. The economic recession started in Ahmedabad. This period was particularly hard for Muslims. Rough actions of the city's authorities caused deaths of approximately 1,200 residents of Ahmedabad. That being said, everything bad ends sooner or later, and the city is recovering these days. Ahmedabad becomes an important center of IT, education, and chemical industry. Nowadays, it is often called a "megacity". Copyright www.orangesmile.com
Ahmedabad is a fabulous destination for fans of sightseeing and everyone who likes visiting original museums while traveling. Bhadra Fort remains the main historic symbol of the city. It was …
Open
There is an interesting fact about Ahmedabad – only people with a special permit are allowed to drink alcohol here. Ahmedabad is a part of the Gujarat State that has a ban on alcohol. Foreigners need to obtain a special document that entitles them to drinking alcohol. Do you think that getting this document is hard? Quite the opposite – every hotel that has an alcohol shop can issue a certificate. After that, tourists need to take this certificate and their passports to get the permit. The document is valid for one month. Despite this fact it is allowed to drink alcoholic beverages such as beer only in a hotel room.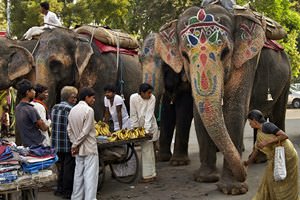 When traveling in Ahmedabad, tourists should visit a museum dedicated to kite. This attraction is situated in the central part of the city. This is a wonderful venue to visit with children. Kids will also find it interesting to look at kites of different shapes and colors. Visitors can also learn more about the manufacturing process of these gorgeous crafts that can fly high in the sky. Besides this, there are documents, photographs, and artifacts that tell more about the history of kite flying and its inventors. Finally, visitors will learn why kite flying has become so popular and traditional in the region.
Have you visited all ancient Hindu temples and museums in Ahmedabad? In this case, it is time to enjoy all amusements that the city can offer to its guests. In Ahmedabad, you will find …
Open
If you happen to visit Ahmedabad in winter, consider attending Uparkot Fort situated at the foot of Girnar Mountain. This fort was built during the reign of Chandragupta Maurya. The fort was rebuilt and expanded several times. Despite this fact the building still hasn't lost its original beauty and grandeur. When exploring the area, don't forget to visit caves of Buddhist monks and admire rocks painted in different floral motifs. It looks like the stone walls have become alive and bloom with different flowers. Why is winter the best time to visit this landmark? The answer is simple – it is quite hot here in summer, and scorching heat can ruin the impression.
Families with children will find it very interesting to visit Swapna Srushti Water Park that offers attractions for visitors of different ages. There are various water-based amusements, swimming pools with artificial waves, and all kinds of water slides. Children will be excited to explore numerous playgrounds, a waterfall, and different fountains that always attract young guests. There is even a special cave for children, which is very interesting to look at from the inside.
Unusual locally manufactured goods – this is the main target of all shopaholics in Ahmedabad. This city is famous for premium natural fabrics that local masters use to make beautiful and …
Open
It is possible to reach Ahmedabad by airplane as the city has its own international airport. Sardar Vallabhbhai Patel International Airport regularly accommodates flights from different countries of the world. It is also possible to reach the city by train that departs from Mumbai. You will get to the destination point within six to eight hours. The transfer time from Delhi is much longer – the train ride lasts 12-18 hours. Local roads and highways are in good condition, so it is also comfortable to travel by bus. There are many intercity buses that take passengers to different parts of the country. Tourists can always call a taxi and get to the place they need with comfort.

This guide to iconic landmarks and sights of Ahmedabad is protected by the copyright law. You can re-publish this content with mandatory attribution: direct and active hyperlink to
www.orangesmile.com
.
City tours, excursions and tickets in Ahmedabad and surroundings
Reference information
National and city parks around Ahmedabad
♥ Prefectural Natural Park 'Enasan' , 20.4 km from the center.
On the map
Photo
♥ National Park 'Velavadar (Blackbuck)' , 122.6 km from the center.
On the map
Photo
Art galleries in Ahmedabad and around
♥ Art museum 'Sanskar Kendra' Ahmedabad, 1.1 km from the center.
On the map
Photo
♥ Art museum 'Lalbhai Dalpatbhai Museum' Ahmedabad, 2.5 km from the center.
On the map
Photo
Sights around Ahmedabad from our guide 'Extreme places on Earth'
Harappa
From the series
"Famous Sunken Towns"
Check on the map:
Distance from Ahmedabad center - 126.7 km.
According to the most current and most logical version, the ancient city refers to Harappa civilization. It impresses with its impressive scale, as the ruins are 8 kilometers long, and their average width is about 3 kilometers. After thousands of years, constructions of the ancient city are still there; among them you can easily discern the stairs, walls of huge stone buildings and other related facilities. The scale of the ancient city is its most distinguishing feature making to refute any version of its origin associated with natural forces. …
Read further

Search touristic sites on the map of Ahmedabad
Sightseeing in regions nearby Ahmedabad
All about Ahmedabad, India - sightseeings, attractions, touristic spots, architecture, history, culture and cuisine. Prepare your trip together with OrangeSmile.com - find out the 'must see' things in Ahmedabad, which places to visit, which excursions to take, where the breathtaking views are waiting for you. Planning your trip with this travel guide will help your to get the most out of Ahmedabad in few days.