Cuisine of Linz for gourmets. Places for dinner - best restaurants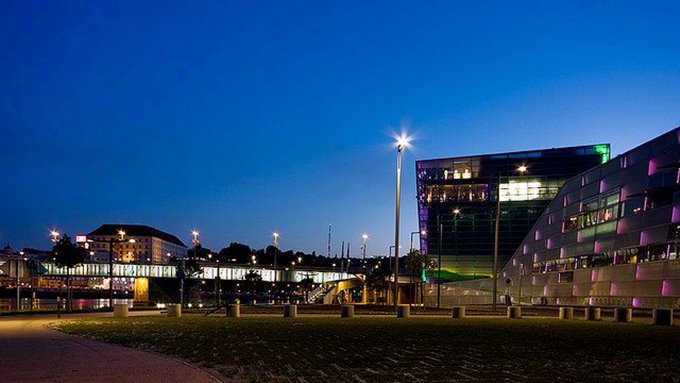 There is a huge range of dining places in Linz. Many famous restaurants are serving customers for more than a dozen years and are known far beyond the borders of the city. The charming Wagnerei restaurant is located in the heart of Linz; it offers visitors the delicious Austrian cuisine. The restaurant's hall is decorated in a classic style with elegant furniture of dark wood. Wagnerei' main visitors are travelers, so the restaurant always has a relaxed and casual atmosphere.
Linz is a city that occupies the third position in the list of largest settlements of Austria. Here you will always see numerous buses with tourists and bright and picturesque places full of …
Open
One of the most celebrated restaurants in the city is the Zum kleinen Griechen serving Greek cuisine. It is located in the beautiful 15th century building; the restaurant resembles a classic country inn with its design. Those who like simple and hearty food would be pleased with this place; chefs cook their dishes following classic old recipes. Zum kleinen Griechen would also please guests with reasonable prices. There you can relax with family members.
Those who prefer Italian cuisine would like the Mia Cara restaurant. Dishes of seafood are considered branded treats of the restaurant, and you won't find anything alike in any other place. It's also worth to taste spaghetti cooked following the old home recipe. There is also a bar, where you can order a glass of your favorite Italian wine. Copyright www.orangesmile.com
The main attraction of Linz is the ancient castle built in the 13th century. First fortifications had existed for only 200 years; in 1477 by the order of Frederick III the castle was …
Open
Vegetarians won't find a better place to stay than the P'aa restaurant located in the center of the historic district. The restaurant is very popular among locals and tourists alike. You can find a large selection of entrees, interesting vegetable salads and original author dishes in its menu. The P'aa restaurant also has an excellent wine list. Visitors of the city are recommended to visit trendy Verdi restaurant. Its spacious room can accommodate a large company. The basis of the menu consists of classical Austrian dishes, but Verdi is also suitable for gourmets. A cozy room decorated in Art Nouveau style, as well as a high level of service would be a welcome addition to the stay. Among the restaurants of national cuisine, Promenadenhof has to be mentioned. It features a wide range of specialties and interesting decor in the style of past centuries, and impeccable service.
This guide to cuisine and restauraunt in Linz is protected by the copyright law. You can re-publish this content with mandatory attribution: direct and active hyperlink to
www.orangesmile.com
.
Where to go for dinner in Linz: recommended cafe and restaurants
Klosterhof
Where: Landstrasse 30, Linz; Telephone: +43 (0)732773373;
Herberstein
Where: Aldstadt 10, Linz; Telephone: +43 (0)732786161;
Los Caballeros
Where: Landstrasse 32, Linz; Telephone: +43 (0)732778970;
Höfinger
Where: Hauptplatz 33, Linz; Telephone: +43 (0)732770742;
Lentos Restaurant/bar/café
Where: Ernst Koref Promenade 1, Linz; Telephone: +43 (0)732784242;
Mondigo
Where: Wiener strasse 157, Linz; Telephone: +43 (0)732944848,;
P´aa
Where: Altstadt 28 Old town 4020 Linz Österreich Austria, Linz; Telephone: +43 70 776461;
Unique sights around Linz
Castle Rozmberk
From the series
"The most mysterious buildings (houses, palaces, castles) in the world"
Check on the map:
Distance from Linz center - 40 km.
During its long history Rožmberk was rebuilt many times, but despite all the changes, the ghost still lives within its walls. The castle is situated in a very picturesque area on banks of the river Vlatva. This amazing attraction has long been chosen by local club of explorers of paranormal activities. Very interesting excursions, including night ones, are arranged there for tourists, as there are always more than enough wishful to see the ghost. …
Read further
Linz in photo set
Searching where to eat - restaurants and cafe on Linz map
Cuisine and restaurants in the neighbours of Linz
Travel notes on best cuisine and restaurants of Linz (Austria) on OrangeSmile.com. Famous recipes and traditional dishes and courses in Linz restaurants. Where to eat - our recommendations on popular places in Linz, where you can taste delicious meal and also spend a good time with your friends.