Cuisine of Graz for gourmets. Places for dinner - best restaurants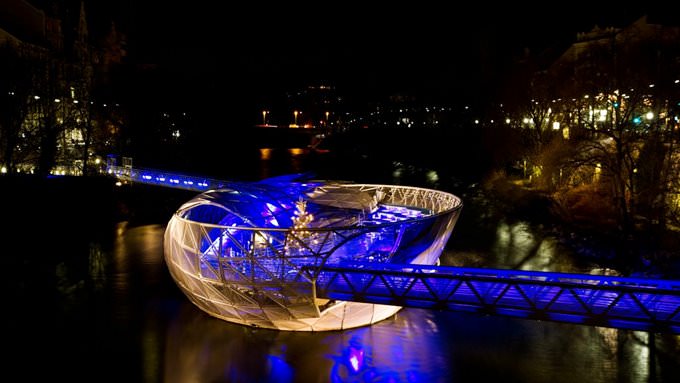 Guests of the city traditionally enjoy visiting Grubers Kehlberghof restaurant that specializes in preparation of dishes of Avesta cuisine. The menu of the restaurant features popular dishes of both international and local cuisine. The menu of Grubers Kehlberghof is updated every season, so you will always find something interesting there. In summer this is a great place to try delicious mushroom dishes. It's simply impossible to resist the magnificent flavour and taste of these dishes. A glass of favourite wine will become a nice complement to meal. The restaurant never ceases to amaze its visitors with the choice of wine as it has its own wine cellar.
In order to get acquainted with the multifaceted culture of local residents, travellers are recommended to visit colorful national holidays that take place in Graz every year. Each …
Open
Maria Magdalena is a small restaurant that will surely become a great place for rest after numerous excursions and sightseeing trips. Here you can have a cup of coffee and enjoy unhurried rest. During warm months the tables of the restaurant are set on the spacious terrace, so while enjoying their meal visitors can look at attractions located nearby. Park café-bistro is a unique place. Simply every dish in this restaurant is a unique combination of Indian and Austrian culinary traditions. Among the specialties of the restaurant you will find such delicacies as pork with beans, rice noodles with seafood and tandoori fish. In addition to all-time popular fish dishes guests will be surely offered to try spicy sauces that add completely unique flavour nuances to food.
If you want to try Chinese food, you are recommended to visit Chinarestaurant Konfuzius. This restaurant offers a great menu and unique design of its halls. A part of the restaurant's tables is served in a beautiful winter garden. The main hall will also amaze you with numerous plants and flowers. There is also a garden of stones next to the restaurant, so after trying delicious national dishes guests can stroll in winding alleys and appreciate the beauty of elegant oriental culture. Fans of Italian cuisine will surely fall in love with Corti restaurant, which design will remind you of a classic Venetian cafe. The menu full of delicious food, excellent service and unforgettable romantic atmosphere have made Corti the most popular place of rest for both locals and tourists. Copyright www.orangesmile.com
Fans of active pastime will surely appreciate a huge choice of entertainment venues in Graz. Schlossberg Park is a perfect destination for hiking and outdoor recreation. Here you can spend a …
Open
Ohnime restaurant is the best place to try national cuisine dishes in their classic version. The restaurant's menu will be definitely enjoyed by fans of fish dishes, and sweet tooth visitors will fall in love with a great variety of desserts. The restaurant can also be proud of its rich wine list. Twice a year Ohnime turns from an ordinary eating place into a true tasting centre. The restaurant hosts various events, in which participate only best wine manufacturers. Fans of meat will enjoy their rest in the restaurant called 3 goldene Kugeln. Among the specialties of the dining facility you will find such dishes as beef goulash and schnitzel. When it's dessert time, visitors are traditionally offered to order fruit salads and fresh pastries.
This guide to cuisine and restauraunt in Graz is protected by the copyright law. You can re-publish this content with mandatory attribution: direct and active hyperlink to
www.orangesmile.com
.
Where to go for dinner in Graz: recommended cafe and restaurants
Landhauskeller
Where: Schmiedgasse 9, Graz; Telephone: +43 (0)316 830276;
Stainzerbauer
Where: Bürgergasse 4, Graz; Telephone: +43 (0)316 821106;
Altsteirische Schmankerlstube
Where: Sackstrasse 10, Graz; Telephone: +43 (0)316 833211;
Aiola Upstairs
Where: Schlossberg 2, Graz; Telephone: +43 (0)316 818797;
Don Camillo
Where: Fransziskanerplatz 11, Graz; Telephone: +43 (0)316 845496;
Mohrenwirt
Where: Mariahilferstrasse 16, Graz; Telephone: +43 (0)316 712008.;
Hofkeller
Where: Hofgasse 8, Graz; Telephone: +43 (0)316 832439;
Gambrinuskeller
Where: Färbergasse 6-8, Graz; Telephone: +43 (0)316 810181;
Iohan
Where: Landhausgasse 1, Graz; Telephone: +43 (0)316 821312;
Eckstein
Where: Mehlplatz 3, Graz; Telephone: +43 (0)316 828701;
Glöckl Bräu
Where: Glockenspielplatz 2-3, Graz; Telephone: +43 (0)316 814781;
Maroni
Where: Mehlplatz 1, Graz; Telephone: +43 (0)316 828702;
Kornati
Where: Franckstrasse 44, Graz; Telephone: +43 (0)316 319320.;
Unique sights around Graz
Underwater Park Gruner See
From the series
"Top 16 most unusual and original parks and gardens"
Check on the map:
Distance from Graz center - 60 km.
Gruner See name literally translates as Green Lake. The color of water in the lake is really green. That's because its bottom is covered with thick green grass and bushes. Travelers who don't want to dive into the icy water can relax at a number of special recreation areas with benches and nice bridges. It's very convenient to enjoy one of the most amazing natural sights of Austria from there. With the onset of frost, the lake gradually reduces its scale. In winter, its depth is only 1-2 m. …
Read further
Arnold Schwarzenegger Museum
From the series
"Famous museums of world celebrities"
Check on the map:
Distance from Graz center - 5 km.
It is also worth noting that the old house of Arnold accurately recreates the design of the past years; ambience in the kitchen is recreated in a very exact way. At the opening of the museum in 2011, fans of the actor came from around the world. Schwarzenegger himself also participated in the opening ceremony and delivered a speech. The actor noted that the museum became a symbol of the will and the fact that absolutely everyone can achieve a great success. …
Read further
Graz in photo set
Searching where to eat - restaurants and cafe on Graz map
Cuisine and restaurants in the neighbours of Graz
Travel notes on best cuisine and restaurants of Graz (Austria) on OrangeSmile.com. Famous recipes and traditional dishes and courses in Graz restaurants. Where to eat - our recommendations on popular places in Graz, where you can taste delicious meal and also spend a good time with your friends.