Cuisine of Vasteras for gourmets. Places for dinner - best restaurants
The abundance of hearty homelike food is the main peculiarity of the local cuisine. Each restaurant offers a wide range of pickled and marinated vegetables, smoked meat, and various vegetable garnishes. Local cooking recipes are simple and delicious at the same time. Foodies and fans of exotic food might consider local cuisine quite boring, but everyone who likes hearty and tasty food will be charmed.
Vasteras is one of the oldest cities in Sweden. It was founded by Vikings, and one of the main landmarks of the city is connected to this famous nation. The gorgeous Viking burial mounds, …
Open
Fish dishes make up the basis of the national cuisine. Herring is particularly popular with local people. Skilled chefs cook it in a number of ways. It can be salted, marinated with spices, grilled, and baked together with spicy sauces. Sandwich with herring is a popular local snack. Travelers, who crave for more exotic food, should try lutefisk – boiled sea pike. Crayfish is a popular local treat that visitors like to order together with beer. Finally, it is impossible to resist the smell of smoked fish.
Vegetable salads and potatoes are the most typical garnish to fish. Local first course dishes may look quite unusual and even strange for tourists. Gourmets are recommended to try the traditional beer soup, while fans of seafood will be simply in love with the local mussel soup. Mushrooms remain a very popular garnish that is served with a number of dishes. They are also a typical ingredient of various interesting salads and pies. Copyright www.orangesmile.com
The charming Swedish city is not deprived of interesting places, a visit to which will fascinate even experienced tourists. As a rule, every traveler wants to take memorable pictures of …
Open
Venison and game dishes are traditional meat delicacies. Locals also love fläskrulader pork roll. Renstek is an unusual dish cooked from venison, and fans of spicy food will be pleased with isterband smoked sausages that are cooked together with spices and herbs. Meat is the traditional ingredient of various cold snacks and sandwiches. It is important to mention that locals are very careful when it comes to cooking and serving bread as it remains one of the most important dishes in the country.
Dairy products occupy an honorable place in the national cuisine. Guests of restaurants will always find cheese plates and milkshakes in menus of local restaurants, as well as milk puddings with homemade jam, and many other attractive pastries. Coffee remains that most popular drink. When it comes to alcohol, there is a delightful choice of vodka, liqueurs, and whiskey. Various locally produced fruit and berry liqueurs have already become a popular souvenir that numerous tourists enjoy taking to their home countries. Beer fans will be in love with the taste of varieties of their favorite drink.
One of the most stylish hotels in Vasteras is Elite Stadshotellet Vasteras located on Stortorget Square and housed in a chic Art Nouveau building. All its rooms are designed with a …
Open
Despite the dedication of local people to the national cuisine, for tourists there will be no complication in finding cafes that offer such popular food as pizza or burgers. That said, it is still recommended to get acquainted with the local cuisine as it is both healthy and delicious. Talking about restaurants in Vasteras, many name Nya Hattfabriken first. This restaurant is open in the old part of the city in a former building of a hat factory. The historical building dates back to the 1800s, but its vaults are much older and, according to some, were constructed yet in the Middle Ages. Nya Hattfabriken specializes in finest national cuisine and has the menu full of local specialties and delights.
At Varda restaurant, guests will enjoy the comfort of home. This is a fabulous place to visit together with friends or business partners. The restaurant has a la carte dining, a dinner menu, and special business lunch menus. There are also a club, lounge, and even a wine bar with a great selection of drinks. The menu includes both classical Swedish dishes and international cuisine. Relaxed design creates an atmosphere of comfort and coziness.
In Vasteras, it's quite easy to find a hotel suitable for romantic holidays, and Ibis Styles Vasteras is very popular among young and active couples. It is ready to offer customers a decent …
Open
Vasteras will please its guests with a variety of restaurants that offer different cuisines of the world. For example, fans of European cuisine enjoy visiting Frank. This restaurant offers food with a special artistic serving. Frank offers delicious meat dishes, warm and cold salads, and interesting signature desserts. In addition to food, the restaurant has a rich wine list. The atmosphere of harmony and hospitality, which reigns in the restaurant, will make any stay at Frank even more pleasant.
Agrill is one more popular restaurant that specializes in international cuisine. Besides that, it has an interesting vintage design. The restaurant's hall is decorated with beautiful furniture in retro style. Attractive lamps with red shades add special charm and intimacy. The menu of the original restaurant features many interesting dishes cooked on a grill. At Agrill, visitors can order mouthwatering steaks, and vegetarian guests are always welcome to pick corn and other vegetables that are also cooked on a grill. This restaurant is incredibly popular with travelers with children. Agrill offers its signature French fries, dozens of ice cream variations and many other desserts.
Grocery stores in Vasteras have gained deserved popularity. Saluhallen Slakteriet is the most notorious one. This fairly large trading pavilion has products from various countries of the …
Open
Fans of Asian cuisine will find it very interesting to visit Yum Yum, the menu of which is based on seafood and noodles. At Yum Yum, visitors will always find fresh soups with seafood, interesting salads, and traditional Asian dishes with rice. In addition to original dishes, visitors can always choose from a great range of beverages. Despite its particular characteristics, this restaurant is perfectly suitable for a family visit.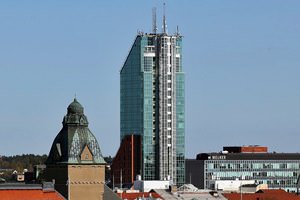 Out of Vasteras restaurants specializing in Italian cuisine, it is important to mention Limone Ristorante Italiano. All fans of pasta and pizza will genuinely enjoy their visit to this wonderful restaurant. The menu features many popular variations of cheese and ham, sausages and olives that are produced in different regions of Italy. This restaurant also offers popular Italian wine, as well as the best European beers.
Vasteras city is located on the shore of the magnificent lake Mälaren. The city is just one hour away from Stockholm and is considered the largest port city of Scandinavia. Despite the fact …
Open
In Vasteras, there is a quality steakhouse, Nom. It will please its visitors with the choice and variety of dishes, as well as original serving. Nom offers juicy meat cooked on an open fire. Fresh bread and various vegetable garnishes will make any meal even more pleasant. As most vegetables are baked, even traditional garnishes taste quite unusual.

This guide to cuisine and restauraunt in Vasteras is protected by the copyright law. You can re-publish this content with mandatory attribution: direct and active hyperlink to
www.orangesmile.com
.
City tours, excursions and tickets in Vasteras and surroundings
Vasteras in photo set
Searching where to eat - restaurants and cafe on Vasteras map
Cuisine and restaurants in the neighbours of Vasteras
Travel notes on best cuisine and restaurants of Vasteras (Sweden) on OrangeSmile.com. Famous recipes and traditional dishes and courses in Vasteras restaurants. Where to eat - our recommendations on popular places in Vasteras, where you can taste delicious meal and also spend a good time with your friends.