Metro map of Vancouver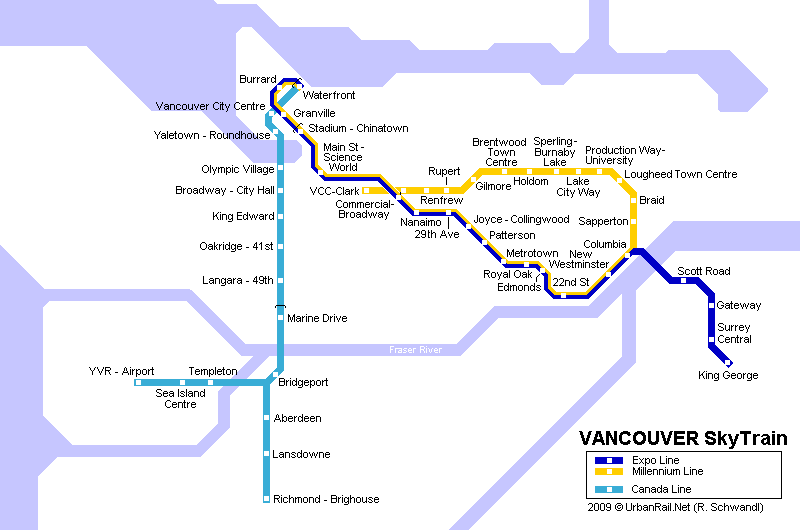 The actual dimensions of the Vancouver map are 800 X 530 pixels, file size (in bytes) - 17514. You can open, download and print this detailed map of Vancouver by clicking on the map itself or via this link:
Open the map
.
City tours, excursions and tickets in Vancouver and surroundings
Travelling inside Canada - transportation means

In the north-west area, 22 kilometers from the city of Toronto, is situated the largest and most popular airport in Pearson. You can get to Toronto by electric trains, taxis, limousines, and express buses (the advantage of this option is that the passenger is conveyed to the designated point in half an hour). In the waiting room of the departure area, passengers can go shopping and buy everything they need, including souvenirs, have a snack in a cafe, charge their gadgets, and use the free Internet at the airport. Pearson Airport accepts both domestic and international flights. Passengers check-in as well as baggage check-in begins two hours before the flight and ends forty minutes before the flight. With regards to documents for registration, you need a passport and a ticket. You can also purchase an e-ticket, and all you will need to do that is your passport. …
Open

Car rental on OrangeSmile.com

The Demand for Travel with Bikes May Spike in Switzerland This Summer
Trains with this feature will have a bicycle label. Tourists get a bike ticket for their reservation. It is possible to purchase this bike ticket in a mobile app right before departure or use the traditional counter. International trains in Switzerland will also offer this service but the price may differ. Tourists who plan to travel with their bikes a lot may be interested in purchasing an annual bike pass with 25 reservations worth CHF 50.
Read this
12.05.2021
Metro, airports, railway and bus stations on Vancouver map
Vancouver in photostream
Our travel guides to Vancouver
Metro maps of cities around Vancouver