Colors of Trondheim - traditions, festivals, mentality and lifestyle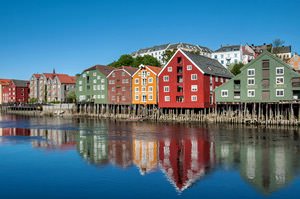 Trondheim is a busy student city with a long history and rich culture. Its festivals and holidays are very popular among curious tourists. Every national holiday has a history; its rituals and celebrations have been run for centuries. One of the most interesting and colorful national holidays is Saint Olaf's Day taking place at the end of July.
Trondheim offers various dinning places and bars to its visitors. One of the tourists' favorite places is the Glassgarden Brasseri & Grill restaurant serving local cuisine. Located …
Open
It's dedicated to the King Olaf II Haraldsson that has being reining Trondheim in the early 11th century. He established Christianity in Norway, but was forced to flee the country under political pressure. In the year 1030 Olaf decided to get back to the homeland, but died in the Battle of Stiklestad near his home city.
Citizens still remember their brave and wise king and after thousands of years dedicate this holiday to his memory. King Olaf's remains are enshrined at Nidarosdomen; Norwegians treat king as their patron saint. The festival runs for ten days and embraces lots of events. Copyright www.orangesmile.com
The city symbol and the national religious landmark is Nidaros Catherdral also known as Nidaros Domkirke. Construction of this huge and beautiful building has begun in 1070 and ran for …
Open
Open air concerts, competitions and Medieval-decorated shows are held during holidays. The City Fair is another festival tradition. Nowadays Fair takes place next to Bishop's Palace and offers a huge choice of souvenirs and foods. The Saint Olaf's festival is highly educative. Various lectures and tours dedicated to city history and culture are held every day during holidays. Thousands of tourists from all around the world visit Trondheim during festival attracted by the unique atmosphere and chance to get acquainted with antique culture.

This guide to traditions and festivals in Trondheim is protected by the copyright law. You can re-publish this content with mandatory attribution: direct and active hyperlink to
www.orangesmile.com
.
City tours, excursions and tickets in Trondheim and surroundings
Reference information
Cathedrals and basilicas near Trondheim
♥ Nidarosdomen, Trondheim, 1.5 km from the center.
On the map
Photo
♥ Sankt Olav domkirke, Trondheim, 1.5 km from the center.
On the map
Photo
Survived castles around Trondheim
♥ Castle 'Kristiansten Fortress' , 1.2 km from the center.
On the map
Photo
♥ Castle 'Erkebispegården' , 1.5 km from the center.
On the map
Photo
♥ Castle 'Stiftsgården' , 2 km from the center.
On the map
Photo
♥ Castle 'Sverresborg Castle' Trondheim, 3 km from the center.
On the map
Photo
♥ Castle 'Steinvikholm Castle' , 24.3 km from the center.
On the map
Photo
National traditions of Norway
Weekends in the small northern country are noisy and fun. Norwegians have regard for quality liquor and free flowing communication. High career ambitions and education – on weekends all this ceases to be a priority for Norwegians who want to have a good time. The descendants of the warlike Vikings are known for their impressive conceit. Norwegians consider themselves to be the most beautiful and effective, and their native language to be sweet music for a pampered hearing. The severe Norwegian nature in their opinion is not just beautiful, but is like eighth Wonder of the world. …
Open

Colors of Trondheim in photos
Search for popular touristic sites on Trondheim map
Traditions and festivals in cities around Trondheim
Cityguide on traditions, mentality and lifestyle of people in Trondheim. Learn the best periods to visit Trondheim to discover its soul - authentic festivals, events and celebrations. We will also reveal the interesting habits, attitude towards the world and to tourists in Trondheim.