Sightseeing in Siem Reap - what to see. Complete travel guide
Siem Reap is a main tourist center of Cambodia and a unique city with eventful and interesting history. In the 19th century, in the nearby surroundings of the city, archaeologists found the ruins of Angkor
, a powerful capital of the Khmer Empire that really existed according to the multiple historical facts. Exactly Angkor is a main local attraction that annually attracts almost 2 millions of travelers.
In Siem Reap, travelers can accommodate in more than 400 places that are popular among both connoisseurs of modern luxury and those who prefer recreation in an exotic atmosphere. One of the …
Open
The rapid development of a small provincial town is connected with the discovery of precious archaeological artifacts. Modern Siem Reap is a stylish metropolis with all features inherent to all big cities. In addition to this, it cannot be called a classic modern city, as Siem Reap has lost none of its fascination over the years of the rapid development.
Near shining modern skyscrapers, you can see typical monuments of Khmer architecture in the streets and they are just some of the multiple peculiarities of the colorful Cambodian city. For many years, it had been a colony of France, which influence is reflected in modern culture. So, in different popular restaurants and cafes, the visitors can order classic French dinner, crispy baguette and some salad that are untypical foods for Cambodia. Copyright www.orangesmile.com
The main historical symbol of Siem Reap that almost all travelers want to see is the temple complex Angkor Wat. This is a unique monument of Khmer architecture in all respects and the …
Open
Another unique national symbol that has not been affected by the rapid development of the city industry is tuk-tuks. You can find these amazing carriages everywhere. Some of them really surprise with their unusual look and so-called "tuning". Carriage drivers offer tourists a wide range of services. This vehicle may become a worthy alternative to the classical taxi and even the experienced guide that will escort the city guests to all outstanding attractions. It should be noted that such kind of services in Siem Reap is quite intrusive: drivers of tuk-tuks literally chase tourists offering them new services. Besides, scooters and motorbikes are popular types of transport too. You also can see cyclists in the local streets. Obviously, such number of transport modes makes the Siem Reap roads very dangerous and the guests from other countries should remember this.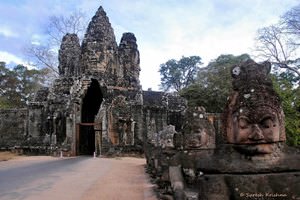 Connoisseurs of an amber drink will be certainly pleased with their vacation in the picturesque Cambodian city. The matter is that beer is one of the most popular and, what is more important, the cheapest drinks here. One mug of cold beer costs no more than 1 USD in a classic cafe. In the city, there are places when the prices of excellent local beer are almost 50 percent lower. Beer is very popular with local residents and a lot of tourists also get used to this drink during their vacation.
Visits to unique temple complexes and other iconic constructions are the main entertainment for the guests of Siem Reap. In addition to this, this is not an only way to diversify your …
Open
It also should be noted that the prices of products in local grocery stores are quite attractive, which will definitely please thrifty and self-reliant tourists. You can have reach breakfast in one of the comfortable cafes only for 1 – 1.5 USD. Restaurants located on the territory of hotels are distinguished by higher prices. French wines should be also noted among the most popular national drinks. A lot of tourists assert that here elite drinks from the best French wineries are much cheaper than directly in the place of their production. So, connoisseurs of elite wines should certainly visit one of the special stores. The pleasant supplement to the vacation in Siem Reap is a friendly and sincere attitude of the natives who always show their interest and respect for foreign guests.
There are many interesting landmarks of the antiquity period in the neighborhoods of Siem Reap. Ruins of ancient Rolous town are one of these notable places. In the past, it was one of the largest capitals of the Khmer Kingdom. Nowadays, it is a gorgeous area where visitors can see ruins of ancient temples, palaces, and even a Buddhist monastery. Buddhist travelers enjoy visiting the mount of Phnom Kulen that has been an important pilgrim destination for more than a thousand years.
In Siem Reap, travelers can accommodate in more than 400 places that are popular among both connoisseurs of modern luxury and those who prefer recreation in an exotic atmosphere. One of the …
Open
At the beginning of the 9th century, an important historic event took place on this mount. King Jayavarman II proclaimed Java Island an independent territory. Nowadays, a small temple is located on top of the mountain. There are several symbolic Buddhist sculptures made of stone nearby. If you go down the mountain using a special trail, you will reach a spectacular waterfall. Its water forms a beautiful swimming pool, and tourists are allowed to swim in it. Angkor Borie is an archaeological region that is no less interesting to attend. More than a thousand years and a half ago, the capital of the Funan Kingdom was located in this site. Antique buildings, the ruins of which travelers can see now, were built in 4th – 5th centuries.

This guide to iconic landmarks and sights of Siem Reap is protected by the copyright law. You can re-publish this content with mandatory attribution: direct and active hyperlink to
www.orangesmile.com
.
City tours, excursions and tickets in Siem Reap and surroundings
Reference information
National and city parks around Siem Reap
♥ National Park 'Phnom Kulen' , 42.7 km from the center.
On the map
Photo
♥ National Park 'Ta Phraya' , 158.9 km from the center.
On the map
Photo
Sights around Siem Reap from our guide 'Extreme places on Earth'
Ta Keo Temple
From the series
"Famous unfinished buildings "
Check on the map:
Distance from Siem Reap center - 7.7 km.
You can visit some preserved sanctuaries as part of the tour today. They are not distinguished by a rich artistic design. But you can see ancient sculptures and other design elements in each of the sanctuaries. Their age is more than a thousand years. The building is characterized by a rather complex structure. It is not possible to enter some of the temple's galleries. The temple is surrounded by beautiful gardens at the top of the hill. Scenic panoramic views of the surrounding area can be enjoyed from the surrounding area. …
Read further

Ladder Angkor Wat
From the series
"Furious Footways Around the World That Make You Dizzy"
Check on the map:
Distance from Siem Reap center - 3.4 km.
The only way to fully enjoy the beauty of the architectural complex is to climb up its steep staircase and to stroll along the picturesque terraces. From some viewing platforms you can see all five towers of the temple at once, as well as during the ascent of the stairs, tourists will have an opportunity to admire the fairy-tale beauty of bas-reliefs. While contemplating the surrounding beauty and greatness, do not forget to look under your feet. …
Read further

Sightseeing in Cambodia: things to see

During a vacation in Cambodia, don't forget to visit its capital, Phnom Penh. This is also the largest and wealthiest city in the country. Founded in 1372, the city became the capital of the country only after the kingdom of Angkor had been defeated by Siam. In the 19th century the city was called the "Pearl of Asia" because of its beautiful architecture. One of the biggest landmarks of Phnom Penh – Killing Fields - is located in its suburbs. In the city, travelers are recommended to visit the Royal Palace and Tuol Svay Prey High School Museum or the museum of genocide. Shooting Ranges will attract travelers who are keen or weapons. Inside the halls of the building it is possible to fire from different kinds of weapons, from ordinary handguns to rocket launchers and hand grenades. …
Open

Search touristic sites on the map of Siem Reap
Sightseeing in regions nearby Siem Reap
All about Siem Reap, Cambodia - sightseeings, attractions, touristic spots, architecture, history, culture and cuisine. Prepare your trip together with OrangeSmile.com - find out the 'must see' things in Siem Reap, which places to visit, which excursions to take, where the breathtaking views are waiting for you. Planning your trip with this travel guide will help your to get the most out of Siem Reap in few days.