Travelling through Bulgaria - roads, airports, railway, bus transportation
In recent years, Bulgaria has been experiencing more and more influx of tourists. This has caused the State to constantly renovate the transport infrastructure. Today, almost all types of public transport have been developed in the country, although the quality of transport services does not always correspond to European standards. The most popular type of public transport in the country is buses (less often, trolleybuses and trams). It is worth noting that public urban transport in large cities, especially at the height of the tourist season, is often insufficient. As a result, trolleybuses and trams, as well as buses, run overcrowded. Also, the technical condition of the motor transport leaves much to be desired.
Bulgaria is a sufficiently developed country in comparison with other countries. However, so far its economic condition does not allow it a leading …
Read further
It is worth noting that in Sofia, the city transport has been completely renovated in recent years such that the capital can now boast of a fleet of absolutely new vehicles. Intercity bus service in the country is well developed. In spite of the fact that the majority of the buses are quite old model, they are still comfortable to travel in, and the cost of the ticket is also affordable even for a budget conscious traveler. In addition, all the routes are carefully thought out, so even long-distance trips will take the least possible time. Most often, buses run in accordance with the schedule, which can be found at any bus station. The reason for deviation, if there are any, may be various unforeseen circumstances, for example, an accident, or the breakdown of a vehicle. It is worth noting that in small provincial cities, the latter is quite becoming a regular occurrence.
In addition to the buses, fixed-route taxis as well as mini buses are also very popular in the Country. They are known to make fewer stops, which makes it possible to reduce travel time even more. The fare is however slightly higher. In Sofia, there operates a subway which is represented at the moment by only one underground line. The fare is around 50 cents. You can also order a taxi in Bulgaria. They are usually yellow cars with checkers and you will mostly find a price list with quotations fixed on their side window. On the territory of the country there is a huge number of air harbors, but only three of them are international airports. They are located in Sofia, Varna, and Burgas.
These spots really worth the attention of a real traveler-researcher. …
Read further
Bulgaria has a railway network that functions not only within the country, but also between neighboring European countries. The total length of railway track is six thousand kilometers. The cost of travel is low. All trains are divided into express and passenger. The wagons are divided into two classes, depending on the degree of comfort and a number of additional services. As a result, the cost of travel also varies. In view of the territorial location of Bulgaria, water transport is also actively employed. It is mostly composed of ferries, small pleasure boats and cruise liners. They cruise along the Black Sea coast, as well as along the Danube. The roads in Bulgaria are in a rather deplorable state, although they are constantly being repaired. Marking in some places are completely absent just as there are no lightings at night. The culture of driving of the local population is also a far cry from European standards. At the same time, some highways in the country are on a paid basis.
Main airports and avia transportation
The country has a large number of airports. However, only three among them accept international flights. The largest, traditionally, is located in the capital of Bulgaria and is called Vrazhdebna. There are shuttle buses which run constantly to the airport, and travel time will take no more than 30 minutes. The fare is about 1 euro. Also situated near the airport, is a large parking space where there are taxis and transfers. It is possible to rent a car or other vehicles at the relevant points. The airport infrastructure is quite developed and modern. Here, every traveler will find all the essentials for recreation and entertainment. On the territory there are eateries, cafes, restaurants, and bars. There are also various shops, including Duty Free ones. Within the territory, there are several lounges, facilities for people with disabilities, as well as nurseries. You can also change money or contact the branch office of some international banks at the airport. Copyright www.orangesmile.com
Bulgarian cuisine is a huge variety of recipes using a wide range of products. The basis of the cuisine consists of dishes from fresh vegetables and …
Read further
There are only 4 terminals in the airport of Sofia. One of them is called the old airport. The second one was built about 11 years ago and annually serves about two and a half million passengers. The third terminal is an aerial harbor of the VIP class, and accordingly, the terminal infrastructure is at the highest level. The fourth terminal, as a rule, is closed to ordinary citizens and accepts only governmental flights. The next important international airport in Bulgaria is Burgas. In the midst of the tourist season, there are additional flights serving foreigners. Two terminals are functioning successfully on the territory of the airport. One of them is practically new; it was opened only 3 years ago. On the territory of Burgas, there is a spacious comfortable waiting room where passengers can be accommodated, a VIP lounge with a high level of comfort, currency exchange offices, international bank offices, ATMs, and restaurants that offer not only colorful national delicacies, but also traditional European cuisine. In addition, you can, on the territory of the terminal, rent a car or order for a transport to a hotel.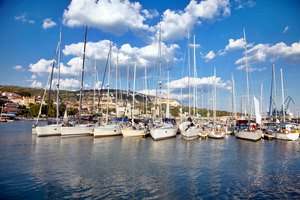 The last international airport is the Varna airport. From the city center, the airport is only 7 kilometers away. Thus you can quickly get to it by taxi, and also by public transport. To date, three terminals are known to function in the airport. The airport management has created high-quality conditions for the leisure and comfort of passengers. Here you can stroll around the shops and colorful souvenir shops. There are also duty-free shopping centers and currency exchange offices. You can as well relax in the cafeteria or taste various masterpieces of world cuisine in local restaurants. The airport is also equipped with a nursery, as well as a comfortable resting place for people with disabilities.
Railway, bus, water and other transport
In Bulgaria, public transport is well developed, although the quality of services and the technical condition of buses and trains are not always at a high level. Despite this, tourists will not have any problems with traveling around the country. The most popular type of public transport in all cities is buses. The fare is quite low, and there are also benefits for children and pensioners. At the same time, the buses are clean and comfortable, despite the fact that they are quite old. Only in the capital of Bulgaria will it be possible to ride on modern comfortable buses. This is because several years ago the local Government completely renewed the fleet. Trams and trolleybuses are also available in some major cities.
Bulgaria has a magnificent climate. The country is located on the Black Sea coast and is a popular place for a beach holiday. However, beaches are not …
Read further
Please note that public transport is run in accordance with the timetable, which can be found at some stops or bus stations. In the case of interregional travel, buses may be delayed due to unforeseen circumstances, for example, breakdowns during a trip. Please note also that all transport routes in Bulgaria are well thought out, hence, you can get from one point to another in the shortest possible time. Tickets for buses are sold at bus stations. You can also make a purchase directly from the driver upon boarding. In Sofia, there is also one underground subway line. The fare is about 50 cents.
The next most common mode of public transport is the train. The railway network has a fairly good interchange and covers all the main cities and towns of the country. At the same time, it is worth noting that it will take considerably longer time to travel by train than bus. All trains are divided into express and passenger trains. If the trip involves night movement, then you will be required to purchase a ticket in a sleeping wagon. As a rule, first-class carriages are designed for 6 passengers, and the second class can accept 8 passengers. There are however individual seats in international express trains. When planning a trip, it is advisable to book tickets for a train or a bus in advance. You can do this on the websites of official carrier.
Bulgaria is a quiet and cozy place where you can spend an unforgettable family vacation. For recreation with children, you can choose any direction, …
Read further
The quality of road coverage in Bulgaria is quite low. Only in the central areas of major cities will you find the road surface smooth and with marking and night lighting. On the country and provincial roads, markings and lightings are completely absent. At the same time, the culture of driving among many local drivers leaves much to be desired. Hence, if you have no interest for extreme trips, it is best to give up car rental services. The use of bicycles is not wide spread even though rental offices are located in most major tourist centers. Riding a bicycle is also not too safe, as motorists react quite aggressively towards such road users. In addition, the bike will have to be transported by public transport, thereby attracting an additional fee.
Bulgaria can offer aviation services for lovers of fast and comfortable travel. Domestic flights are conducted daily to the most important airports of the country; hence, travelers can easily get to their necessary destination in the shortest possible time. Hitchhiking cannot be recommended, as it is unsafe, especially in Bulgaria. Moreover, hitchhiking in Bulgaria is officially banned. An alternative may be to call a taxi. The charge for this service is usually fixed. The fare depends on the time of day, and can significantly increase on public holidays. Speaking of water transport, it became widely used for navigation on the Danube. Also, liners and pleasure yachts run on the coastal areas of the Black Sea. They are known to perform mostly excursions than their usual transportation function.

This article about transportation in Bulgaria is protected by the copyright law. You can re-use the content, but only under the condition of placement of an active link to
www.orangesmile.com
.
Fantastic City Tours and Excursions in Bulgaria
Bulgaria in photo stream
Travel advices for Bulgaria cities
Map of Bulgaria cities - tips