Sightseeing in Balchik - what to see. Complete travel guide
The Black Sea coast is rich in incredible places that are perfect for relaxing at beaches and admiring the spectacular beauty of local landscapes. Balchik, which is located not far from Varna, is one of such tranquil resorts. Balchik is a town in Bulgaria that has a population of almost 20 thousand people. Despite a small size, this town is an important port. Tourists from all over the world visit this resort to admire its unusual houses painted in white, red, and yellow. Moreover, the buildings are located in the shape of an amphitheater, and this unusual fact makes the landmark even more attractive for tourists. Spring and summer are the best time to visit Balchik as the resort can offer beautiful flora and tender sun at this time of the year.
Before the foundation of Balchik, a Greek colony was located on this site. The Greeks founded a city in this area yet in the 5th century BC. They believed that the great goddess Aphrodite, who was famous for her beauty, was born from the sea foam here. They called their settlement Krounoi which meant "spring" in Greek. There is an explanation for such a name choice. There are many healing springs in the area. The second name of the town is connected to Dionysius, the Greek god of wine and partying. According to a local legend, the sea once unearthed a statue of this god.
During the Roman Empire period, many nations tried to capture Balchik. Because of this fact, the town fell into decay, and Balchik ended up as a Bulgarian territory. A Bulgarian noble named Balik made the territory his own in the 13th-14th centuries. The modern name of the town is derived from the noble's name. When the Crimean War ended, the town started developing actively, turning into a major trading port with active international business. Nowadays, Balchik is a large and popular resort that attracts guests from different parts of Europe. People come here to relax and forget about routine. Copyright www.orangesmile.com
Three comfortable beaches at the Black Sea coast wait for guests of the town. They are perfect for relaxing and having fun. The central beach is the most popular destination for beach recreation. It is situated in the north of the coastal area. The main beach is 250 m long and roughly 60 m wide. It is free to enter but sun umbrellas and loungers are available for a moderate fee. Here vacationers can visit a charming coastal café, participate in water-based entertainment, and even try a mineral water shower.
The second beach is situated in front of the Dvata Petela complex. This beach is small compared to the previous one – it is only 50 m long and 20 m wide. The beach is quite crowded during the daytime. Many people come to jump into water from the pier. The sea bottom is covered with a layer of warm sand, so it is comfortable to swim here. However, there are still sharp stones at the bottom sometimes, so running into water is not a good idea.
Where can guests of Balchik relax? Without a doubt, the third beach is a great choice. This is a medium-sized beach with unusual access to water. Visitors need to go down the stairs if they want to swim, so prepare for a leg workout. However, the effort will be greatly rewarded – warm sand and clean water wash away all fatigue and troubles. The beach's bar offers a charming atmosphere and delicious ice cream that tastes particularly divine in the midst of a hot day. It is also possible to order cool beer and a delicious lunch. A shower with warm water will help to wash off sea salt and heat.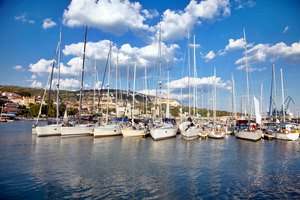 Are you interested in other entertainment besides beach recreation? Balchik has much to offer to different categories of guests. Many discos open every day in the evening, and one of them even hosts open-air parties at the Black Sea coast. A big screen right on the beach broadcasts various music videos all night long. Make sure you come early to see the opening ceremony – each party starts with fireworks. There is one more disco at the waterfront nearby. It has an unusual peculiarity. The disco has beds installed near the dance floor. All guests are welcome to lie on these beds and relax after exhausting dancing on sand.
To get to the resort of Balchik, you need to take a bus from Sofia that will take you to the town in ten hours. Balchik has bus connection with other Bulgarian cities, and nearby Varna is no exception. Balchik doesn't have an airport, but it is possible to fly to Varna. After the arrival, take the #409 bus to get to the resort. It will take only 45 minutes to reach Balchik from Varna, which is significantly shorter than from Sofia.
This guide to iconic landmarks and sights of Balchik is protected by the copyright law. You can re-publish this content with mandatory attribution: direct and active hyperlink to
www.orangesmile.com
.
City tours, excursions and tickets in Balchik and surroundings
Reference information
Survived castles around Balchik
♥ Castle 'Hotin Citadel' , 79.4 km from the center.
On the map
Photo
National and city parks around Balchik
♥ Nature Park 'Zlatni pyasatsi' , 19.2 km from the center.
On the map
Photo
♥ Nature Park 'Shumensko plato' , 105.4 km from the center.
On the map
Photo
Art galleries in Balchik and around
♥ Art museum 'Varna Archaeological Museum' Varna, 31.5 km from the center.
On the map
Photo
Sightseeing in Bulgaria: things to see
Pleven is one more important historic centre of the country. This is a city of glorious past, and guests are welcome to learn more about it in the museum of Pleven Epopee 1877, which is most commonly known as Pleven Panorama. The building of the museum is also worth attention. Many years ago, the building was used for the meeting of Alexander II with Osman-pasha. There is a beautiful park on one of surrounding hills. The park was named after Russian general Skobelev. There is also a museum dedicated to the military events of the 19th century. …
Open

Car rental on OrangeSmile.com

Top Destinations for Sustainable Tourism
Sustainable tourism has been a hot trend in recent years. More and more travelers want to not only explore new places and get in touch with local communities but also to have a positive impact on the environment of the places that they visit. As of 2021, 66.4% of global consumers think that staying environment-friendly while traveling is important. During the ITB Berlin NOW show, Euromonitor International (a global research company) presented its rank of the world's sustainable destinations.
Read this
10.05.2021
Search touristic sites on the map of Balchik
Sightseeing in regions nearby Balchik
All about Balchik, Bulgaria - sightseeings, attractions, touristic spots, architecture, history, culture and cuisine. Prepare your trip together with OrangeSmile.com - find out the 'must see' things in Balchik, which places to visit, which excursions to take, where the breathtaking views are waiting for you. Planning your trip with this travel guide will help your to get the most out of Balchik in few days.