The AGASA Lab is located in Japan. It was launched almost simultaneously with the installation in Yakutia. The two stations serve similar purposes. The main feature of the AGASA Lab is considered to be a huge scale. It covers an area of about 100 square kilometers. A network of detectors was installed in this huge area. The distance between them is 1,000 meters.
These detectors allow evaluating the energy of primary storm particles. The Lab in Japan exceeds the area of the Russian installation by more than five times. A large-scale polygon was formed on a spacious foothill plateau in the Akeno area. Dozens of detectors were installed by researchers here. They are connected by special optical cables. They served as the main link between the detectors and the data center.
The formation of the very first installation, called AGASA-20, was completed in 1984. The area of the scientific polygon was 20 square kilometers. It operated until 1989 and was re-formed as the new AGASA Lab. It was officially launched in 1990. This research laboratory has been operating for 14 years. The installation formed in Japan has become one of the largest on the planet. It consisted of a complex of 111 surface detectors, as well as 27 muon detectors.
Next - Allen Telescope Array
Amundsen-Scott Station, Antarctica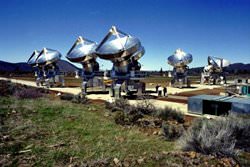 Allen Telescope Array, USA
Back to the start "Incredible Labs for Space and Physics Research"
Useful staff nearby
ATM bankomat: 'JA邑楽館林 中野支所' located in 0.54 km (
check the route on the map
).
Car rental office: '館林レンタカー夜間専用' is located in 3.54 km (
on the map
).
Fuel station: '角屋石油' in 0.4 km
Supermarket: '(株)マルト' in 0.32 km
Parking: '4874 Nakano Parking' in 0.26 km
Apotheek: 'Hamada Pharmacy' in 0.32 km
Police station: 'Oizumi Police Station Nakano Substation' in 0.96 km
Cafe/restaurant: '寿楽々' in 0.13 km
Railway station: 'Hon-Nakano Station' in 0.22 km