Travelers, who want to have a dip in one of the most beautiful swimming pools in the world, need only spend a few days in the hotel Park Hyatt in Tokyo. The hotel itself is situated in one of the most chic skyscrapers of the city, and its pool is located on the 47th floor. It is not remarkable for the record sizes. The main advantage of this pool is the overview from the panoramic windows of the city.
In the afternoon, the premises in which the indoor pool is located, are sun-drenched, and in the evening, vacationers can admire the lights of the night Tokyo. The length of the luxurious pool is 20 meters, it is equipped with the most modern water heating system. The pavilion of the pool is equipped with a very high ceiling, part of which is decorated with panoramic windows. In the evening, the pavilion is decorated with spectacular artistic illumination and living plants make the atmosphere more refined.
Around the pool there are comfortable lounge areas with cushioned loungers, where guests can comfortably relax during the whole day, enjoying signature drinks and treats. It is also worth noting that the swimming pool, which is located in the Tokyo Hotel, is a part of the elite spa, so guests of the hotel will have the opportunity to combine a visit to the pool with the passing of elite spa treatments.
Next - The Neptune Pool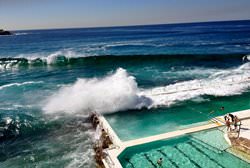 The Icebergs Pool, Australia
The Neptune Pool, USA
Back to the start "The Most Amazing Swimming Pools in the World"
Useful staff nearby
Fuel station: 'Eneos Nishishinjuku SS' in 0.29 km
Parking: 'Parking' in 0.05 km
Police station: 'Police box' in 0.29 km
Railway station: 'Hatsudai Station' in 0.55 km